What the Polls Say About a Donald Trump vs. Bernie Sanders Election
As a fierce Democratic primary battle plays out, recent polling suggests that in a hypothetical head-to-head matchup between Bernie Sanders and Donald Trump, the Vermont senator would unseat the president.
An average of recent polls compiled by RealClear Politics has Sanders leading Trump by five points, 49.9 percent to 44.9 percent, illustrated in the graphic below provided by Statista. Several surveys published within the past week, including by Monmouth University, Yahoo News/YouGov and CNN, show Sanders beating Trump by four, six and seven points, respectively.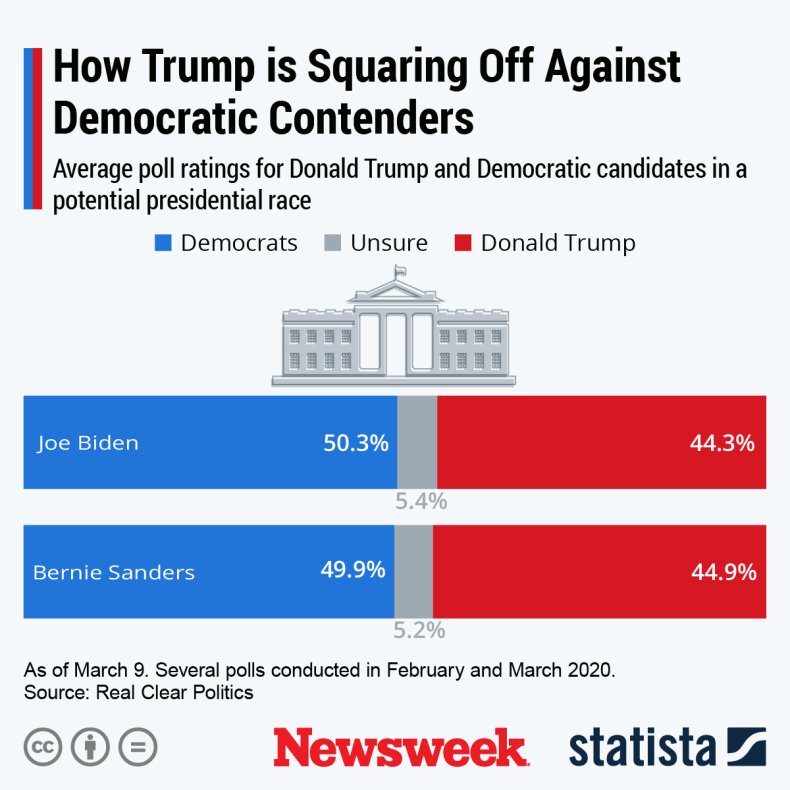 An additional poll by Hill/HarrisX found that voters prefer any democratic nominee over Trump by seven points. But a survey by Rasmussen last month found the contrary. It showed Trump besting Sanders by seven points.
Sanders' strong one-on-one match-ups with the president bode well for the White House hopeful ahead of primary elections in six more states on Tuesday. Former Vice President Joe Biden will look to expand his lead while Sanders hopes to rebound and regain the frontrunner spot. The latter will be more difficult as polling suggests Biden will outperform his opponent in the delegate-rich state of Michigan, among others.
The hypothetical results between Sanders and Trump mirror that of how polls say Biden would perform against Trump in the general election. RealClear Politics' average of top polls have Biden defeating Trump by six points, 50.3 percent to 44.3 percent.
This despite both Sanders and Biden claiming they are best poised to oust Trump from office while accusing the other of being potentially dangerous for the Democratic Party and its ability to defeat the president in November.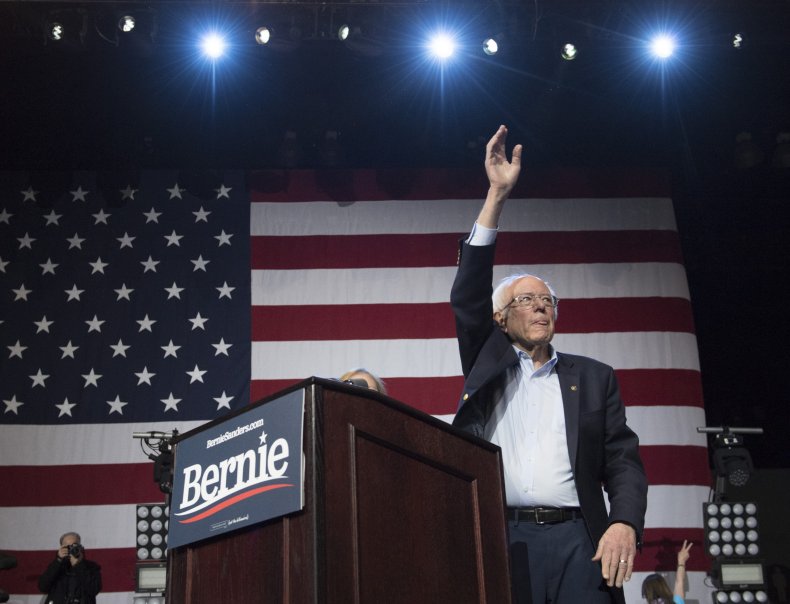 Biden and many moderate, vulnerable members of Congress say Sanders, a self-described democratic socialist, would hurt down-ballot Democrats. Sanders and his supporters have suggested gaffs and inaccurate claims by the former vice president call into question his mental fitness and makes him susceptible to attacks from Trump and Republicans.
Sanders currently trails by 91 delegates after Biden surged ahead thanks to a strong Super Tuesday performance. Voters will head to the polls this Tuesday in six states: Michigan, Washington state, Missouri, Mississippi, Idaho and North Dakota. After those contests, roughly 44 percent of pledged delegates will have been awarded.
The chart below by Statista shows the current delegate count as of Monday. Biden leads with 664 followed by Sanders with 573. Rep. Tulsi Gabbard (D-Hawaii) is still officially a candidate, despite so far mustering just two delegates.
To win the party nomination at this summer's Democratic National Convention, a candidate needs at least 1,991 delegates.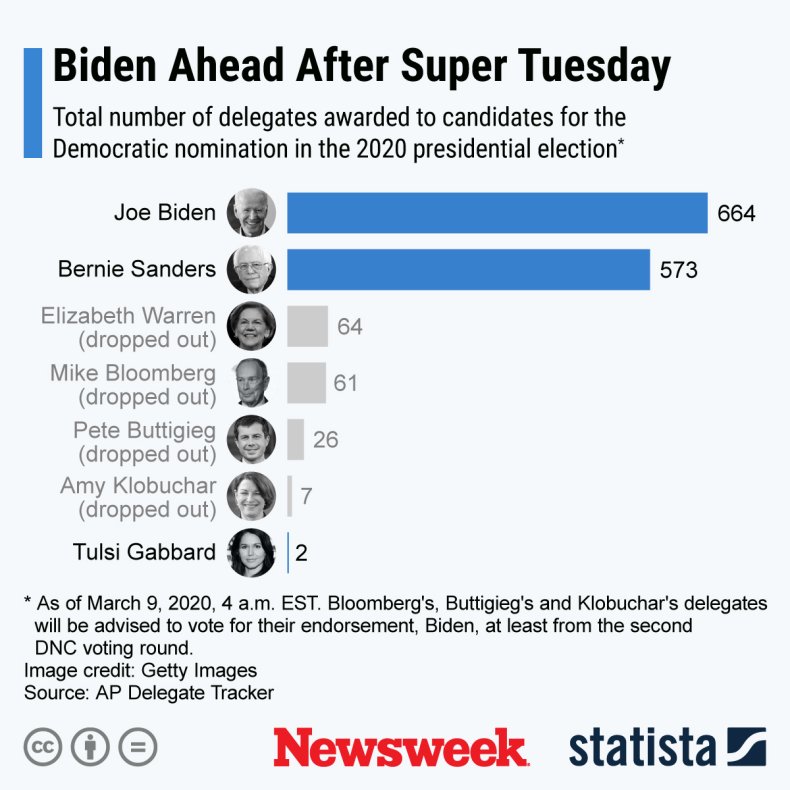 This article was updated to include an infographic.
What the Polls Say About a Donald Trump vs. Bernie Sanders Election | Politics