What Joe Biden Said About a 'Second Pandemic'
Video clips of President Joe Biden saying the U.S. needs to prepare for the next pandemic have gone viral on social media.
While speaking to the media in the Roosevelt Room on Tuesday, Biden praised his government's efforts to ensure children under five can now get vaccinations for COVID-19.
"This is a very historic milestone, a monumental step forward," Biden said during his speech.
"The United States is now the first country in the world to offer safe and effective COVID-19 vaccines for children as young as six months old.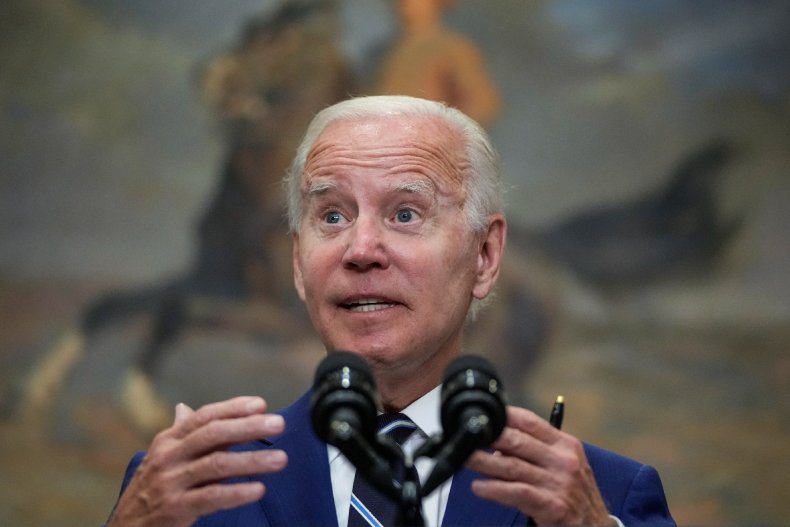 "In the first time in our fight against this pandemic, nearly every American can now have access to lifesaving vaccines. And we're ready."
This comes after Biden and his wife Jill Biden visited a vaccination clinic in Washington on the same day and spoke to American parents, according to an Independent report.
One of the most talked about moments from Biden's White House speech was his assurance there will be another pandemic. In one posting of the video on Twitter, the clip has been viewed over 800,000 times.
Biden was initially asked by a reporter for how long the new vaccine campaign could go ahead before more money was needed from Congress.
"Mr President, I know you are looking for more money from Congress for this vaccine campaign and for COVID funding going into the fall," Biden was asked.
"How much of this supply of vaccines for these small children is there? How many of the nation's kids will you be able to get vaccinated before you need more money from Congress?"
"Well, we'll get through at least this year. We do need more money," Biden replied.
"But we don't just need more money for vaccines for children, eventually; we need more money to plan for the second pandemic.
"There's going to be another pandemic. We have to think ahead. And that's not something the last outfit did very well.
"That's something we've been doing fairly well. That's why we need the money."
Biden's speech has been posted by other Twitter pages as well and used to criticise the President.
Page RNC Research, a verified Twitter page that says it is dedicated to "exposing the lies, hypocrisy, and failed far-left policies of Joe Biden and the Democrat Party," posted the brief clip.
It added the caption: "Biden: Planning ahead for the virus 'is something we've been doing fairly well.'
"Kamala Harris, December 17: "We didn't see delta coming... we didn't see omicron coming."
What The Experts Have Said About Future Pandemics
Experts from multiple scientific fields have openly spoken about the likelihood of other pandemics.
Throughout the COVID-19 pandemic, experts have warned about the frequency of pandemics across the world as well as potential reasons for an increase in disease outbreaks.
"The time between these outbreaks is getting shorter and shorter," Dr Tracey McNamara, a professor of pathology at Western University of Health Sciences College of Veterinary Medicine, said, according to an ABC News report from 2020.
The President of EcoHealth Alliance, Dr. Peter Daszak, added: "We are only able to sustain an outbreak maybe once every decade. The rate we are going is not sustainable."
Dr. John Brownstein, an epidemiologist, and chief innovation officer at Boston Children's Hospital, added potential reasons for an increase in outbreaks.
"Several epidemiological drivers have been identified that make bacteria and viruses from animal populations suitable to emerge in a susceptible population.
"These drivers include climate change, industrial development, ecosystem change and social inequality."
In a more recent, 2022 report from publication France 24, the World Health Organizations (WHO) emergencies director Michael Ryan said monkeypox is not the only example of disease that is seeing a resurgence.
"The number of times that these diseases cross into humans is increasing," he said. "Then our ability to amplify that disease and move it on within our communities is increasing."
Greg Albery, a disease ecologist at Georgetown University, also spoke about the importance of funding to support the needed surveillance and research to identify threats.
"We need improved surveillance both in urban and wild animals so that we can identify when a pathogen has jumped from one species to another," he said.
"And if the receiving host is urban or in close proximity to humans, we should get particularly concerned."
Newsweek has contacted the White House for comment.