Joe Biden Sides With U.S. Following Putin Meeting, Unlike Trump After Helsinki Summit
Unlike the controversy that engulfed former President Donald Trump during his 2018 summit meeting with Russian President Vladimir Putin, President Joe Biden presented a vastly different front when he met with his Russian counterpart for the first time on Wednesday.
Biden and Putin met in Geneva this week to discuss topics ranging from ransomware to human rights concerns at what leaders have agreed to be a "low point" in the U.S.-Russia relationship.
While the two did not hold a joint press conference after their meeting as Trump and Putin did when they met in Helsinki three years ago, Biden made his own remarks to reporters on the "productive" meeting.
The American president made it clear that he would side with the U.S. over Russia and every other nation, a different tone than the unexpected comments that came from Trump after his own summit with Putin.
"I told President Putin my agenda is not against Russia or anybody else. It's for the American people," Biden said on Tuesday.
"It seems to me that we did speak the same language. It certainly doesn't imply that we looked into each other's eyes and found a soul or swore eternal friendship," he added.
Back in 2018, Trump shocked reporters and the world when he notoriously sided with the Russian leader over U.S. intelligence agencies, saying he did not accept Russian interference in having a role in the 2016 U.S. elections.
When asked whether he believed it was Russia or his own intelligence community that was behind the alleged election meddling, Trump said, "President Putin says it's not Russia. I don't see any reason why it would be."
Rather than defending U.S. intelligence agencies, as most Americans expected the then-president to do, Trump said, "I hold both countries responsible. I think that the United States has been foolish. I think we've all been foolish. ... And I think we're all to blame."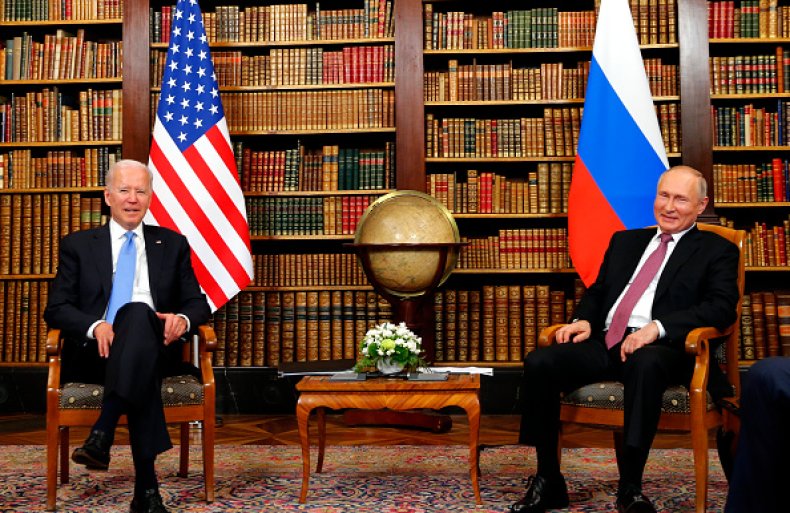 While Trump backtracked on some of his remarks the next day, arguing that he had misspoken due to a double-negative and that he did in fact support his own intelligence community, the joint press conference sparked uproar back home from both Democrats and Republicans alike.
Then-House Speaker Paul Ryan rejected the idea of "moral equivalence" between the two nations, while then-Senate Majority Leader Mitch McConnell told reporters, "the Russians are not our friends and I entirely agree with the assessment of our intelligence community."
Fiona Hill, who was once Trump's top Russia advisor, said she was so alarmed during Trump's remarks that she looked for a fire alarm and considered faking a medical emergency to pull to put an end to the conference.
"I just thought, let's cut this off and try to end it. I couldn't come up with anything that just wouldn't add to the terrible spectacle," Hill told CNN on Tuesday.
Hill was among a group of Russia experts who reportedly helped brief Biden ahead of his own meeting with Putin—perhaps a key step that helped Biden avoid a commotion with the press on Wednesday.
Although the Geneva summit ended much earlier than expected just after two meetings between the two leaders, Biden said, "it was important to meet in person."
"I did what I came to do," Biden told reporters at a solo press conference.
"Number one, identify areas of practical work our two countries could do to advance our mutual interest and also benefit the world," he continued. "Two, communicate directly that the United States would respond to actions that impair our vital interests or those of our allies. And three, to clearly lay out our country's priorities and our values so he heard it straight from me."
Biden said he would continue to raise concerns of human rights violations, saying the U.S. would stand by Russian activist Alexei Navalny and two imprisoned American citizens, Paul Whalen and Trevor Reed.
"I pointed out to [Putin], that's why we are going to raise our concerns about cases, like Alexei Navalny. I made it clear to President Putin and will continue to raise issues of fundamental human rights because that's what we are. That's who we are," Biden said.