Joe Biden Has Six-Point Lead Over Donald Trump Amid Coronavirus Pandemic Response: Poll
Former Vice President Joe Biden is leading President Donald Trump by six points as the coronavirus pandemic continues to spread across the United States, according to a new head-to-head poll
The latest survey by Reuters and Ipsos found that 45 percent of registered voters backed Biden when asked who they would vote for in an election held the same day.
By comparison, a little less than four-in-ten (39 percent) said they supported President Trump over his Democratic rival and third party candidates.
Biden was also found to have a 10-point lead over Trump among Independent voters. Thirty-percent said they would vote for the ex-vice president while 20 percent backed the incumbent president.
Seven percent of all U.S. registered voters told pollsters they would be voting for a third party nominee, while the same number said they were undecided on how they would vote.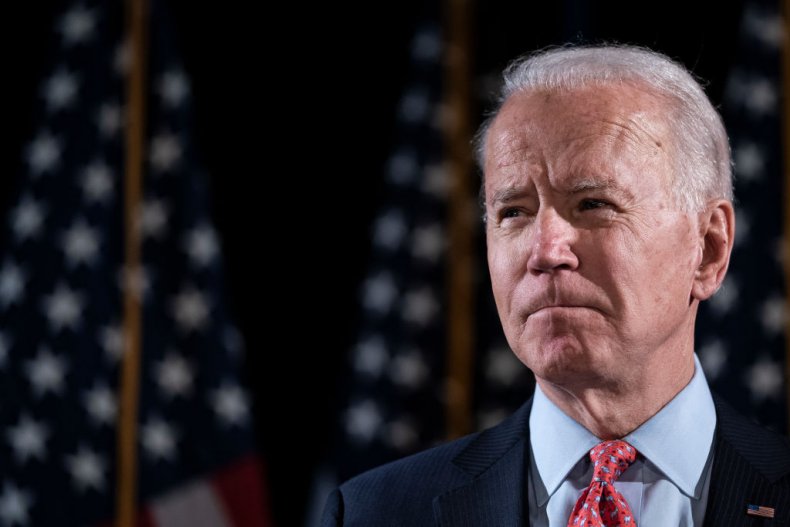 Asked how they rated the president's performance in the White House, 43 percent of registered voters said they approved of the job he was doing, compared to 54 percent who disapproved.
President Trump was also found to have a net disapproval rating when all polled U.S. adults were asked for their view on his handling of the novel coronavirus pandemic.
Forty-two percent said they approved of his response to the pandemic to some degree, and 53 percent told pollsters they disapproved—giving the president an 11 percent net disapproval rating on the issue.
But the commander-in-chief's numbers were better on the economy, with a 52 percent majority backing his handling of the economy despite its pandemic-related contraction in the first quarter of this year.
Giving their overall view on the direction America was heading in, 57 percent of registered voters said the country was on the "wrong track" while just 30 percent said it was going in the "right direction."
The latest poll by Ipsos and Reuters was conducted between April 27 and April 29, surveying 2,216 Americans overall, including 1,876 registered voters. It's margin of error is a little more than 2 percentage points among those groups.
Reuters published the new poll shortly after President Trump told the outlet that he did not believe opinion polls that showed him trailing former Vice President Biden.
"I don't believe the polls," Trump told Reuters in an exclusive interview. "I believe the people of this country are smart. And I don't think that they will put a man in who's incompetent."
On Wednesday night, The Washington Post reported that the president's campaign team had shown him internal polling putting Biden in the lead heading into the November presidential election.
Anonymous sources told the newspaper that the polling presentation was aimed at convincing Trump to curb his appearances at the White House's daily coronavirus briefings.
A survey from NPR/PBS NewsHour and Marist published yesterday found that most Americans would rather see Biden handling the coronavirus pandemic and economy as coronavirus shutdowns continued.