Joe Biden Slammed for Not Following Instructions at Poland Event—'Dummy'
Joe Biden has been slammed as a "dummy" for not following instructions during a military inspection in Poland.
The American president made a surprise trip to Ukraine this week as he visited Ukrainian counterpart Volodymyr Zelensky in Kyiv, and the cameras were out in a big way as Biden then arrived in the Polish capital to make a key speech.
On Monday, he reviewed a military honor guard alongside Polish President Andrzej Duda outside the Presidential Palace as part of a welcoming ceremony. Biden was filmed moving off the red carpet during the inspection, as the Polish president and others guided him back onto it, which was picked up by some on social media.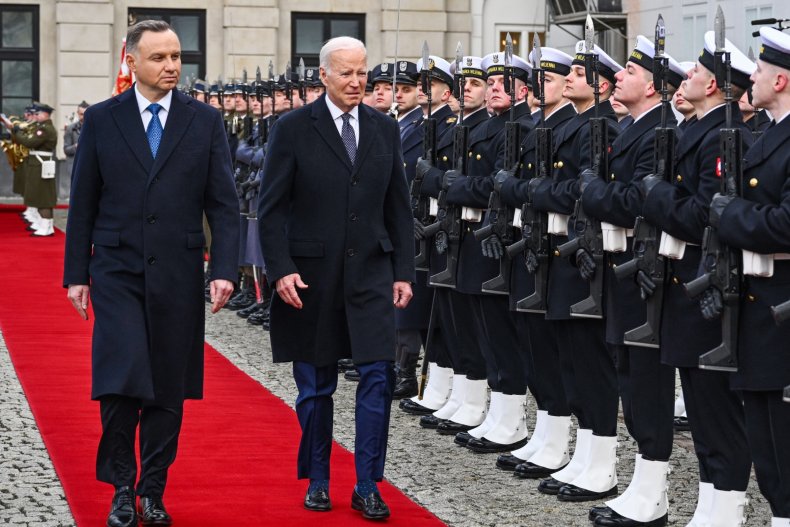 Taking footage from Ruptly TV, some social media users like Matt Clark of Patriot One News shared a 12-second clip that showed President Biden's awkward moment.
"Oh FFS! Biden can't even follow simple walking directions while inspecting the Guard of Honor in Warsaw, Poland," Clark wrote before addressing the president. "You're supposed to stay ON the red carpet dummy!!"
The footage shows Biden walking alongside Duda on a red carpet wide enough for two people. As they reach the end of the line, they swing around to seemingly walk back the same way, but Biden appears to walk off to the left before he's urged by an aide to walk back the way he came along the carpet.
When one Twitter user pointed out that both presidents are walking off the carpet, Clark replied suggesting that's not the case. "Yeah, to save Joe the embarrassment. The guide literally points to the carpet hoping Joe would get back on it, but NOPE!" he wrote with another crying laughing emoji. Dozens of people commented on Clark's initial post with laughing emojis.
Clark wasn't the only one who was scathing in his assessment of Biden in Poland. "Someone come get their pappy," wrote the Twitter Blue subscriber Matt $RPatriot, as he claimed Biden looked "to be in a state of trance and lost."
"Guys trying to teach Biden how he's supposed to walk on the red carpet and it's not working!" wrote Twitter user @kung_fu_jedim retweeting the video. "What an embarrassment to our country, watching a dementia patient being paraded around like a toddler! The world thinks we're idiots!"
Dozens of people commented on Clark's initial post with laughing emojis.
Others stuck up for 80-year-old Biden during his frantic 48-hour trip to Eastern Europe. NBC Chief Foreign Correspondent Richard Engel commented on Monday night that Biden is "showing a lot of stamina" before listing the details of his journey. "A secret visit to a warzone. Two ten hour train trips. A major speech in Poland. The travel alone would be exhausting," Engel wrote.
However, some Twitter users pointed to the video Clark shared as an example of him not showing great stamina. "You cannot be serious right now," one Twitter user wrote to Engel.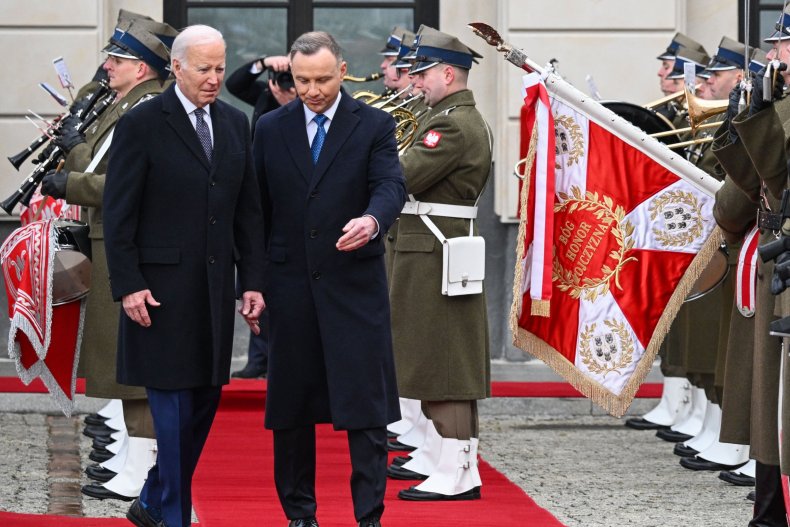 This latest clip of Biden, which was criticized by some, came after many had speculated Biden fell down the stairs of Air Force One after a blurry video showed someone tumbling down the steps. Newsweek confirmed that the person seen falling wasn't the president after a different video, shared to YouTube by ABC News, showed that Biden walked down the steps of the plane without falling.
Biden visited Zelensky in Kyiv on Monday, with the months of security planning only being signed off officially on Friday. The White House social media accounts shared details of how it happened, as he landed in Poland, took a 10-hour train into Kyiv, before leaving again over five hours later.