President Joe Biden sparred Wednesday with a reporter who asked what makes him confident that Russian President Vladimir Putin will change his behavior.
The tense exchange happened during Biden's solo news conference following his first face-to-face meeting with Putin as president. The two leaders were in Geneva for the summit.
"Why are you so confident he'll change his behavior, Mr. President?" CNN's chief White House correspondent, Kaitlan Collins, asked Biden at the end of the news conference.
"I'm not confident," Biden responded. "Where the hell—what do you do all the time? When did I say I was confident?"
He added, "What I said was—let's get it straight—I said what will change their behavior is if the rest of the world reacts to them and it diminishes their standing in the world. I'm not confident of anything, I'm just stating the facts."
Collins followed up, pressing Biden on the fact that Putin denied any involvement in recent cyberattacks on the U.S. and downplayed human rights abuses during his own solo press conference.
"How does that amount to a constructive meeting?" she asked.
Biden pushed back, saying, "If you don't understand that, you're in the wrong business."
The president later apologized for his response to Collins before boarding Air Force One.
"I owe my last questioner an apology. I shouldn't have been such a wise guy with the last answer I gave," he told reporters gathered on the tarmac.
During a broadcast on CNN, Collins said that she appreciated Biden's apology but that it was "completely unnecessary."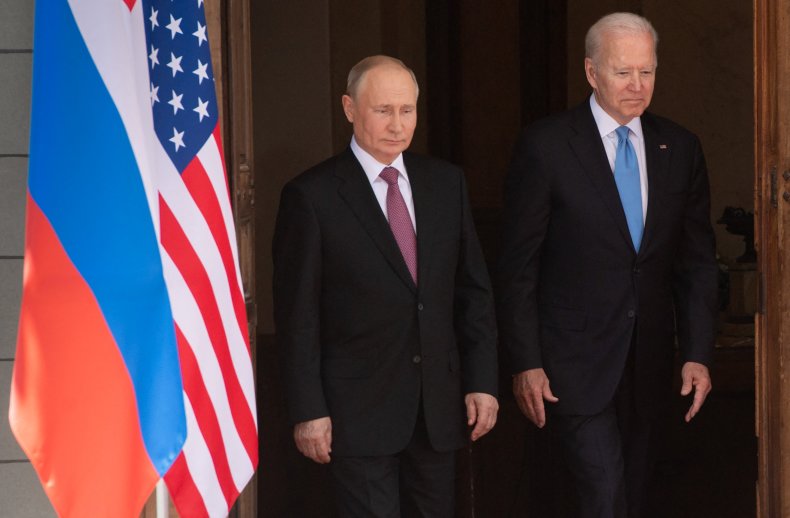 Following their meeting, the two leaders issued a joint statement on their shared objective to reduce the threat of nuclear war, which they said no one can win and "must never be fought."
Putin described the highly anticipated summit as "constructive" and "pragmatic."
The Russian president dodged questions about killed or jailed political opponents in his country, instead turning the focus to Black Lives Matter and the January assault on the U.S. Capitol—a comparison Biden called "ridiculous."
Biden told reporters he "did what I came to do" and said the talks with Putin were positive. But he did not invite the Russian leader to the White House.
According to Biden, some of the topics discussed at the summit were Russian opposition leader Alexei Navalny, human rights, Ukraine, the cyberattacks and election interference. The meeting lasted roughly three hours.
"The bottom line is, I told President Putin that we need to have some basic rules of the road that we can all abide by," Biden said during his news conference.