Joe Biden kept his sunglasses on to greet Queen Elizabeth II in a breach of royal protocol—adding his name to a growing list of presidents to make gaffes on meeting the monarch.
A visit to a palace or castle to meet the world's longest currently reigning monarch is a historic moment for a U.S. leader.
During her almost 70 years on the throne, Elizabeth has met all but one of the last 14 presidents, with Lyndon B. Johnson the only one to miss out.
However, these state occasions are full of protocol and arcane royal etiquette, which is easy to miss—especially after three tiring days of G7 meetings.
Here are some of the other U.S. presidents to make diplomatic gaffes on meeting the Queen.
Joe Biden
The president and first lady touched down in Britain on June 10, and first met the Queen at a G7 summit for world leaders the following day.
However, it was when he arrived for a guard of honor and tea with Elizabeth on Sunday, June 13, that he slipped up.
In temperatures of 80 F, Biden kept his sunglasses on as he made his way through Windsor Castle's Quadrangle to meet the Queen.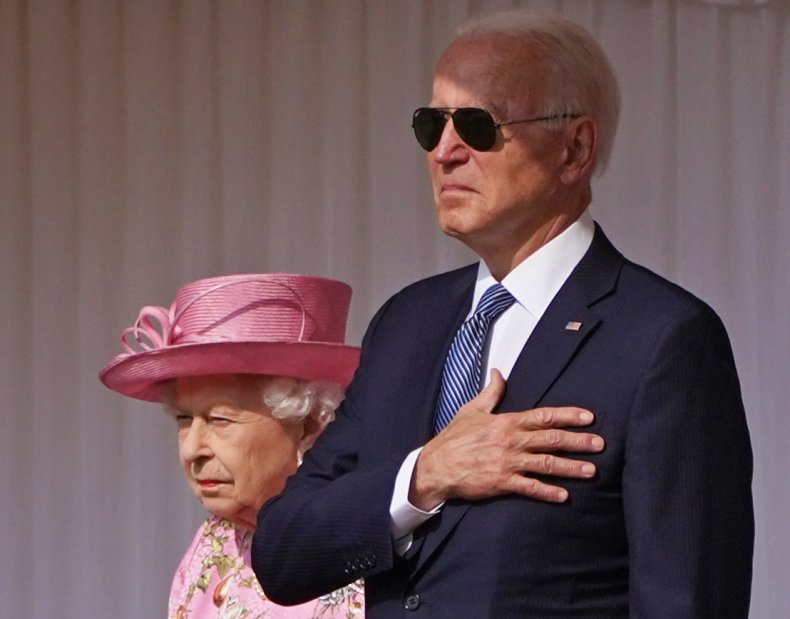 Grant Harrold, a former butler to Prince Charles and Camilla, Duchess of Cornwall, told Newsweek: "If you're meeting the queen face-to-face there's no sunglasses or anything like that at all because eye contact is quite important with any introduction.
"It's fine for Biden to have had sunglasses on but he should have removed them when he actually met the queen.
"Everyone else has to, it doesn't matter who you are, even royals remove sunglasses when they meet royals."
Donald Trump
Donald Trump blundered twice on separate meetings with the queen, including in July 2018, when broadcast cameras recorded her ushering him to walk forward.
As the pair inspected a guard of honor at Windsor Castle, Trump then walked out in front of her only to stop suddenly, leaving Elizabeth to shuffle awkwardly around him.
The mistake was picked up on by commentators, with royal expert Richard Fitzwilliams telling CNN at the time that Trump "might as well have been wandering up and down a golf course."
Trump slipped up again the following year during a state banquet at Buckingham Palace in June 2019.
Following Trump's speech, Elizabeth stood for his toast but, as she rose from her seat, Trump appeared to touch her on the back.
Uninvited physical contact with royals is considered a breach of protocol.
Barack Obama
Barack Obama found himself in an awkward position when the string orchestra of the Scots Guard began playing "God Save the Queen" during his speech at a Buckingham Palace banquet.
The then-president began with the words "to Her Majesty, the Queen," which the band appeared to interpret as his toast.
However, he in fact had more to say about the "special relationship" between America and Britain and kept on going.
On finishing, he then turned to toast the Queen, only to find she was standing still in honor of the British national anthem.
When the music stopped, the toast went ahead as planned.
However, if Obama was embarrassed by the confusion he did not show it on meeting then U.K. deputy prime minister Nick Clegg, when he joked that it was like the soundtrack on a movie.
The British politician told him: "I thought you did exactly the right thing."
Michelle Obama
First ladies are also a big part of formal royal events and Michelle Obama gaffed when she hugged the Queen in 2009.
The Obamas were at Buckingham Palace and the former first lady later wrote in her memoir, Becoming, the pair chatted about how their heels had left them both with sore feet.
Discussing the hug, she added: "I did what's instinctive to me any time I feel connected to a new person."
George Bush Sr.
The queen has become well versed in public speaking, giving her first radio broadcast to her nation in 1940, aged just 14.
However, it does help to have someone set up the microphone for you, as she discovered during a meeting with George Bush Sr. at the White House in May, 1991.
Bush Sr. made his speech first but did not adjust the microphone stand for the Queen, who stands at just 5 feet 4 inches tall.
The result was that Elizabeth's face was hidden behind the microphone as the cameras filmed the event.
Asked why he didn't adjust the stand, Bush Sr. later told reporters: "Well, I feel badly I didn't. And I thought about it and—but she started to speak.
"And I didn't realize how it would look from a straight angle, or I would have interrupted her because it wasn't fair to her.
"And I'm just sorry that it was overlooked."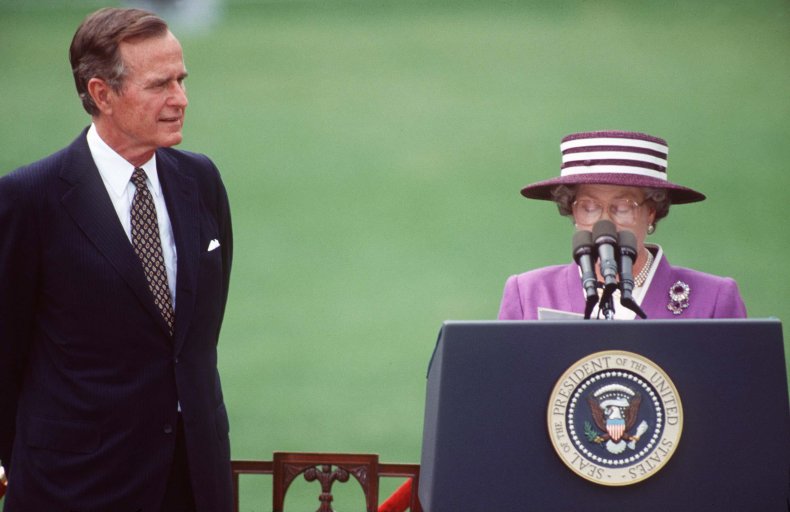 In Focus
Queen Elizabeth II's face obscured by the microphone after a speech by President George Bush Sr on the White House Lawn In Washington, DC.
Launch Slideshow

2 PHOTOS