Joe Biden Tells Voters He Would Consider a Republican Running Mate in the 2020 Presidential Election
Former Vice President Joe Biden, who is running to be the Democratic candidate in the presidential election in 2020, told voters in an event in New Hampshire on Monday that he would consider a member of the Republican Party for a running mate.
In a video clip from CNN, he predicted that he would be "clobbered by the press" for saying that he would take a Republican running mate, but told the crowd that saying so would be "totally legitimate."
Biden reportedly made the comment after a woman at an event in Exeter, New Hampshire, told him that he would need to "pull out all the stops" if he were to win the Democratic nomination. The woman said that her son had previously wondered aloud whether Biden would partner with a Republican running mate in the 2020 election.
"The answer is, I would," Biden replied. "but I can't think of one now."
Those words elicited laughter and applause from some of the event's attendees. After it died down, the former vice president offered a clarification.
"Now, here's what I mean," Biden said. "There's some really decent Republicans that are out there still. But here's the problem right now, the well-known one: They've got to step up."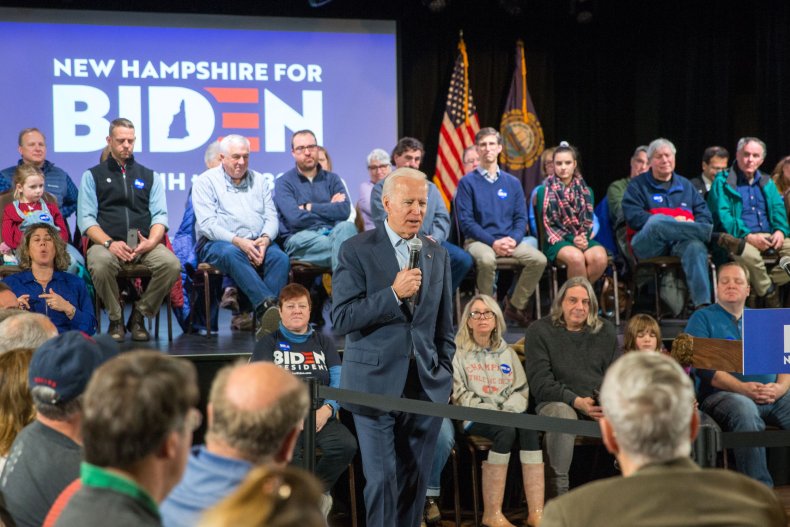 Biden has named a few potential running mates in the past. According to the New York Times, among them was Stacey Abrams, a former lawmaker in the legislature of Georgia and erstwhile candidate for the governorship of that state, as well as Sally Yates, the former acting attorney general.
Newsweek previously reported that, after a journalist asked Biden earlier in December if he would consider Senator Kamala Harris as a running mate, he walked away without answering. However, he later answered the question on Twitter, writing that Harris "is an incredible talent with unlimited potential" and that "[h]er intellect and insight will continue to be needed by the Democratic Party and the country."
Biden stressed to the New Hampshire voters that what really mattered to him in a running mate was how well they would work together.
"Whomever I would pick were I fortunate enough to be your nominee, I'd pick somebody who was simpatico with me, who knew what I, what my priorities were and knew what I wanted to," he said. "We could disagree on tactic, but strategically we'd have to be in the exact same page."
In a similar vein, at the end of the video clip from CNN, Biden appeared to imply that less important to him than a vice president's party affiliation was how efficiently they can work with the president.
"The only thing I know about is the qualifications for vice president—and by that I mean no president can, by him or herself, handle the job all [by] themselves," he said.