Joe Biden Urged to Back $2,000 Monthly Stimulus Checks in Petition Signed by 250,000
A petition calling on former Vice President Joe Biden and presumptive Democratic presidential nominee to back a policy of "universal basic income" amid the pandemic has picked up more than a quarter of a million signatures.
The Change.org petition, first reported by Fox 10 Phoenix, urges the Democratic presidential candidate to support monthly payments of $2,000 for everyone in the United States while the pandemic continues.
The petition has also asked the Democratic National Committee to endorse the policy until Americans are able to return to work.
"The future of our economy is uncertain and the recovery from the Corona Virus Epidemic will be difficult," the petition reads. "Although the CARES Act was able to get $1,200 to taxpayers, millions of people fell through the cracks and still have not received their stimulus check.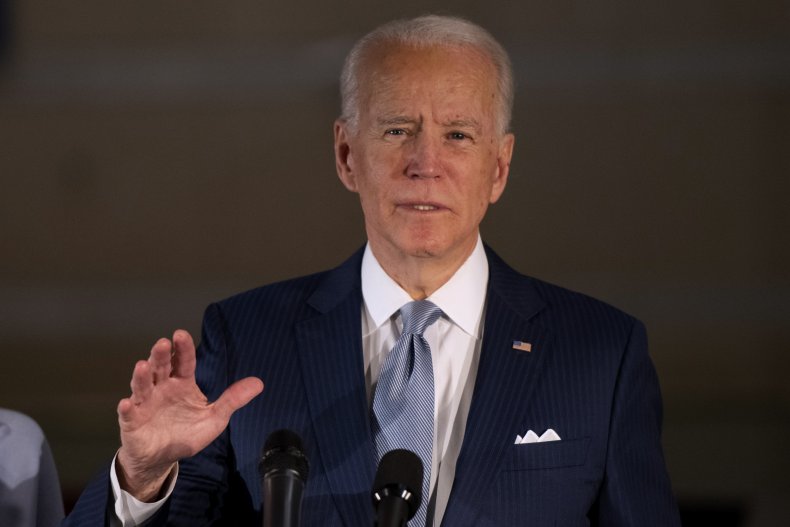 "In 2008 our govt. bailed out big banks and corporations that were 'too big to fail'. This time we call on Joe Biden and the Democratic National Committee to support bailing out the people and publicly endorse a Universal Basic Income of at least $2,000 a month for every resident of the United States until the current health epidemic has passed and people are able to return to work."
The petition, created by William Bustos-Martinez, says that universal basic income would help the millions of Americans who have filed jobless claims in recent weeks "get through" the coronavirus crisis.
At the time of writing, the Change.org petition has been signed by more than 253,000 people since it was launched last week. It has a target of 300,000 signatures.
Newsweek has contacted the Biden 2020 campaign for comment on the petition and will update this article with any response.
The call for monthly universal basic income payments of $2,000 comes more than a month after the CARES Act was signed into law, a bill offering many Americans a one-time $1,200 stimulus check to counteract the economic shocks of the coronavirus pandemic.
Under the HEROES Act, which narrowly passed by the House of Representatives last week, a second round of $1,200 checks would be issued with families able to claim up to $6,000.
Having passed the Democratic-controlled House by a margin of nine votes, the 1,800-page bill is now being held up in the Republican-led Senate.
Speaking to reporters on Tuesday, Senate Majority Leader Mitch McConnell said there was a need to assess the situation before talking about further stimulus measures.
But he has also poured cold water on the HEROES Act, dubbing the $3 trillion bailout package a "parade of absurdities" and "far-left wish list" since its passage.