Pelosi Accuses Senate Republicans of 'Political Retribution' by Refusing to Consider HEROES Act
House Speaker Nancy Pelosi has said Senate Republicans are simply trying to ensure President Donald Trump can "keep his job" by refusing to hold a vote on the $3 trillion relief bill passed last week by House Democrats.
The wide-ranging HEROES Act passed last Friday includes another round of stimulus payments as a successor to the cash injection measures from the CARES Act. It would also increase unemployment aid and boost food stamps and small business emergency grants to help the economy hit by the COVID-19 pandemic.
The bill as written has been dubbed "dead on arrival" at the GOP-dominated Senate amid Republican criticism about its impact on the national debt and its non-coronavirus proposals, including "expedited green cards" for migrant health workers and opening up banking services to cannabis businesses.
Pelosi reiterated that the GOP should still be able to negotiate terms and accused them of conducting "political retribution" by refusing to countenance the bill.
"Instead of holding a vote on The #HeroesAct, Senate Republicans are engaging in a clear act of political retribution designed to help the President keep his job," she tweeted on Wednesday. "The Senate must stop playing along with the President's dangerous tactics & take steps to save lives and livelihoods."
Earlier in the week, Pelosi told CBS that "time is of the essence" in helping Americans and businesses that were struggling.
"We have lost time. Setting aside how we got here, we cannot take a pause. [Republicans] may think it's OK to pause, but people are hungry across America. Hunger doesn't take a pause.
"People are jobless across America. That doesn't take a pause. People don't have enough money to pay their rent across the country. We have to address this with humanity," she told Face the Nation.
As well as stimulus checks, HEROES act contains a large suite of measures such as $1 trillion for state and local governments, $200 billion in hazard pay for key workers and forgiveness of student loans.
But top Republicans have dismissed the bill with Majority Leader Mitch McConnell particularly scathing, telling lawmakers that it "reads like the Speaker of the House pasted together random ideas from her most liberal members and slapped the word "coronavirus" on top of it."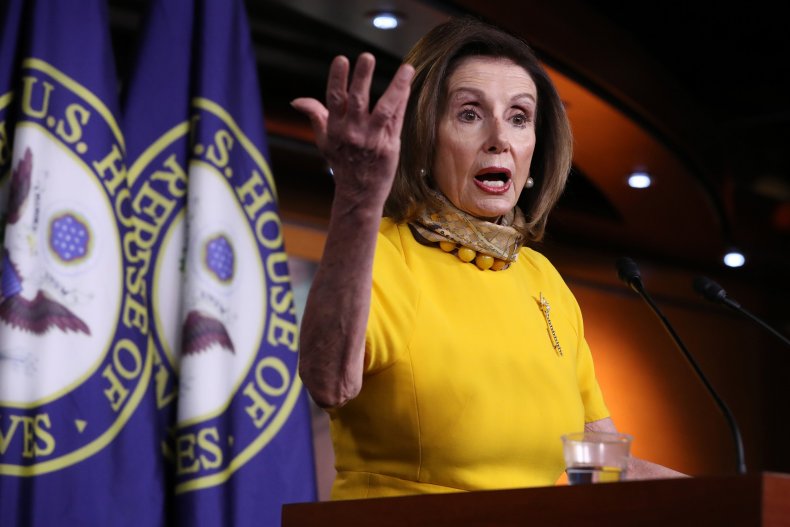 Derek Klock, a professor of finance at Virginia Tech, said he was not convinced that there was a need for another stimulus package just yet.
"We need to give the programs in place time to work," he told Newsweek. "That said, I think that the CARES Act made a mistake in the additional flat $600 per week unemployment benefit.... many out of work workers are now collecting more in unemployment than they were paid on their jobs.
"The perversion of incentive most likely allowed employers to just lay off workers and tell them that they will be better off in the meantime with unemployment and will be less likely to be exposed to the virus by staying at home. This needs to be amended," he said.
The infographic below, provided by Statista, shows the states with the most confirmed COVID-19 cases across the U.S. as of May 20.