Joe Biden became the third American president to publicly pledge to defend the disputed Senkaku Islands on Monday, as Japan adapts to an alarming increase in Chinese government vessels in and around the islets in the East China Sea.
After Biden became the first head of state to speak with Japan's new Prime Minister Fumio Kishida, a readout carried by the White House called the U.S.-Japan alliance "the cornerstone of peace, security, and stability in the Indo-Pacific and around the world."
Kishida, 64, told reporters in Tokyo on Tuesday that the U.S. president had offered "strong remarks on the U.S. commitment to defend Japan, including Article 5 of the U.S.-Japan security treaty," the clause that has, since the Obama administration, covered the Japan-controlled island chain which China also claims under the name Diaoyu.
"We confirmed that we would work together toward the strengthening of the Japan-U.S. alliance and the free and open Indo-Pacific," Kishida added, also touching on common areas of concerns such as China and North Korea.
In a separate statement about the 20-minute call, the Japanese Foreign Ministry said Biden had "reaffirmed the U.S.'s unwavering commitment to the defense of Japan including the application of Article V of the Japan-U.S. Security Treaty to the Senkaku Islands."
Kishida said the U.S.-Japan alliance would "continue to be the core of Japan's foreign and security policy under his cabinet," the ministry said.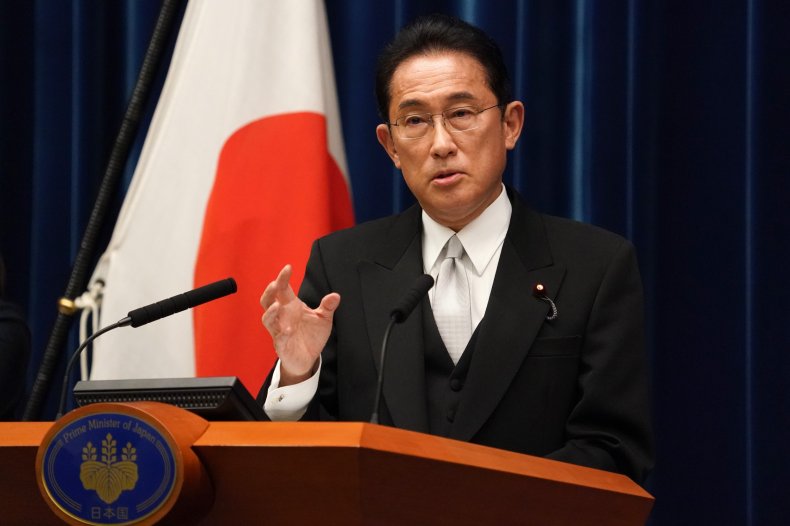 The U.S. doesn't take a position on sovereignty over the Senkaku Islands but recognizes Japanese administration over them. Taiwan is the third party with a claim over the islets, which it calls Diaoyutai, but Taipei has not matched the challenges mounted by Beijing.
Last month, Tokyo lodged complaints over a fleet of seven China Coast Guard vessels—four armed with a weapon resembling an "autocannon"—that sailed into the contiguous zone and territorial waters of the Senkaku Islands. It continued a trend of activity that continues to reach new highs this year.
Confirmed as Japan's new leader on Monday, Kishida acknowledged the need to maintain dialogue with China—the country's largest two-way trading partner—but said Tokyo would "speak up" against Beijing attempts to "change the status quo" in the East and South China seas.
Kishida on Monday acknowledged the need to continue dialogue with China, an important neighbor and trade partner, but said that "we must speak up" against China's attempt to change the status quo in the East and South China Seas.
Kishida, who served five years as Shinzo Abe's top diplomat, appointed a new cabinet this week that retained the services of Foreign Minister Toshimitsu Motegi and Defense Minister Nobuo Kishi.
Japan's new leader has called a parliamentary election for October 31.