Joe Biden Vows Not to Raise Taxes as President for Anyone Making Less Than $400,000
Joe Biden on Friday revived his vow to raise taxes only on individuals who make $400,000 or more in annual income if he is elected president.
The presumptive Democratic nominee has previously shared a tax plan that analysts said could raise taxes by as much as $4 trillion over the next decade, with most of those taxes affecting wealthier Americans.
"Nobody making under $400,000 would have their taxes raised, period. Bingo. Let's get people back to work," Biden said Friday morning during a CNBC interview.
"My tax policy is based on a simple proposition: We should stop rewarding wealth and start rewarding work a little bit," he said.
Like Vermont Senator Bernie Sanders, Massachusetts Senator Elizabeth Warren and many of the others seeking the Democratic nomination earlier this year before suspending their campaigns, Biden has been critical of the 2017 tax cuts President Donald Trump championed.
According to evaluations by two economics professors at the University of California, Berkeley, the sweeping tax cuts Congress passed that year resulted in especially low tax rates for America's 400 wealthiest families, with many paying lower taxes than the families that make up America's bottom 50 percent. Biden said that if he wins the November election, his proposed taxes would focus on corporations and wealthy individuals.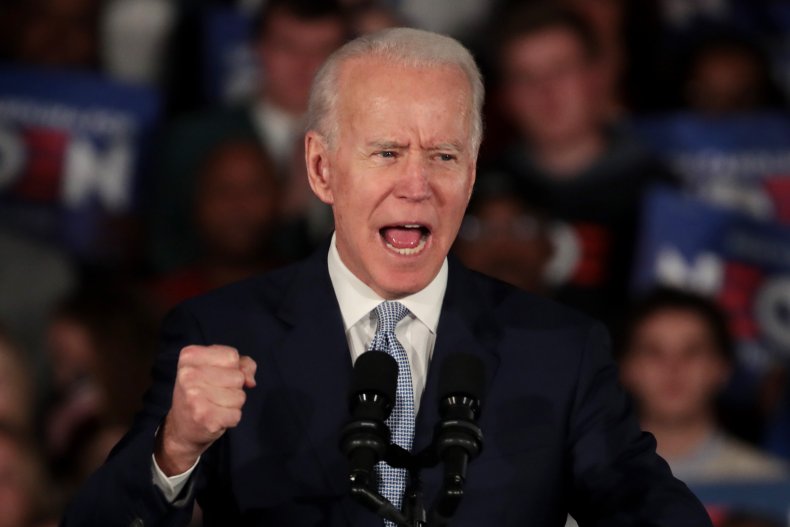 "Let's raise the capital gains tax for people making over a million bucks a year of ordinary income; let's reverse Trump's tax cut," Biden said Friday. "Imagine if we had that $2 trillion now as we go into—God willing—a recovery."
Newsweek reached out to the White House for comment but did not hear back before publication.
While some economists predicted in the early days of the coronavirus pandemic that the U.S. economy would rebound in a V-shaped fashion, in which its fast fall would be reversed with an equally fast rebound, economic forecasters have grown less confident in those early predictions in the past couple of months. The goal of the Payment Protection Program, part of March's Coronavirus Aid, Relief and Economic Security Act, was to support employers and help small businesses avoid having to lay off workers, but nearly 40 million Americans have filed for unemployment since the pandemic began. Earlier this month, a top White House economic adviser predicted unemployment numbers would continue to rise over the next couple of months.
"Almost 40 million Americans have filed for unemployment," Biden said. "And you know what the White House is proposing? More tax cuts for corporate America. I've got a novel idea. How about some relief for Main Street?"
According to an analysis by the Tax Policy Center, Biden's tax plan divides its focus between income taxes for those that make more than $400,000 each year and business taxes. About 75 percent of Biden's proposed income taxes would be paid by America's top 1 percent, the analysis concluded.
"I am focused on keeping people employed, keeping them on a payroll, so that when we get to actual recovery, we're not just talking about a stimulus to keep things from getting worse," Biden said. "The idea of putting people back to work is going to occur when we really invest in America—when we invest significantly in infrastructure, when we invest significantly in all the research and development that has to be done to compete not just with China but around the world.
"We can build back better," he said, "but all those small businesses—when they go out of business, they're gone."