Joe Biden Wants Third Stimulus Check Threshold to Be $75,000 for Individuals
President Joe Biden favors keeping the income cap for the proposed third round of COVID-19 relief checks at $75,000.
Biden answered "yes" when asked if he agreed with the upper eligibility limit during an Oval Office meeting with business leaders on Tuesday. House Democrats moved forward with a plan to keep the threshold for $1,400 direct payments at $75,000 for individuals and $150,000 for married couples on Monday, despite pressure from Republicans and some moderate Democrats to cut off payments at a lower amount.
The legislation, introduced by Ways and Means Committee Chairman Richard E. Neal (D-Mass.), would gradually reduce payments for those exceeding the limits, phasing out checks entirely for individuals making over $100,000 and couples making more than $200,000. The bill also includes several other benefits, such as raising federal unemployment payments from $300 to $400 per week and extending the program through the end of August.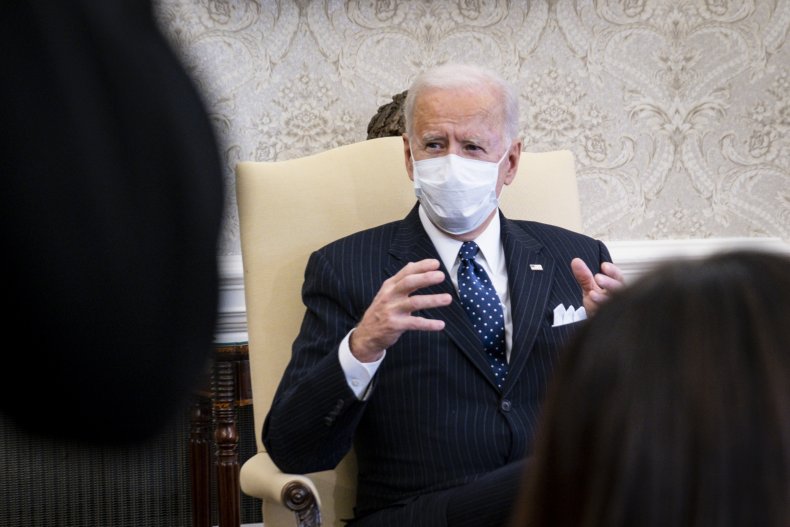 With Democrats having no room for dissent in order for a bill to pass in the Senate, moderate Democratic Senator Joe Manchin (W. Va.) has been one potential stumbling block to passing the $1,400 checks. Manchin has indicated that he prefers a "targeted" approach to the payments, favoring a counterproposal that would drop the income limit to $50,000 for individuals and $100,000 for couples.
Republicans proposed lowering the amount of the direct payments to $1,000 and dropping the cap even further, to $40,000 for individuals and $80,000 for couples, with no payments for individuals making more than $50,000 and couples making more than $100,000. Previous relief checks, passed with Republican support during the administration of former President Donald Trump, had caps set at levels similar to the current Democratic proposal.
Biden has resisted calls to reduce the $1,400 payment but appeared to be willing to compromise on the income cap until Monday. White House Press Secretary Jen Psaki said that Biden was "open to having that discussion" when asked about lowering the cap during a press conference last week. Treasury Secretary Janet Yellen also told CNN on Sunday that the president was "willing to work with Congress" on a lower income limit.
However, proposals to lower the threshold were met with backlash from progressive Democrats, many of whom had previously balked at the current amount of the check being $1,400 instead of the $2,000 payments that were frequently mentioned during last month's Senate runoff elections in Georgia. Arguments against lowering the cap have often highlighted that the cost of living varies greatly in different areas of the country.
"In my district, you have to make $60,000/yr to afford to rent a one bed," Rep. Ayanna Pressley (D-Mass.) tweeted on Monday. "'Targeted' relief means less for fewer people. We promised real relief and must deliver."
The Ways and Means Committee is expected to debate the proposal on Wednesday but potential distractions, such as Trump's Senate impeachment trial, suggest that a final vote on legislation may not come until the end of the month. Democrats have indicated that they expect a stimulus bill to pass no later than March 14, the day that current unemployment benefits expire. Checks could be sent out within weeks of a bill passing.
Newsweek reached out to the White House for comment.