Progressives Frustrated by Biden's Willingness to Compromise on $1,400 Stimulus Checks
Progressives in Congress have expressed frustration at President Joe Biden's willingness to discuss lowering the income threshold for Americans to be eligible for $1,400 stimulus checks.
Some Republicans and moderate Democrats have raised concerns that Americans who have not been economically disadvantaged by the COVID-19 pandemic received the first and second round of stimulus checks. These lawmakers have suggested that a third round of direct payments should be more targeted, going to individuals earning $50,000 or less and couples making up to $100,00—instead of $75,000 and $150,000 respectively as was previously done.
"Further targeting means not the size of the check, it means the income level of people who receive the check and that's something that has been under discussion. There hasn't been a conclusion but certainly he's open to having that discussion," White House Press Secretary Jen Psaki told reporters last Wednesday.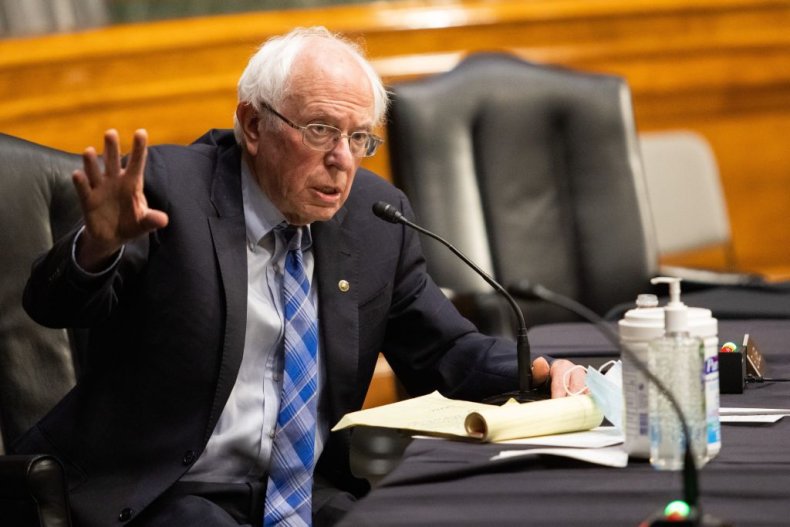 Senator Bernie Sanders, a progressive independent from Vermont, came out strongly against the suggestion of compromising. As the chair of the Senate Budget Committee, Sanders is key to Biden's plan to push the $1.9 trillion COVID-19 stimulus package through with or without Republican backing using the budget reconciliation process.
"I strongly oppose lowering income eligibility for direct payments from $75,000 to $50,000 for individuals and $150,000 to $100,000 for couples. In these difficult times, ALL working class people deserve the full $1,400. Last I heard, someone making $55,000 a year is not 'rich,'" Sanders tweeted Saturday evening.
Earlier on Saturday, Representative Pramila Jayapal, a Washington Democrat who chairs the Progressive Caucus, tweeted her opposition as well.
"We promised people that if we won the Senate, we would send out $2,000 survival checks. They delivered us to victory—and now we MUST deliver," Jayapal wrote. "'Targeting' checks to a smaller group fails to do that. People need help like never before, and we must put money in their pockets."
Representative Rashida Tlaib, a Michigan Democrat, called out the discussions about compromise last week. Tlaib and many progressives are pushing for the government to send out $2,000 monthly checks—even viewing the one-time $1,400 payment as too little to meet the scale of the economic crisis.
"The Republicans pushing to limit survival checks were silent when they were in the majority," Tlaib tweeted on Friday.
Others within the progressive wing of the Democratic Party are pointing out that the messaging surrounding the stimulus checks has been confusing. Ahead of the Georgia Senate runoffs in early January, there was bipartisan support for raising the $600 stimulus payments included in the December relief package to $2,000. Democrats campaigned heavily on the message of sending out $2,000 stimulus checks, but are clarifying now that they meant topping up the December payment—not a completely new round of checks.
"Some of the same folks who said 'defunding huge PD budgets & shifting $ to schools is too hard to explain' are now saying 'Well $1400 is actually $2k if you recall the $600 from a diff president, carry the 1- yes I know ads showed $2k checks, but thresholds-' Just help people!" Representative Alexandria Ocasio-Cortez, a New York Democrat, tweeted on Saturday.
Ocasio-Cortez also raised concerns about providing too little relief when Democrats campaigned on doing more.
"It would be outrageous if we ran on giving more relief and ended up doing the opposite. It's sad that this is even an argument in the Dem party. COVID relief is disaster relief, & it's urgent," the congresswoman from New York wrote. "Our first act out of the gate should be big, bold, and strong. Not weaker & smaller."
Whether the final package will compromise on the income threshold remains to be seen as negotiations move forward. But Biden and Democrats already appear to have abandoned another key progressive demand of raising the federal minimum wage to $15 per hour through the relief package. Biden and moderate Democrats have said including the wage hike would be against the rules of the budget reconciliation process, although some analysts disagree.
Democrats have turned to the budget reconciliation process, as it allows them to pass the legislation with a slim majority. Typically, legislation requires at least 60 votes to pass, due to the legislative filibuster rule. With an evenly split Senate, 50 to 50, Vice President Kamala Harris can provide a tie-breaking vote if no Senate Republicans end up supporting the final package.
Newsweek reached out to the White House for comment, but did not immediately receive a response.