Economists Warn of Risks of Too Little COVID Stimulus as GOP Senators Push Smaller Package
As a group of Senate Republicans have put forward a $600 billion COVID-19 stimulus plan as a counteroffer to President Joe Biden's $1.9 trillion package, many economists are warning against the risks of providing too little in economic relief.
Senator Susan Collins, a Maine Republican, led a group of nine other moderate GOP senators in sending a Sunday letter to the White House, requesting a meeting with Biden to discuss a significantly smaller relief bill that could gain quick bipartisan support. Although the president agreed to meet on Monday evening with the Republican lawmakers, Democrats appear to be growing impatient with their GOP colleagues—pushing back against the suggestion of a significantly smaller package.
In a Monday letter addressed to congressional leaders, a group of economists and think tank leaders urged lawmakers to quickly pass a large package, voicing support for Biden's $1.9 trillion proposal.
"President Biden's $1.9 trillion American Rescue Plan—with its critical public health investments to beat COVID-19, its aid to help struggling families, and its assistance to states, localities, tribes, and territories—is an appropriate scale of new spending under current conditions," they wrote.
The letter was signed by Rebecca Dixon, executive director of the National Employment Law Center; Thea Lee, president of the Economic Policy Institute; Greg Leiserson, chief economist at Washington Center for Equitable Growth; Sharon Parrott, president of the Center on Budget and Policy Priorities; John Podesta, founder and chair of the board of the Center for American Progress; and Felicia Wong, president and CEO of the Roosevelt Institute.
"The risk from providing too little in relief and economic recovery far outweighs the risk of providing too much. We urge you to act quickly to pass a robust pandemic relief package to control the virus, address hardship, and boost the economy," they concluded.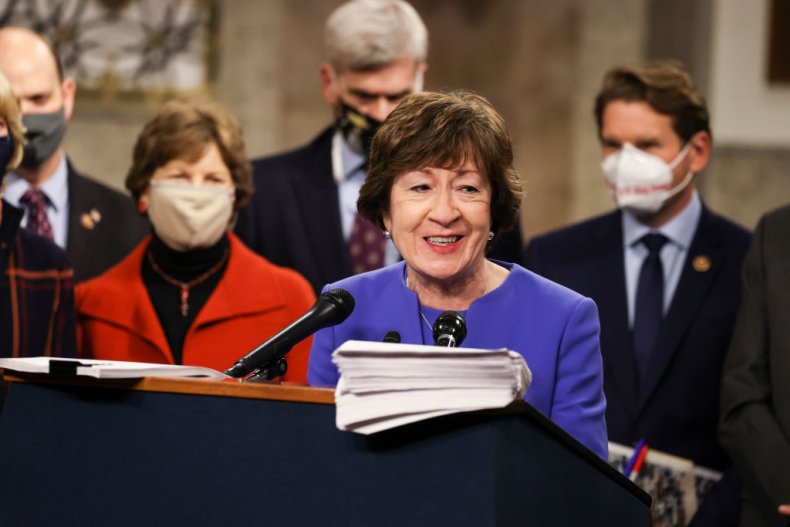 Paul Krugman, a Nobel Prize winning economist and professor at City University of New York, strongly criticized the Republican offer in a Sunday Twitter thread.
"So Rs want Biden to drastically scale back economic relief in the name of bipartisanship. Their offer is insultingly inadequate," Krugman wrote.
Although the Republican plan would match the $160 billion in Biden's plan for additional COVID-19 testing, vaccine distribution and treatment, it substantially scales backs or cuts completely other priorities. Instead of $1,400 checks to most Americans, the GOP offer would provide just $1,000 to a smaller group of Americans earning up to $50,000 annually. It would provide less in weekly federal unemployment assistance, and completely dismisses the Biden plan's provision to raise the federal minimum wage to $15 per hour over a period of time.
"The President spoke to Senator Collins, and invited her and other signers of the letter to come to the White House early this week for a full exchange of views," White House press secretary Jen Psaki said in a Sunday statement about the Republican letter and proposal. However, Psaki emphasized Biden's commitment to moving forward quickly with further relief.
"As leading economists have said, the danger now is not in doing too much: it is in doing too little. Americans of both parties are looking to their leaders to meet the moment," she said.
Patrick Gourley, an assistant professor of economics at the University of New Haven, told Newsweek that the balance is "tricky" when it comes to the right amount of stimulus. However, he said he'd personally prefer to see a larger package.
"A bigger stimulus package will be better for the economy right now, but policymakers also need to consider the effects of a large stimulus package on the future. If a stimulus package that is too big passes, then it could overheat the economy," Gourley cautioned.
"I would also support passing a smaller one today, then re-examining the situation in May with the intent of passing another small package if warranted," he added.
Gourley said that overall, he views the federal government's previous stimulus efforts favorably. "Unlike many European governments, we have focused most of our aid on workers, not firms, and that relief has been generous. Also, the government has taken the approach that speed is paramount, with the theory that it is better to risk giving aid to the self-sufficient than accidentally withholding aid from the needy," he said.
Whether Republicans and Democrats can reach a compromise and pass another sizable bipartisan bill remains to be seen. But with the starting GOP offer less than a third of the size of Biden's plan, the possibility of speedy bipartisan agreement appears remote. Increasingly, Democratic lawmakers look ready to push their larger package through the budget reconciliation process—which they could potentially approve with a slim majority and no Republican backing.
"The question is addressing the unprecedented crisis that we face right now. If Republicans want to work with us, they have better ideas on how to address those crises, that's great. But, to be honest with you, I have not yet heard that," Senator Bernie Sanders, a Vermont independent who caucuses with the Democrats and chairs the Senate Budgetary Committee, told ABC News on Sunday.
Senator Chris Murphy, a Connecticut Democrat, tweeted his concern with the smaller GOP offer on Sunday.
"Here's what I think: 1. I want to do a bipartisan deal and we should try. But not one that is so small it doesn't fix anything," Murphy wrote. "2. When Rs tried to repeal the ACA and pass tax cuts with 50 votes, they made zero effort to do it with Democrats. None," he added.
But Hoyt Bleakley, a professor of economics at the University of Michigan, raised concerns to Newsweek that neither the Democratic or the Republican proposal was the right approach. Bleakley suggested that lawmakers should think about a "rescue" approach more than a "stimulus" package.
"Regrettably, the two packages are closest on the 'give people money indiscriminately' issue and farthest away on the 'control the spread [of the pandemic]' issue," Bleakley said
"What bothers me about the current debate, however, is that it sidesteps the huge intergenerational inequity. Children face the lowest risk of health damage from COVID-19, yet they will be the ones who have to pay off this extra federal debt when they are adults, even though we've made it harder for them to do so by wrecking a year of their education and social development," the economist warned.
Others believe Biden has found the right balance. Saru Jayaraman, executive director and co-founder of One Fair Wage, strongly criticized the Republican proposal, stressing what many see as the importance of raising the federal minimum wage
"Screwing working people over by cutting them out of the recovery deal wouldn't just be bad policy but bad politics for the hundreds of thousands of workers who supported Biden and the Democrats in their pledges to raise the minimum wage and end the subminimum wage for essential restaurant workers," Jayaraman said in a statement emailed to Newsweek.