What Is President Biden's Indo-Pacific Economic Framework?
Five years after Trump's withdrawal from the Trans-Pacific Partnership, President Joe Biden is reinstating the U.S's influence in the Indo-Pacific region with a new economic strategy: the Indo-Pacific Economic Framework.
The Commander in Chief flew into Tokyo to rollout the initiative and meet with the other world leaders, including Japan's Prime Minister Fumio Kishida and India's Prime Minister Narendra Modi.
According to a White House statement, this framework was launched "for prosperity and will strengthen our ties in this critical region to define the coming decades for technological innovation and the global economy".
What is the Indo-Pacific Economic Framework?
This consists of an alliance of a dozen different countries in the Indo-Pacific region, China is notably not a part of this.
The framework will ultimately expand U.S's economic power in the region by allowing the countries to create new trade and commerce deals and rules.
It is a partnership amongst the countries to work with each other comprehensively in aspects of commerce and trade.
Which Countries Have Agreed to Join the Indo-Pacific Economic Framework?
The 13 countries who are part of this membership include:
India
United States
Japan
South Korea
Australia
Brunei
Indonesia
Malaysia
New Zealand
Philippines
Singapore
Thailand
Vietnam
Despite this being Biden's first Asia trip as Commander in Chief, he has reaffirmed his commitment and support to the region, stating that this allegiance is "going to help all of our country's economies grow faster and fairer."
The countries part of the IPEF (Indo-Pacific Economic Framework) make up 40% of the world economy, so arguably this is an economically significant powerful allegiance.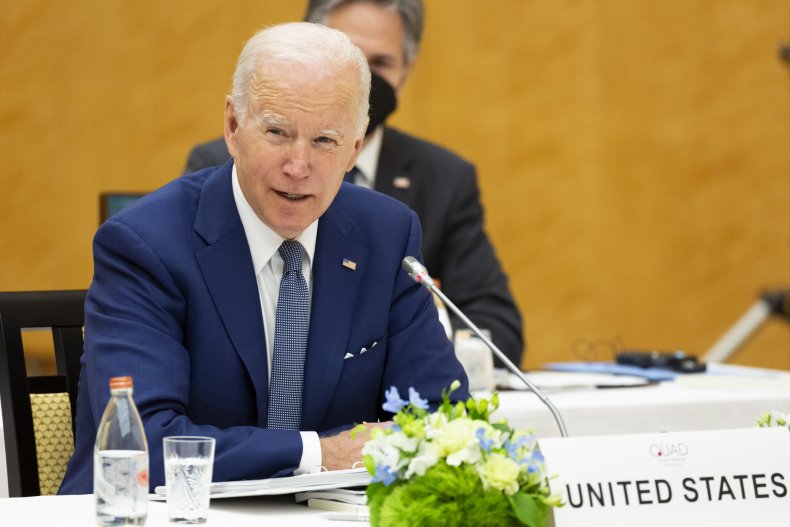 What Has Joe Biden Said About the Indo-Pacific Economic Framework?
Biden has stated that this allegiance is for prosperity, and that it will have a positive impact on the U.S's economy. He has stated that this "will fuel regional growth. Trade with the Indo-Pacific supports more than three million American jobs and is the source of nearly $900 billion in foreign direct investment in the United States."
The initiative comes in five months after China's Regional Comprehensive Economic Partnership was rolled out, which constitutes 15 different Asia-Pacific countries and is to date the world's largest trade bloc. Whilst the IPEF effectively replaces the TPP (Trans-Pacific Partnership) for the US it also appears to be a direct strategy to counteract China's influence in the region.
Although Trump originally left the TPP, Singapore and Japan had hopes of Biden rejoining. But Biden made it clear he had no intention of ever rejoining the TPP, and instead has created a new partnership with the IPEF. With this new framework it's clear to see Biden is focused on reinstating the U.S's economic influence in the region as well as counteracting China's influence in the region.