Joe Biden 'Will Respond' if North Korea Escalates but 'Prepared' for Diplomacy
U.S. President Joe Biden has warned his administration would respond should North Korea choose to escalate in the wake of a series of missile launches, but was also ready to engage with Pyongyang in diplomacy.
Biden confirmed that a North Korean launch believed to have involved a short-range ballistic missile system late Wednesday constituted a violation of United Nations Security Council resolutions imposing restrictions on the nuclear-armed nation's arsenal. The launch followed an earlier short-range cruise missile firing over the weekend that he described Tuesday as "business as usual" as it did not run counter to the resolutions against North Korea.
The president said the U.S. was in consultation with allies and partners, and, if North Korea should, "choose to escalate, we will respond accordingly."
But he said another option was possible.
"I'm also prepared for some form of diplomacy," Biden added, "but it has to be conditioned upon the end result of denuclearization."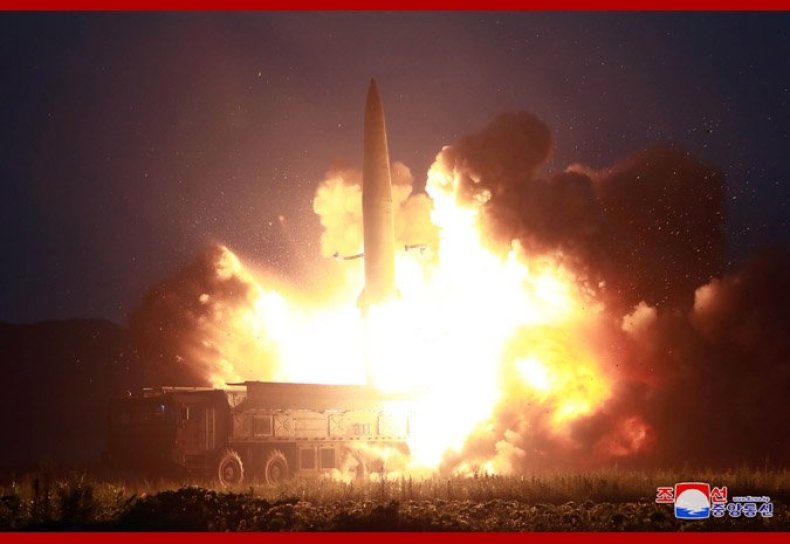 Biden's predecessor, former President Donald Trump, engaged in an ambitious peace process with North Korean Supreme Leader Kim Jong Un, and was the first sitting U.S. president to meet a North Korean ruler. But despite three encounters, the two sides failed to produce an agreement to end the decades-long conflict, disarm Kim's weapons and lift sanctions against the largely isolated nation.
As a result, tensions have since returned to the Korean Peninsula.
North Korea's launch Wednesday proved the first ballistic missile test in just under a year and the U.S. military has reiterated its opposition to such displays.
"We are aware of North Korean missile launches this morning into the East Sea," INDOPACOM Public Affairs Officer Navy Captain Mike Kafka said in a statement to Newsweek late Wednesday.
He emphasized Washington's alliances with Seoul and Tokyo in the face of the latest move by Pyongyang.
"We will continue to monitor the situation and are consulting closely with our allies and partners," Kafka added. "This activity highlights the threat that North Korea's illicit weapons program poses to its neighbors and the international community. The U.S. commitment to the defense of the Republic of Korea and Japan remains ironclad."
The South Korean Ministry of National Defense suspected the missiles to have been launched from Hamju County, South Hamgyong province, and to have flown a distance of about 450 kilometers (280 miles) at a maximum altitude of around 60 kilometers (37 miles), according to a statement sent to Newsweek.
The Japanese Defense Ministry has condemned North Korea's actions.
"The recent repeated launches of ballistic missiles by North Korea are a serious issue for the entire international community, including Japan," the ministry said in a statement shortly after the launches. "In order to protect the lives and property of the people, we will continue to do our utmost to collect and analyze information and to monitor alerts."
North Korea did not initially publish news of any weapons tests in its state-run media outlets, which often serve as a conduit for showcasing new military capabilities to the world. Later, official Korean Workers' Party newspaper Rodong Sinmun reported that a "newly-developed new-type tactical guided projectile" was tested, reaching a distance of 600 kilometers, or about 373 miles, off the east coast of the Korean Peninsula.
While North Korea resumed launching short-range ballistic missiles and even tested a submarine-launched ballistic missile (SLBM) in 2019, it has yet to conduct an intercontinental ballistic missile (ICBM) launch or nuclear test since pledging not to in the name of peace in 2018.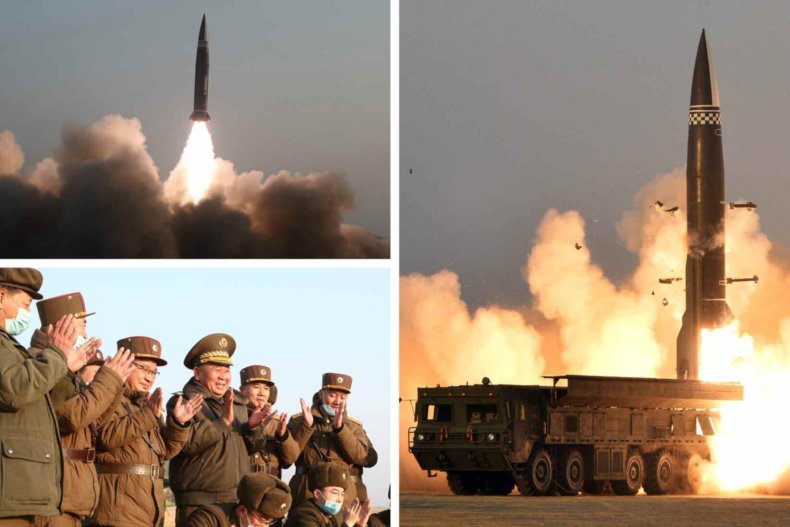 But as negotiations collapsed, Kim has made clear in the years since that the moratorium no longer holds. His officials have so far rejected the Biden administration's attempts to establish contact, demanding that the U.S. first end its "hostile policy" toward his nation.
Kim signaled a potential shift in his approach to the U.S. just ahead of Biden's inauguration in January as North Korea held its 8th Party Congress. In a speech, Kim referred to the U.S. as "the principal enemy of our state" and pledged to "adopt an adroit strategy toward the U.S. and steadily expand solidarity with the anti-imperialist, independent forces."
He appears to have since tightened ties with Chinese President Xi Jinping, calling for both the two neighbors "to cope with the hostile forces' all-round challenges and obstructive moves" at a time when both were facing difficulties from the U.S.
Chinese Foreign Ministry spokesperson Hua Chunying addressed the latest launched in a press conference earlier Thursday.
"Maintaining peace and stability on the Korean Peninsula and resolving issues through dialogue and consultation serve the common interests of all relevant parties, and meet the shared aspiration of the international community," she said. "China always holds that all parties concerned need to work together to sustain the situation of detente on the Korean Peninsula, press ahead with the political settlement of the Korean Peninsula issue, and make positive efforts to achieve lasting peace and stability on the Peninsula and the region."