Joe Biden Will Support Taiwan Self-Defense: U.S. Delegation
The Biden administration will be a "reliable, trusted friend" to Taiwan and support its investments in self-defense, the head of a U.S. delegation in Taipei said on Thursday.
In a speech addressing Taiwanese President Tsai Ing-wen, former Connecticut Senator Chris Dodd said his bipartisan group of ex-U.S. officials was there at the request of President Joe Biden in order to reaffirm the U.S.-Taiwan partnership, which he described as "stronger than ever."
Dodd's delegation includes former deputy secretaries of state Richard Armitage and James Steinberg, as well as the director of the State Department's Office of Taiwan Coordination, Dan Biers.
The group's unofficial visit, which a White House official said was a "personal signal" of Biden's commitment to Taipei, marks 42 years of the Taiwan Relations Act (TRA)—the keystone legislation that has guided the U.S.'s informal interactions with the island since Washington normalized diplomatic ties with Beijing in 1979.
"The significance of the TRA becomes even more evident with each passing year. I can say with confidence that the United States' partnership with Taiwan is stronger than ever," Dodd told Tsai after Taiwan's first female leader opened with a welcoming statement inside Taipei's Presidential Office.
"We share deep economic ties, a mutual commitment to democratic values and a critically important security partnership," he said.
Dodd added: "We are here today as a bipartisan delegation ... at the request of my long-standing friend, President Joe Biden, to reaffirm the U.S. commit to this partnership, and to deepening our cooperation on the multitude of interests that we share in common."
Dodd said Taiwan would find the Biden administration to be a "reliable, trusted friend."
"I'm confident this administration will help you expand your international space and support your investments in self-defense," added the former senator, who is a close friend and adviser to Biden.
Armitage and Steinberg, who served during the respective administrations of George W. Bush and Barack Obama, each followed with brief statements.
Armitage said the group sent by Biden was not about "vexation" against China, noting the tendency for previous administrations to do so when interacting with Taiwan. The president's purpose "is only to support the continuation of this great democracy, which you all have built," he added.
Steinberg, meanwhile, praised Taiwan's response to the coronavirus pandemic, calling it "a testament to how a democracy can provide strong and effective governance for the benefits not only of its own citizens, but for the globe."
Taiwan's Foreign Ministry told Newsweek that the delegation's trip took several weeks to plan. The visit by the former officials comes amid China's escalating military intimidation against the island nation, which Beijing claims as part of its territory.
Just hours before Biden's emissaries reached Taipei on Wednesday, China had announced six days of live-fire exercises in its coastal seas across from Taiwan.
Taiwan was ready to work with the United States to safeguard peace and stability in the region and deter Beijing's recent "provocations," said Tsai, who was re-elected for a second term in January 2020.
She also expressed her country's hopes of resuming trade talks with Washington.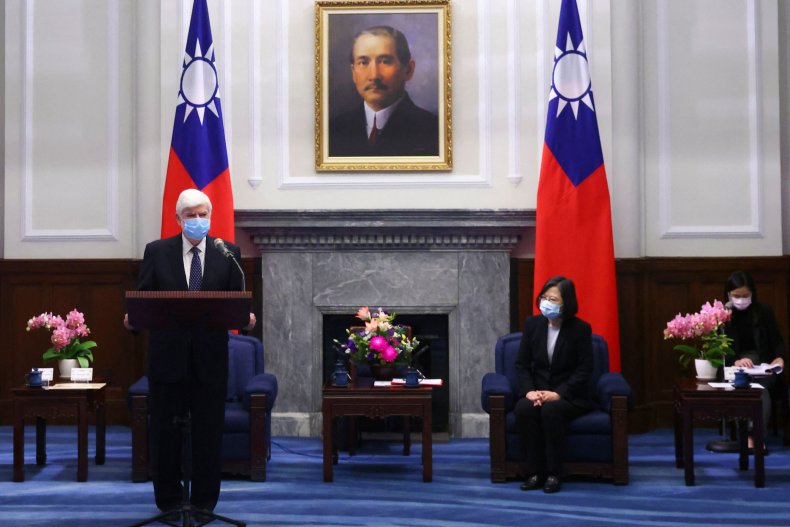 President Biden's handpicked delegation is scheduled to fly out early Friday. They will attend a dinner hosted by Tsai on Thursday following engagements with senior Taiwanese officials and cross-party lawmakers.
The Chinese government opposes all forms of interaction between Taipei and Washington, claiming they are a violation of its "one-China" principle. The U.S's own one-China policy, which differs in substantive ways, acknowledges but does recognize or affirm Beijing's territorial claims over the democratically governed island.
In a press briefing on Wednesday, China's Foreign Ministry spokesperson Zhao Lijian called on the U.S. to "prudently handle Taiwan-related issues," describing Tsai as "head of a Chinese region."
He said China had "lodged solemn representations" with Washington over its decision to send the delegation.
Despite the officially unofficial nature of the Taipei visit, Beijing's Taiwan Affairs Office said the categorization was a "veil of deception." Its spokesperson Ma Xiaoguang said China's military drills were aimed at stopping "collusion" between Taiwan and the U.S.