Biden and Xi Agree Nuclear Weapons Use in Ukraine 'Totally Unacceptable'
Joe Biden and Xi Jinping both opposed saber-rattling and the use of nuclear weapons in Ukraine, the president of the United States said Monday after a lengthy meeting with his Chinese counterpart.
Following their first face-to-face summit since the Democrat was elected president two years ago, Biden said at a news conference in Bali that he and Xi had an "open and candid" conversation about each other's intentions and priorities.
The three-hour talks on the sidelines of the G20 summit in the Indonesian resort were scheduled with the aim of ensuring the intense U.S.-China rivalry doesn't spiral out of control.
"We're going to compete vigorously, but I'm not looking for conflict," said Biden, who went into the meeting wanting to establish respective "red lines" with China's president.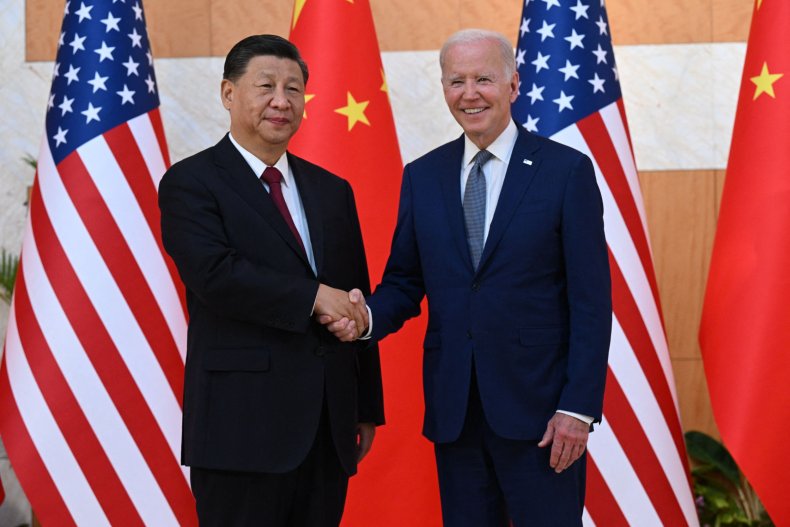 "We discussed Russia's aggression against Ukraine [and] reaffirmed our shared belief that the threat or the use of nuclear weapons is totally unacceptable," Biden said, in a nod to concerns that the Kremlin could turn to strategic arms to turn the tide in Ukraine.
A White House readout said Biden and Xi "reiterated their agreement that a nuclear war should never be fought and can never be won and underscored their opposition to the use or threat of use of nuclear weapons in Ukraine."
The language mirrored a joint statement on nuclear arms signed by the five permanent members of the United Nations Security Council in January, about two months before Russia's invasion of Ukraine.
However, the opposition to nuclear weapons use was absent from Beijing's readout published by China's official news service Xinhua.
The Chinese readout about Ukraine differed in meaningful ways from the U.S. version. Xi told Biden: "First, there are no winners in conflict and war; second, there are no simple solutions to complex problems; third, confrontation between great powers must be avoided."
"China has always stood on the side of peace and will continue to urge peace and promote dialogue, and support and look forward to the resumption of peace talks between Russia and Ukraine," Xi said.
"At the same time, China hopes for the United States, NATO and the European Union to carry out a comprehensive dialogue with Russia," he said.
Beijing's decision to omit opposition to nuclear weapons use in its public statement would've been out of consideration for its strategic partnership with Moscow, which might've viewed the language as a rebuke.
Angela Stent, director of the Center for Eurasian, Russian and East European Studies at Georgetown University, told Newsweek that China was typically cautious about its public messaging about Russia.
"From the U.S. point of view, they would like China to distance itself from what Russia was saying," Stent said of the Kremlin's nuclear threats, "but that's obviously a very challenging task."
"These are two countries that have a very strong set of shared grievances against the West, particularly against the United States," she said. "They're very allergic to criticisms by the West of their domestic systems, but also, in China's case, about Taiwan, and in Russia's case, including now about Ukraine."
Sensitivities surrounding Taiwan, the democratic island claimed by Beijing but whose defense is backed by Washington, appeared to have been discussed at length. Beijing says the island is part of Chinese territory, but Taiwan rejects the sovereignty claim.
Official U.S. policy doesn't support Taiwan's independence or commit forces to its defense, but Biden has suggested on a number of occasions that he would intervene military against China, which hasn't renounced the use of force to achieve a political union with the island.
Washington and Beijing fell out further on the subject in early August when House Speaker Nancy Pelosi visited Taipei, becoming the most senior U.S. elected official to set foot in Taiwan in a quarter century.
The Chinese military spun up war games around the island in response, and American officials described them as an overreaction, and a pretext to apply more coercive pressure on Taipei to accept Beijing's terms for unification.
Biden "raised U.S. objections to [China's] coercive and increasingly aggressive actions toward Taiwan, which undermine peace and stability across the Taiwan Strait and in the broader region, and jeopardize global prosperity," the White House said.
"I do not think there is any attempt on the part of China to invade Taiwan, and I made it clear that our policy on Taiwan has not changed at all," Biden told reporters, saying that the U.S. continued to oppose unilateral changes from both sides of the strait.
"I made it clear that we want to see cross-strait issues peacefully resolved, so it never has to come to that. I'm convinced that he understood exactly what I was saying," Biden said of Xi.
Ultimately, averting a U.S.-China conflict remained at the top of the agenda. Biden said his Chinese counterpart was "direct and straightforward" but "willing to compromise on various issues."
Among the few deliverables achieved at the talks appeared to be an agreement to resume working-level meetings on areas of disagreement or issues of mutual concern. Beijing shut some of the communication channels after August's Pelosi saga.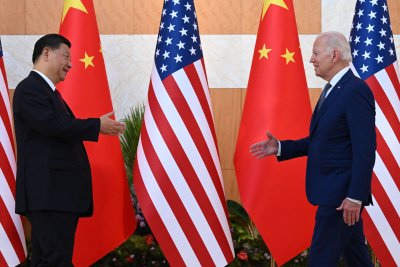 Another consensus, Biden said, was a potential visit to China by Antony Blinken, the secretary of state, who would become the most senior American official to visit the country since the COVID-19 pandemic.
Beijing, for its part, opted against releasing an early readout of the talks to preempt reporting on what was Xi's sixth conversation with Biden as president.
"China-U.S. relations should not be a zero-sum game where one side out-competes or thrives at the expense of the other," Xinhua quoted Xi as saying. "The successes of China and the United States are opportunities, not challenges, for each other. The world is big enough for the two countries to develop themselves and prosper together."
Devoting significant space to the topic of Taiwan, Xi reportedly told the American president that the island was "at the very core of China's core interests" and "the first red line that must not be crossed in China-U.S. relations."
"Xi said that he takes very seriously Biden's 'five noes' statement," Xinhua said, referring to the U.S. commitment not to seek a new Cold War with Beijing, change the Chinese political system, target China with revitalized U.S. alliances, nor support Taiwan independence, and not to seek conflict with the Chinese side.
"China does not seek to change the existing international order or interfere in the internal affairs of the United States, and has no intention to challenge or displace the United States," Xi told Biden.