Joe Biden 'Speaking His Mind,' Taiwan Envoy Says After Defense Pledge
Joe Biden was "speaking his mind" when he vowed to defend Taiwan from a Chinese attack, according to the island's top envoy to the United States.
The president's remarks – the fourth time in 13 months he has made such a pledge – were the clearest indication yet that he was prepared to deploy American forces to the Taiwan Strait in the event of a crisis, breaking with the decades of deliberately vague U.S. policy on the matter.
"What we've heard is President Biden speaking his mind," Hsiao Bi-khim, Taiwan's de facto ambassador to Washington, told reporters on Monday. She said the two countries would cooperate more closely "to promote and maintain peace and stability in the region, and jointly uphold the status quo."
China, which claims Taiwan as its own, has for decades sought political control over the island. Beijing insists its priority is to achieve this outcome, which it calls "unification," by peaceful means, but it also refuses to rule out the use of force.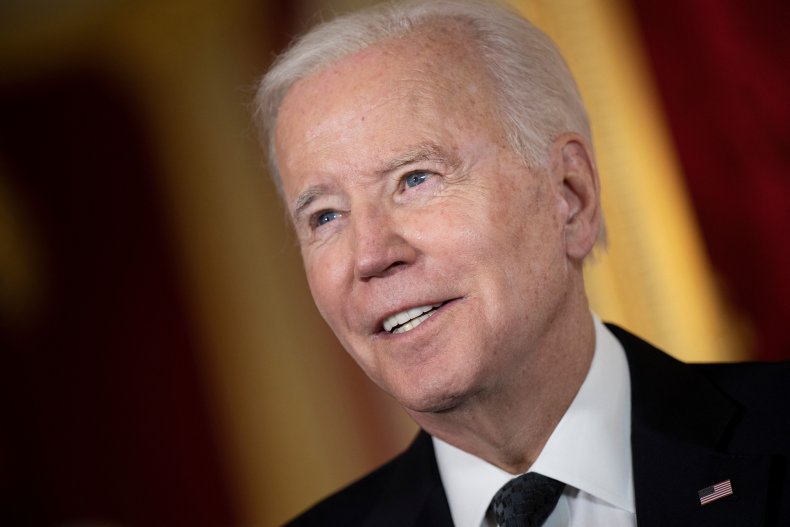 Policymakers in Washington and Taipei believe Beijing is actively preparing for the latter contingency, and its unprecedented war games around Taiwan in early August—a stated response to House Speaker Nancy Pelosi's visit to the island—have accelerated discussions in Congress and elsewhere about reforming the U.S.'s security assistance to Taiwan.
In a 60 Minutes interview that aired on Sunday, Biden said American forces, unlike in Ukraine, would intervene if China chose to act militarily to seize Taiwan, suggesting it would be within U.S. interests to do so. "Yes, if in fact there was an unprecedented attack," he told CBS's Scott Pelley.
The U.S. has no formal relations with Taiwan, but maintains a defense and economic partnership with the island under its "one China" policy, which recognizes Beijing as the sole legitimate government of China while not explicitly supporting its claim to Taiwan.
The geopolitical aspects of the U.S.-Taiwan relationship often capture the most attention, but economic ties between the pair also are significant. Taiwan was the U.S.'s eighth largest goods trading partner in 2021, the Commerce Department's International Trade Administration said in a fact sheet published last week. The U.S.'s No. 1 trading partner is China.
One China Policy
The U.S.'s one China policy includes the Taiwan Relations Act of 1979, under which Washington sells Taipei arms of a defensive character to help it maintain a credible self-defense capability. Crucially, however, the TRA doesn't include a concrete defense commitment, unlike the U.S.'s security treaties with Japan, South Korea or the Philippines.
Instead, the U.S. maintains a longstanding policy of "strategic ambiguity," which doesn't commit to or rule out the possibility of defending Taiwan from a Chinese invasion. The position gives Washington's decision makers room to maneuver based on circumstances, although many already believe the U.S. would intervene.
The White House told CBS that U.S. policy on Taiwan hadn't changed, but Chinese foreign ministry spokesperson Mao Ning said Beijing had filed a protest over Biden's remarks.
"We are ready to strive for the prospect of peaceful unification with utmost sincerity and utmost efforts," she told a regular press briefing on Monday. "At the same time, we will not tolerate any activity aimed at splitting the country and will reserve the option to take all necessary measures."
Mao's statement represented a standard response, but the Chinese foreign ministry's website struck her comments from its official transcripts in both Chinese and English—a sign of the highly sensitive nature of the Biden's pledge, the fourth of his presidency.
In an August 2021 interview with ABC News, Biden lumped Taiwan together with U.S. allies Japan and South Korea, as well as those in NATO. During a CNN Town Hall two months later, he answered "yes" when a member of the audience asked whether he could "vow to protect Taiwan."
Then this May, at a press conference next to Prime Minister Fumio Kishida of Japan, Biden again answered in the affirmative when asked whether the U.S. would be "militarily involved" in a Taiwan contingency.
Each of Biden's pledges was accompanied by a White House spokesperson's descriptions of U.S. policy as unchanged. At a think tank event in July, his national security adviser, Jake Sullivan, said the U.S. maintains "a policy of strategic ambiguity."
Observers have described the president's comments as gaffes and the White House clarifications as U-turns or walk-backs. On Monday, however, Kurt Campbell, Biden's top policy adviser for Asia, said the descriptions were "inappropriate."
"The president's remarks speak for themselves. I do think our policy has been consistent and is unchanged and will continue," he told an event hosted by the Carnegie Endowment for International Peace think tank.