The White House issued a clarification on Thursday saying that U.S. policy toward Taiwan had not changed after President Joe Biden said "we have a commitment" to defend the island if it's attacked.
Biden made the remarks during a CNN townhall event with Anderson Cooper. It's the second time this year he has suggested the U.S. would come to Taiwan's defense if China attacked.
The U.S., like most other nations, doesn't formally recognize Taiwan as an independent country. China claims Taiwan as part of its territory, but successive U.S. administrations have provided key support to the island, including supplying arms.
At Thursday's event, a participant at the townhall asked Biden about China's recent test of a hypersonic missile.
"What will you do to keep up with them militarily and can you vow to protect Taiwan?" asked Glenn Niblo, a student at Loyola University.
Biden replied: "Yes and yes. We are..."
The president paused briefly and went on: "Militarily, China, Russia and the rest of the world knows we are the most powerful military in the history of the world. Don't worry about whether they're going to be more powerful.
"What you do have to worry about is whether or not they're going to engage in activities that would put them in a position where they may make a serious mistake," he said.
Biden spoke about his meetings with Chinese President Xi Jinping and Cooper pressed him on Taiwan, asking: "So you're saying that the United States would come to Taiwan's defense if China attacked?"
"Yes, we have a commitment to do that," Biden said.
The U.S. is legally required to provide Taiwan with resources to defend itself, but has long pursued a policy of so-called "strategic ambiguity" on the question of intervening militarily in the event of a Chinese attack.
A White House spokesperson on Thursday clarified that position and said U.S. policy had not changed.
"The U.S. defense relationship with Taiwan is guided by the Taiwan Relations Act. We will uphold our commitment under the act, we will continue to support Taiwan's self-defense, and we will continue to oppose any unilateral changes to the status quo," the spokesperson said.
The graphic below, provided by Statista, shows the military imbalance in the Taiwan Strait.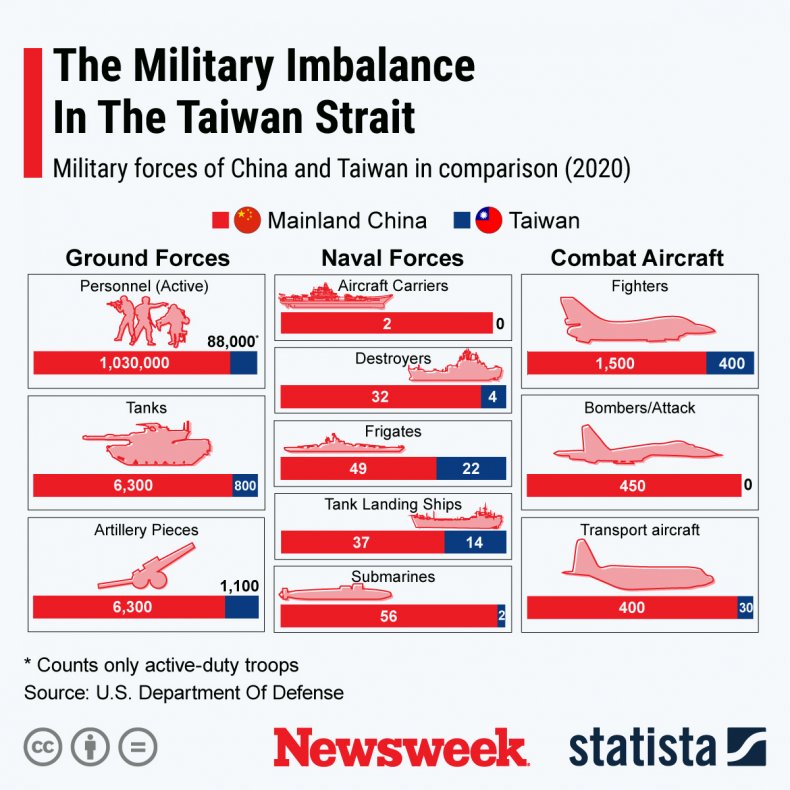 Taiwan Foreign Ministry spokesperson Joanne Ou told Newsweek on Friday: "The Foreign Ministry thanks President Biden for once again reaffirming the U.S.'s consistent commitment to Taiwan.
"The U.S. and increasingly more democratic countries are now highly alert to China's military expansion and provocative actions. Taiwan's government will continue to bolster our self-defense capabilities and safeguard Taiwan's democratic and free way of life, our national security and the well-being of our people."
"Taiwan will also deepen our cooperation with the U.S. and other like-minded countries in order to jointly promote peace, stability and prosperity in the Taiwan Strait and the Indo-Pacific region," she said.
In an August interview with ABC News, Biden appeared to suggest the U.S. would come to Taiwan's defense if the island was attacked. That led to a senior administration official clarifying the government's position that "policy with regard to Taiwan has not changed."
Update 10/22/21, 07.28 a.m. E.T: This article was updated to include a Statista graphic.