China Urging Biden Not to Give Taiwan Forces 'Wrong Signals' After Remarks
Chinese government officials warned President Joe Biden of encouraging Taiwanese efforts to declare independence from the country following a Sunday television appearance in which the president pledged to protect the democratically elected government from invasion.
Appearing on CBS News' 60 Minutes, Biden reaffirmed his willingness to deploy the U.S. military to defend the island nation from attack amid growing military pressure from Beijing, which has sought to annex the country as part of its government's "One China" policy.
The U.S. State Department has repeatedly said its policy of "strategic ambiguity" toward Taiwan to deter possible military escalation by China and to hedge Taiwanese ambitions for independence as the U.S. has begun to pursue an expansion of private sector trade with the island.
However, Biden has regularly upped the ante, and had previously expressed U.S. military support for Taiwan's independence during a May visit to Tokyo. The Taiwan public's desire to form a political union with China hit a near-record low in the first half of 2022, polling shows. And last year, U.S. public support to militarily intervene in Taiwan reached an all-time high in a survey by the Chicago Council on Global Affairs, reaching 52 percent.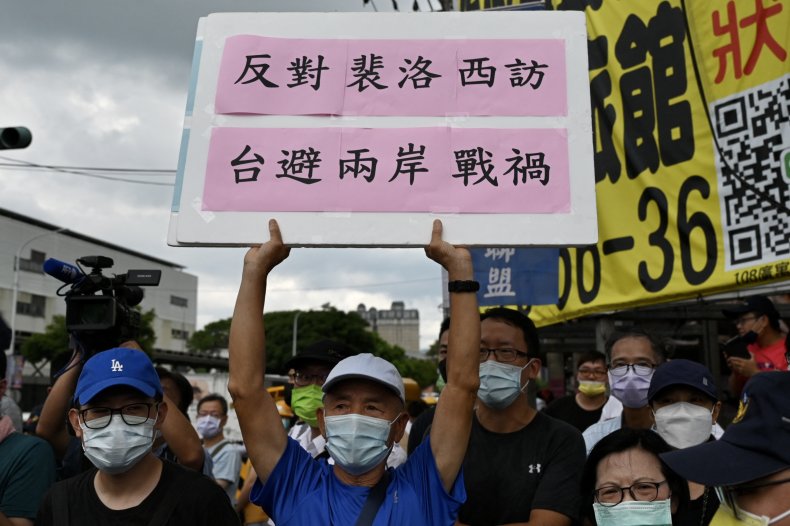 The comments that aired Sunday seemed to represent an escalation in Biden's rhetoric, however, with the president appearing to suggest the U.S. would go beyond its standing commitment to merely provide arms to Taiwan to defend itself in case of an attack.
In a press briefing on Monday, Chinese officials urged the White House to not send the "wrong signals" to Taiwan independence separatist forces and potentially risk encouraging war and damaging its relations with Beijing.
"We are willing to do our best to strive for peaceful reunification," Chinese foreign ministry spokeswoman Mao Ning told reporters, according to the South China Morning Post. "At the same time, we will not tolerate any activities aimed at secession."
Newsweek has contacted the White House for comment.
The exchange by proxy between the two countries comes against a backdrop of simmering tensions between Washington and Beijing as they find themselves on opposite sides of Russia's invasion of Ukraine.
Last week, Chinese-state media published an editorial urging the U.S. to stand down in its support of Ukraine as the West continues to mount sanctions against the Russian government. And last month, House Speaker Nancy Pelosi made her own, highly criticized trip to Taiwan, which the United States Institute of Peace described as potentially being a "tipping point in U.S.-China relations" that could one day be the event that "pushes Beijing on a trajectory to war."
Pelosi's visit was greeted with a Chinese military escalation of naval drills around the island. But even before then, analyses by groups like the Center for Strategic and International Studies have said the Chinese government was proactively seeking to divest itself from Western economies, suggesting the country was potentially preparing for prolonged conflict.
Biden has downplayed those tensions in the same interview, rejecting interviewer Scott Pelley's assertion that the current environment was similar to a new Cold War by noting the ongoing economic cooperation between the U.S. and China as well as the Chinese government's apparent unwillingness to proactively support Russia's war in Ukraine.
"There's no indication they've put forward weapons or other things Russia has wanted," the president said.