Taiwan's Desire for Unification With China Near Record Low as Tensions Rise
The Taiwan public's declining desire for political union with China fell further to a near-record low in the first half of 2022, the island's leading pollster said on Tuesday.
In a biannual update to its surveys on core political attitudes in Taiwan, National Chengchi University's Election Study Center (ESC) found only 1.3 percent of respondents wanted unification with mainland China "as soon as possible," while a similarly low 5.1 percent desired formal Taiwanese independence at the earliest possibility.
The appeal for both scenarios, which the ESC has tracked since 1994, remain near all-time lows. The latest figures published Tuesday, represented a 0.1 point drop for immediate unification and 0.7 point drop for immediate independence—two extreme viewpoints that tend not to weigh too heavily on the democratic island's regular elections.
For the past two decades, the majority of respondents have favored some form of the "status quo," the survey showed. Taiwan, now a semi-recognized state, has been ruled separately from the People's Republic of China on the mainland since the PRC was founded in Beijing in 1949.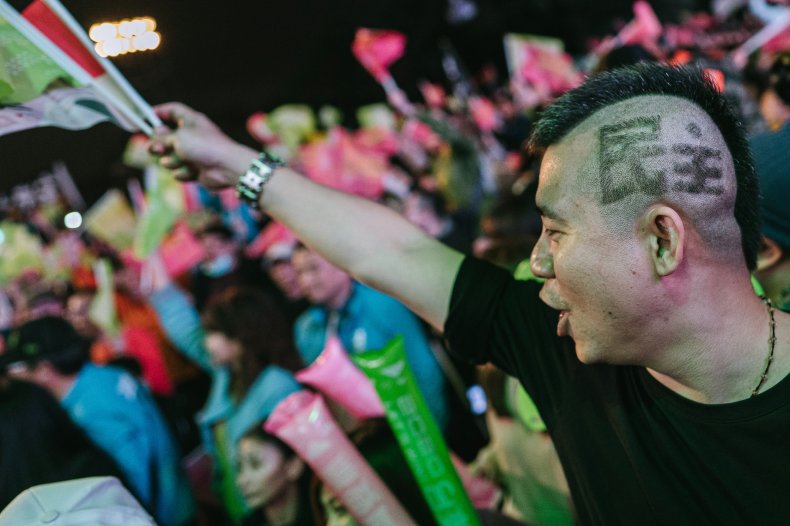 A record 28.6 percent of those polled said they preferred to "maintain the status quo indefinitely," while 28.3 percent chose the status quo to "decide at a later date." Meanwhile, 25.2 percent of respondents opted for the status quo with a view to "move toward independence."
Taken together, considering an additional 5.2 percent who desired the status quo and an eventual "move toward unification," the polling demonstrated below 10 percent appeal for a political union with China at some point in the future, while a separate political existence from Beijing was the desire of roughly two-thirds of the population.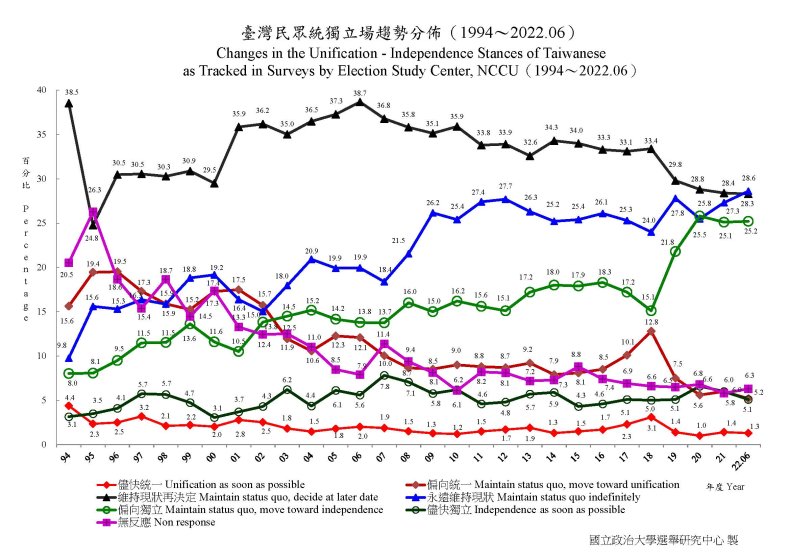 Relations between Taipei and Beijing have been fraught with tension for the better part of a decade, in part a reflection of the Taiwanese public's distrust of the Chinese government and its leaders, who have refused to rule out the use of military force against the island if it pursues de jure independence from the mainland.
Taiwan, whose president, Tsai Ing-wen, considers the island already a functionally independent country, says it has no plans to change the status quo.
On Tuesday, Taiwan's Foreign Ministry spokesperson Joanne Ou described as "absurd" a recent public address by Chinese Foreign Minister Wang Yi, who warned of "dark clouds" and "ferocious storms across the Taiwan Strait" if the island were to formally separate from the mainland.
Ou said Beijing was spreading fictional claims to the island in a bid to "annex Taiwan and whitewash [its] provocative acts."
"The People's Republic of China has never ruled Taiwan and naturally has no right to represent the people of Taiwan in the international community," she said. "That neither side of the strait is subordinate to the other is a historical fact recognized by the international community. It is also the longstanding status quo across the Taiwan Strait."
The unification of Taiwan and China has been the political objective of the Chinese leadership for decades. Polling shows Taiwan's public would be willing to fight off an invasion, although most don't believe an attack is imminent. A large minority retains faith in the United States' ability to help deter or repel Chinese aggression.
Experts, however, fear Chinese leader Xi Jinping could decide to leverage Beijing's overwhelming firepower to coerce Taipei into accepting a political settlement, although Russia's struggle to force a surrender in Ukraine is thought to have added new variables to China's calculus.
The consistent polling out of Taiwan belies Beijing's argument that a political existence wholly independent from China is the desire and intention of only a small group of "separatists" on the island. Chinese officials don't publicly acknowledge opinion surveys that contradict such a position.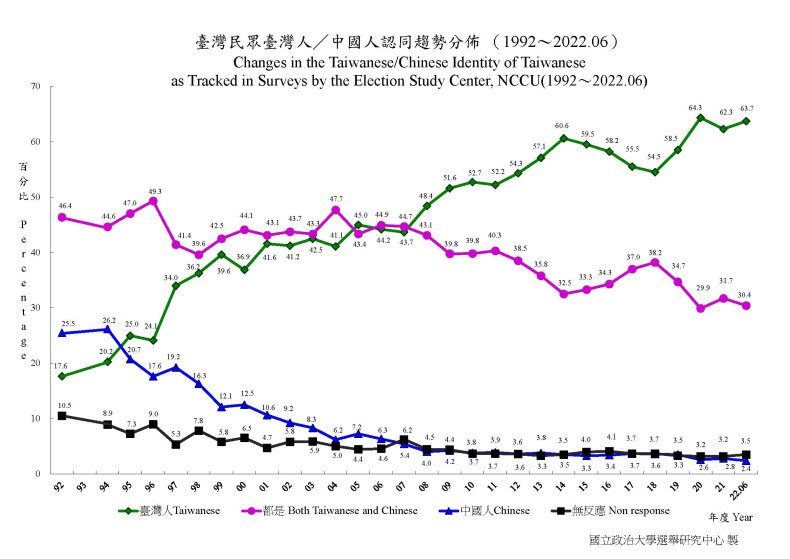 In the 10 years since Xi took power in Beijing, his nationalistic rhetoric and assertive policies toward Taiwan have contributed to a spike in Taiwanese desire for self-determination, as well as less association with their neighbor across the strait, the survey suggests.
According to the ESC's latest identity polling—tracked since 1992—a record-low 2.4 percent of respondents identified as solely "Chinese," while 30.4 percent said they were "both Taiwanese and Chinese"—just 0.5 points above the all-time low. A near-record high 63.7 percent identified as only "Taiwanese."
The ESC conducts regular telephone interviews of residents aged 20 or older in Taiwan, merging responses to produce updated statistics every six months. Its researchers collected 5,878 valid samples between January and June this year, the center said.