A Chinese government agency scrubbed a charged comment by an official spokesperson on Wednesday after he compared Taiwan's relationship with the United States to that of a mistress.
Ma Xiaoguang, director of the information bureau at the Taiwan Affairs Office in Beijing, was responding to a March interview featuring Taiwanese Foreign Minister Joseph Wu, who said his country should be considerate to the U.S. while Washington's attention shifts to American interests in other parts of the world.
At a biweekly press conference, the TAO spokesperson said Taiwan had become "a servant who grovels in front of external forces"—a term used chiefly as a placeholder for America. It was a fate "worse than that of a concubine," Ma told reporters on April 13. It was his final response of the day.
However, the reference was later edited out of the press briefing's official transcript, a sign that Ma's analogy may have been too creative for his superiors in China's central government. The response remains audible in live streams of the media event, after a reporter with the People's Political Consultative Daily, a state newspaper, asks the question and chuckles at the reply.
In the absence of diplomatic relations between Beijing and Taipei, relations across the Taiwan Strait are maintained not through their respective foreign ministries, but by the TAO and its Taiwanese counterpart, the Mainland Affairs Council in Taipei. Ties between the old Cold War foes have cooled significantly in recent years, with both sides trading barbs over political and ideological disagreements.
Beijing still claims Taiwan as part of its historic territory, while Taipei says the island nation is already a state under the name the Republic of China. Reached by Newsweek, Taiwan's Foreign Ministry and the MAC declined to respond to Ma's specific remarks.
While cross-strait relations remain frosty, Taiwan and the majority of its public grow ever closer to the U.S., their strongest international backer in the postwar era. The strengthening U.S.-Taiwan relationship has also coincided with Washington's worsening ties with Beijing.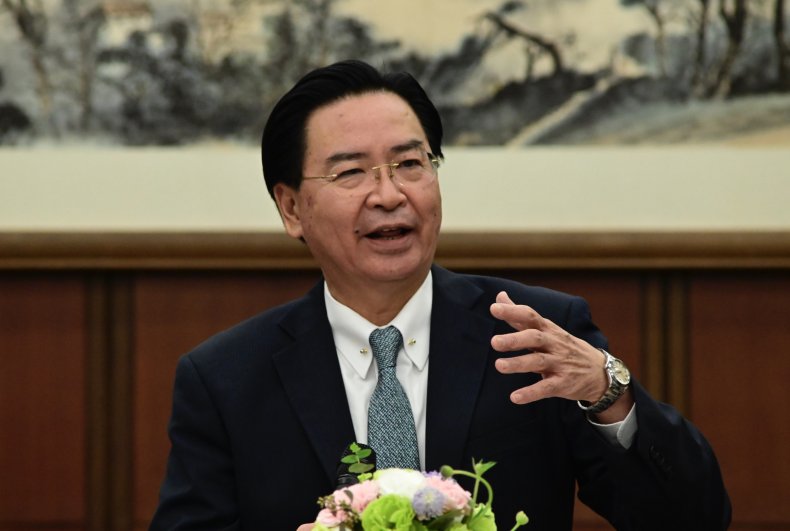 In his March 31 interview, 67-year-old Wu, Taiwan's top diplomat, said Taipei receives briefings from Washington before and after each meeting between U.S. officials and their Chinese counterparts—an indication of what he describes as "very high" mutual trust between the two governments.
"An important principle [in the U.S.-Taiwan relationship] is to remain considerate toward our American friends. For instances, when they're busy with something else, Taiwan shouldn't add to their troubles," Wu said last month, alluding to the Russia-Ukraine conflict. Taiwan shouldn't expect constant attention from the U.S. when its focus is elsewhere, he said.
"Secondly, we shouldn't give these friends too many surprises. Good surprises are of course good, but repeated bad surprises will reduce mutual trust," said Wu, explaining a balance he admits Taiwan's ruling Democratic Progressive Party had failed to strike when it was first elected to power between 2000 and 2008, during the presidency of George W. Bush.
Wu served briefly as Taiwan's de facto ambassador to Washington in the final year of Taiwan President Chen Shui-bian's second term. The party learned its lesson when it was returned to power with President Tsai Ing-wen in 2016, he suggests.
Wu, who was sanctioned by Beijing last November, says U.S. officials don't believe Taiwan is being provocative toward China. He believes Beijing is alienating major capitals around the world with its aggressive diplomacy—a phenomenon that ultimately benefits Taipei.