Negative views of China's government have reached a historic high in Taiwan while the Taiwanese public's opinion of their Chinese counterparts remains increasingly favorable despite worsening diplomatic and military tensions between Taipei and Beijing.
According to an annual survey released by local paper United Daily News on Monday, Taiwan's sympathies for Chinese citizens have peaked during the presidency of Tsai Ing-wen, whose administration is most often accused of "desinicization" during its open opposition against the Chinese Communist Party leadership.
UDN polling on relations across the Taiwan Strait—its 12th edition—found 70 percent of respondents held negative views of the Chinese government, up 4 percentage points from last year's record high. Favorable views, meanwhile, remain at an all-time low of 21 percent.
A near-historic high 59 percent told the newspaper—considered China-friendly and aligning with Taiwan's opposition Kuomintang party—that they held favorable opinions of Chinese people, a drop of 1 percentage point from 2020. Negative views of China's public rose 3 percentage points to 28 percent this year, the results showed.
Cross-strait tensions are said to be in their worst state in many decades, but recent surveys in Taiwan and elsewhere have found no urgency or fear of conflict among the public. This social trend was reflected in the UDN poll, in which the chance of war between Taiwan and China was rated at just 4.1 out of 10—a 0.1 drop from 2020.
While more people were unsatisfied than satisfied with Tsai's cross-strait policy—48 percent versus 40 percent, respectively—those interested in working in China remained at a near-historic low of 28 percent, and an all-time low of 7 percent of respondents said they wished to relocate to China.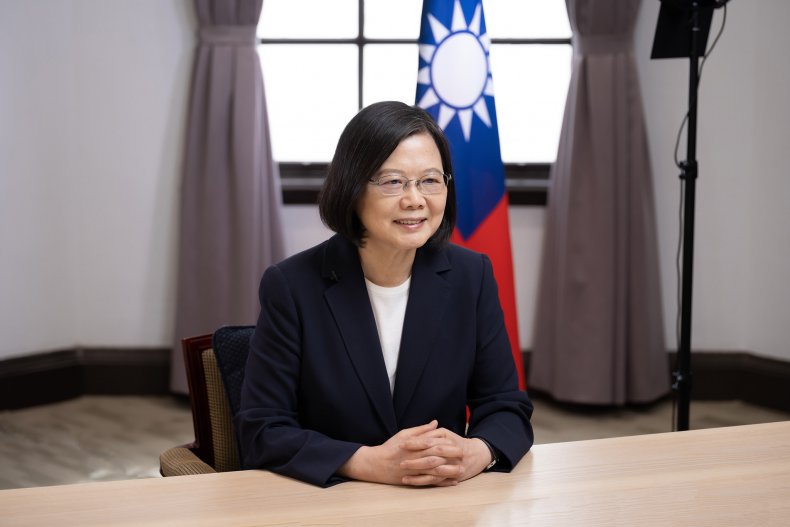 In the time-honored question of "Taiwan independence" versus "unification with the mainland," 18 percent of people said they wanted independence as soon as possible, while 16 percent said they preferred to maintain the status quo before declaring independence at a later point. Only 4 percent of respondents opted for unification as soon as possible, while 6 percent chose to keep things as they are before unifying with the mainland later.
A majority 51 percent said they preferred to maintain the status quo forever, which aligns accurately and consistently with the island's popular opinion about cross-strait relations, and also reflects Tsai's double-election winning mandate and promise not to unilaterally alter the status quo.
The UDN survey was conducted by telephone between September 15 and 21 and collected responses from 1,024 citizens across Taiwan above the legal voting age of 20.
Also on Monday, polling results released by the Asia-Pacific Elite Interchange Association (APEIA) in Taipei looked at responses to Tsai's National Day remarks on October 10. Standout findings included 70.6 percent who supported the president's position that the Republic of China (Taiwan) in Taipei and the People's Republic of China in Beijing are not subordinate to one another.
Pollsters also asked for responses to Chinese leader Xi Jinping's competing address a day earlier, in which he described unification between China and Taiwan as an inevitability and once more offered the Hong Kong-style "one country, two systems" model of governance for Taiwanese citizens.
Only 13.8 percent of respondents showed an interest in Xi's "peaceful unification," while 69.5 percent rejected the notion, according to APEIA, which conducted telephone surveys of 1,081 people above the age of 18 between October 14 and 16.
Recent polling of Taiwan public opinion on China matched findings in a Pew Research Center survey released on June 30. Pew found unfavorable views of China remained at historic highs in most places.
In Taiwan, Pew found 69 percent of respondents held negative views of China, without distinguishing between the government and its citizens. Negative views of China were at 76 percent in the United States, 73 percent in Canada, 78 percent in Australia, 77 percent in South Korea and 88 percent in Japan.