Joe Biden's Accuser Says This 'Isn't the First Time' After Ex-VP Says He Believes He Did Not Act Inappropriately With Woman
Joe Biden's accuser responded to the former vice president's claims on Sunday that he "never" believed he acted inappropriately, saying the incident involving her "isn't the first time" that he behaved that way toward women.
Former Nevada state lawmaker Lucy Flores earlier this week accused Biden of unwanted kissing and touching while he served as President Barack Obama's vice president in 2014. In an essay for The Cut, Flores detailed her experiences with the potential 2020 presidential candidate, recounting a time when Biden grabbed her shoulders, smelled her hair and kissed her on the back of her head during an event where he spoke on her behalf to support her candidacy for lieutenant governor of Nevada.
"My brain couldn't process what was happening. I was embarrassed," Flores wrote. "I couldn't move, and I couldn't say anything. I wanted nothing more than to get Biden away from me."
In a statement to Newsweek and other media outlets, Biden's spokesman Bill Russo said: "Neither then, nor in the years since, did he or the staff with him at the time have an inkling that Ms. Flores had been at any time uncomfortable, nor do they recall what she describes."
Newsweek subscription offers >
Russo added: "Vice President Biden believes that Ms. Flores has every right to share her own recollection and reflections, and that it is a change for better in our society that she has the opportunity to do so. He respects Ms. Flores as a strong and independent voice in our politics and wishes her only the best."
Biden released another statement on Sunday further clarifying his position on the allegation, just minutes before Flores went on CNN's State of the Union to discuss the incident. "In my many years on the campaign trail and in public life, I have offered countless handshakes, hugs, expressions of affection, support, and comfort," he said. "And not once—never—did I believe I acted inappropriately. If it is suggested I did so, I will listen respectfully. But it was never my intention.
"I may not recall these moments the same way, and I may be surprised at what I hear," the statement continued. "But we have arrived at an important time when women feel they can and should relate their experiences, and men should pay attention. And I will."
When State of the Union host Jake Tapper asked Flores to respond to Biden's latest statement during her CNN appearance, she said that it was "better than his first statement that they released on Saturday.
Newsweek subscription offers >
"I'm glad he's willing to listen," Flores added. "I'm glad he is clarifying his intentions."
Flores then commented on Biden's claims that he never believed he acted inappropriately, saying that the former vice president had behaved in similar ways on multiple occasions. "This isn't the first time, and it wasn't the only incident where he was acting inappropriately with women," she said. "If he is saying he never believed that was inappropriate, then frankly I think that's a little bit of a disconnect, and not being aware, a sense of not being aware because there has been documentation both in photos, videos, stories that were written."
In 2015, Biden was criticized over a video that showed him whispering intimately into the ear of Stephanie Carter, the wife of former Secretary of Defense Ashton Carter. Other photos showing Biden greeting people, including Senator Chris Coons's daughter, former Secretary of State Hillary Clinton and supporters, with a kiss on the lips have also resurfaced online since Flores's allegations came to light.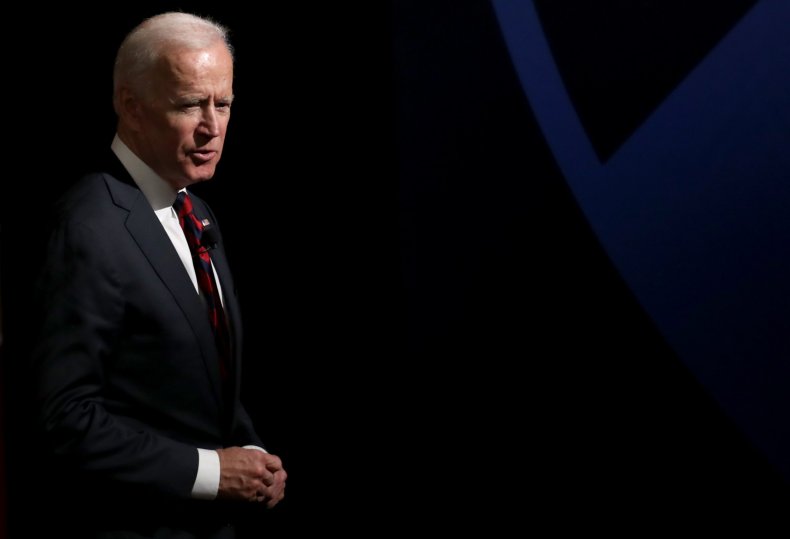 Joe Biden's Accuser Says This 'Isn't the First Time' After Ex-VP Says He Believes He Did Not Act Inappropriately With Woman | U.S.