President Joe Biden's approval rating is taking a dive amid the Russian invasion of Ukraine.
New polling from The Washington Post and ABC News found just 37 percent of Americans approve of the job Biden is doing—a new low for the president a little more than one year into office. A majority of U.S. adults, 55 percent, said they disapprove of Biden's job performance.
Those findings were echoed in a survey from a Harvard CAPS-Harris Poll, first reported by The Hill, which showed Biden's approval rating had hit an all-time low of 38 percent.
Biden appeared to have a moment of rare bipartisan support as lawmakers largely condemned Vladimir Putin's attack on Ukraine and supported U.S. sanctions against Russia.
But the president received backlash last week from several congressional leaders last week for not going far enough on sanctions immediately after Moscow launched a full-scale invasion on its eastern European neighbor.
Many Republicans also criticized the timing of sanctions on Russia's financial institutions and wealthy elites, including the administration's decision to join European allies in sanctioning Putin directly, as too late. Others are hitting Biden for not targeting Russia's oil and gas supplies.
"The administration is intentionally leaving the biggest industry in Russia's economy virtually untouched," Senator Pat Toomey, a Pennsylvania Republican, said in a statement last week. "The sanctions imposed on Russian banks, while welcome, may not isolate the Russian financial system from international activity. That's why the U.S. should impose crippling sanctions on Russia's oil and gas sector."
Biden has defended the decision not to target Russia's energy sector in order to help "limit the pain that the American people are feeling at the gas pump."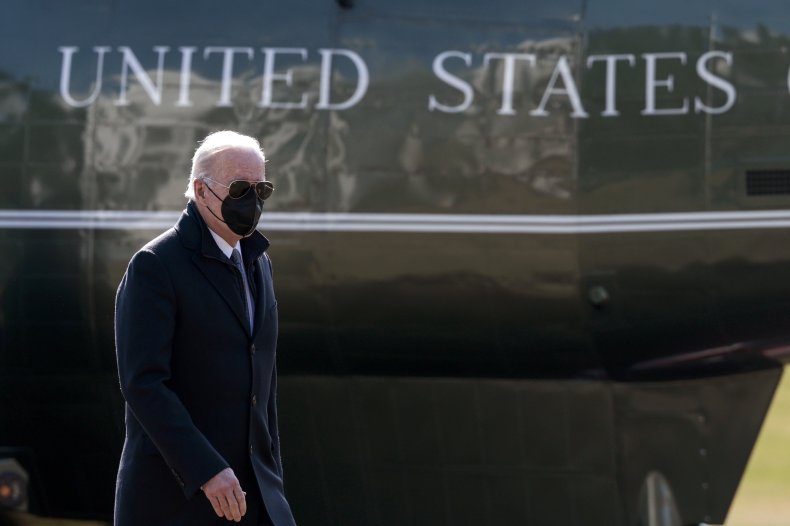 But gas prices in the U.S. are still on the rise. The national average for a gallon of gas is $3.610, according to the American Automobile Association. In California, Nevada, Oregon, Washington and Hawaii, gas is over $4 per gallon. Some places in California are seeing prices over $5 per gallon.
The Post/ABC poll found in addition to receiving low marks on his handling of the Russia-Ukraine conflict (most Americans state they disapprove of the way Biden has managed the crisis so far), he's also viewed negatively on the economy. Just 37 percent of respondents approved of Biden's job handling the economy.
Newsweek reached out to the White House for comment but didn't receive a response before publication.
Press secretary Jen Psaki responded to Biden's low approval rating ahead of Tuesday's State of the Union address during an appearance on ABC's This Week on Sunday.
"Leaders lead during crises," Psaki said. "That's exactly what President Biden is doing. He'll speak to that, but he's also going to speak about his optimism about what's ahead and what we all have to look forward to."