Joe Biden's Approval Rating Steadies After Taking Plunge
President Joe Biden's approval rating has steadied for two days after taking a plunge at the beginning of the year.
According to the political data website FiveThirtyEight—which compiles the president's approval and disapproval ratings using several polls of adults by pollsters Ipsos, Rasmussen Reports/Pulse Opinion Research, Morning Consult and YouGov—Biden's approval rating has stayed stable over the last couple of recorded days.
In the most recent popularity rating on January 7, Biden had an approval rating of 42.9 percent. His approval rating was at the same level on January 6, but dropped from 43.4 percent on December 30 and 31.
The president moved into 2022 with a stubbornly low approval rating, facing a number of issues including a lack of success in passing the Democrats' $1.75 trillion Build Back Better Act, the cornerstone of Biden's domestic agenda.
The pandemic, which is continuing to wreak havoc on millions of Americans, has also contributed to his drop in popularity, as well as last year's chaotic withdrawal from Afghanistan on August 30.
Biden enjoyed the approval of a majority of Americans during the first few months of his presidency, but his rating has been less than 50 percent since August 15, according to FiveThirtyEight.
Though Biden's approval rating appeared to be increasing in mid-December, reaching a high of 43.9 percent on December 19, it has since fallen back down.
Biden's disapproval rating was 51.9 percent on January 7, an increase from 51.7 percent the previous day. That number has been above 50 percent since October 15.
When compared to previous presidents 242 days into their presidency (January 7 with Biden), the current president has a higher approval rating than former president Donald Trump, who had a 38.7 percent approval rating.
However, Biden's approval rating is lower than Democrats Barack Obama (49.1 percent) and Bill Clinton (56.2 percent), as well as Republican George W. Bush (79.1 percent) 242 days into their presidencies.
Biden goes into 2022 with a number of potential challenges that may hit his popularity ratings, including successfully passing his infrastructure agenda, getting the COVID-19 pandemic under control, concerns around inflation, and trying to avoid a Russian invasion of Ukraine.
The Democrats also have the challenge of clinging onto their majorities in Congress in the midterm elections on November 8 this year. The incumbent president's party almost always loses in the mid-terms—only two mid-terms since the end of World War II have gone the other way.
The president appeared to shift his strategy when he gave a speech on the anniversary of the January 6 Capitol Riots. Having previously barely acknowledged Trump over the last year, he instead took full aim at the former president, accusing him and his allies of "dagger at the throat of America, at American democracy."
Yet despite mentioning Trump 13 times during his speech, Biden did not once say his name.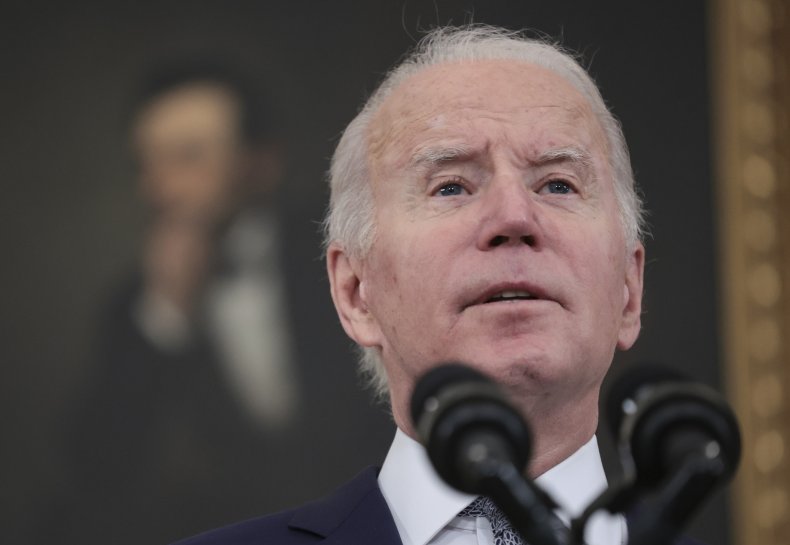 Correction 1/10/22, 11:30 a.m. ET: This article was updated to correctly state the Build Back Better Act is set to cost $1.75 trillion.