Approximately 39.9 million people tuned in to watch Joe Biden and Kamala Harris be sworn into office on Wednesday on ABC, CBS, NBC, CNN, MSNBC and Fox News Channel, according to TV Line. CNN's coverage of the swearing in ceremony had the largest audience with 9.9 million folks tuning in, meanwhile Fox News Channel saw had a total of 2.7 million people watching. This inauguration had the largest television audience since Barack Obama's in 2009 at 38 million views.
This year's inauguration looked very different than in years past due to the coronavirus pandemic. Typically, thousands of people would gather on the National Mall to watch the event. However, people were encouraged to tune in at home to celebrate Biden's first day on the job.
The ceremony was packed with musical talent. Lady Gaga performed the National Anthem. Jennifer Lopez sang a medley of "This Land is Your Land" and "America the Beautiful," along with her hit song "Let's Get Loud." Garth Brooks preformed "Amazing Grace" with the U.S Marine Band after Biden made his inaugural address.
Andrea Hall, a firefighter from Georgia, delivered the Pledge of Allegiance and simultaneously signed it in American Sign Language. Amanda Gorman, who in 2017 became the first-ever National Youth Poet Laureate, recited an original poem, "The Hill We Climb."
During his first speech as president, Biden acknowledged that the country has a tough road ahead. "We'll press forward with speed and urgency, for we have much to do in this winter of peril and significant possibilities," he said. "Much to repair, much to restore, much to heal, much to build and much to gain. Few people in our nation's history have been more challenged or found a time more challenging or difficult than the time we're in now."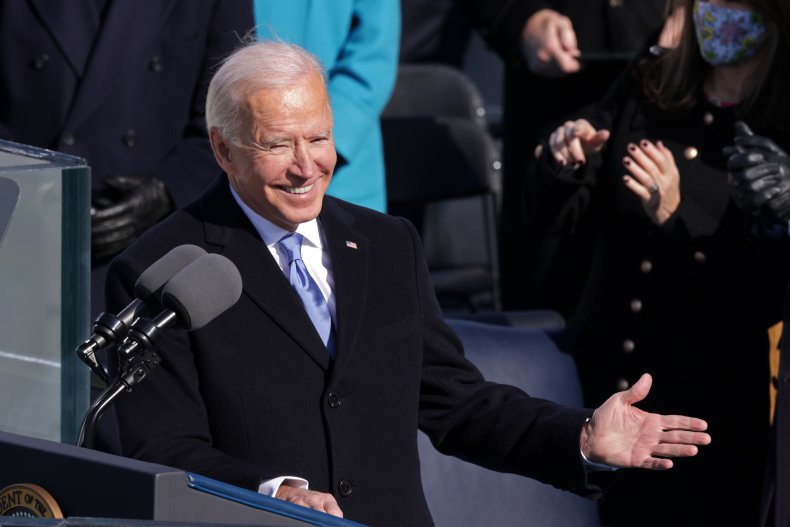 He also invoked 16th president Abraham Lincoln, recalling the Gettysburg Address. "In another January, on New Year's Day in 1863, Abraham Lincoln signed the Emancipation Proclamation. When he put pen to paper, the president said, and I quote, 'If my name ever goes down into history, it'll be for this act, and my whole soul is in it. My whole soul is in it,'" Biden told the Capitol's crowd.
"Today, on this January day, my whole soul is in this: bringing America together, uniting our people, uniting our nation," he added. "And I ask every American to join me in this cause."
The Celebrating America prime-time special was also a big hit, ratings-wise. According to Deadline, NBC, ABC and CBS collectively had over 10 million people tuning into the star-studded event during the 9 p.m. hour.
Biden's inauguration viewership had over eight million more people watching than Donald Trump's four years ago. As per Reuters, Trump's inauguration had nearly 30.6 million people tune in on the 12 major broadcast networks, which covered the day's events from 10 a.m. until 6 p.m.
The president who had the most television views for their inauguration was Ronald Reagan, when he was sworn in for his first term in 1981. 41.8 million people tuned in.