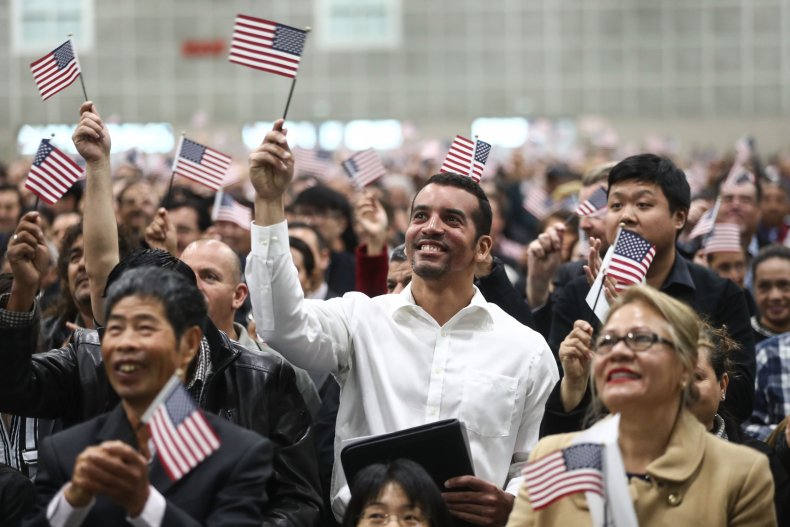 This story is co-published with Capital & Main
In 2011, then-President Barack Obama held a roundtable with Latino journalists at the White House, where they pressed him on his reluctance, given the deadlocked Congress, to wield the administrative powers of his office on behalf of immigrants. "We live in a democracy," Obama chastised the group, arguing that his hands were tied. "You have to pass bills through the legislature, and then I can sign it."
In fact, as Obama would finally demonstrate in his second term—when he enacted Deferred Action for Childhood Arrivals (DACA) and a scaled back Immigration and Customs Enforcement (ICE)—the administrative powers of the executive branch relating to immigration are enormous, a lesson President Donald Trump has certainly underscored during the past four years.
Under his administration, there have been more than 400 executive actions targeting immigrants, refugees and asylum seekers that have "dramatically reshaped the U.S. immigration system," according to the nonpartisan Migration Policy Institute. All that was required, it turned out, was the political will and dedication of anti-immigrant ideologues like senior policy adviser Stephen Miller.
It's precisely that sort of dedication, albeit flipped, which advocates now want to see from Biden.
"We are pushing him to use every administrative lever available, but to do so to expand relief instead of harm," said Sanaa Abrar, advocacy director of United We Dream. Abrar and others are heartened that Biden has pledged to reverse a number of Trump's signature actions—among them the Muslim ban, the effort to end DACA, the slashing of refugee admittances—but want Biden to go much, much further.
Ideally, many of the solutions would be legislative to better protect them from legal challenge, and Biden has already promised to introduce a bill to provide a path to citizenship for the country's estimated 10.5 million undocumented immigrants. After years of horse trading with Republicans, there is little appetite for the "comprehensive immigration reform" efforts of the past, which linked legalization with enhanced enforcement and a militarized southern border.
Under both Obama and Trump, activists have watched as deportations skyrocketed, drones patrolled the border skies and detention centers filled with tens of thousands of men, women and children. No path to citizenship appeared.
"That ship sailed a long time ago," said Frank Sharry, executive director of the advocacy group America's Voice, and a onetime advocate for the approach. "Now the movement's demand is legalization without trade-offs." If full-scale reform legislation cannot be passed, another possibility is for COVID-related packages to include a path to citizenship for the 5 million undocumented essential workers.
Even assuming a log-jammed Congress, there are still possible avenues for Biden to single-handedly provide temporary protection for millions of immigrants. A coalition of more than 100 organizations, the TPS Working Group, has called for the sweeping expansion of two programs, Deferred Enforced Departure (DED) and Temporary Protected Status (TPS), which prevent the deportation of immigrants from countries that have suffered armed conflict or natural disasters.
The principal difference between the two is that the president can immediately designate DED countries (and this protection can be undone immediately by a new administration), while securing TPS is a more complicated process (and thus more difficult to reverse).
Trump worked to scale back both programs, seeking the removal of protections from the sole DED-designated country, Liberia, along with six TPS-designated countries, among them Honduras, Haiti and Sudan, leaving tens of thousands of people vulnerable to deportation.
The TPS Working Group wants Biden to designate DED for all countries currently at risk of losing their TPS status, and add new countries they believe qualify for TPS protection, such as Cameroon, where fighting has displaced hundreds of thousands, and Guatemala, hit by two devastating hurricanes in November.
"Biden can do this on day one, and it would immediately protect 2.2 million people," said Jill Marie Bussey, advocacy director of Catholic Legal Immigration Network Inc. (CLINIC), which leads the TPS Working Group. Immigrants from DED designated countries would be shielded from deportation and be able to work legally, while the administration secured TPS status for the countries in the months ahead.
Along with shielding immigrants from deportation, Biden is expected by advocates to begin the process of undoing countless anti-asylum policies and rules by Trump, the cumulative result of which has been the effective shutting down of asylum.
The most immediate crisis is the tens of thousands of asylum seekers who have been forced to take refuge in dangerous shelters along the Mexican border due to Trump's Remain in Mexico program. Biden has promised to cancel Remain in Mexico and restore asylum protections, moves that have been applauded by activists. But as Christina Fialho, co-founder and co-executive director of Freedom for Immigrants, told Capital & Main, "We don't want the folks on the border to be funneled into prison; we want them funneled into support."
During the last year, detention centers, most of them run by for-profit companies, have significantly emptied due to lawsuits related to COVID-19 dangers and the very ending of asylum that has prevented people from entering the U.S. to seek safety. Fialho's group has called for a moratorium on the expansion of immigration detention centers, and in 2019 worked with then-Senator Kamala Harris when she introduced the Detention Oversight Not Expansion Act, which would prohibit the construction of new detention centers and create momentum for a dramatic reduction in detained immigrants.
Even without legislation, the new administration can use the power of the purse to help dismantle and defund ICE's vast detention system. In the Washington Post, Madhuri Grewal of the American Civil Liberties Union called on Biden to offer a proposed budget that would slash ICE's detention funding by at least 75% during the first 100 days, and phase out all private prison contracts by the end of the year. This could occur alongside an audit of all detained immigrants to further empty what are de facto prisons for people who are being held on civil violations and not criminal charges.
In place of detention, activists envision the creation of a federally funded, community-based system of case management, which has been shown to be far less costly than locking people up as their court cases proceed. In 2018, Freedom for Immigrants launched a pilot program that to date has paid the bonds for more than 380 individuals and provided them with post-release support as their immigration cases proceed. They have found the average daily cost is between $15-17 per person, compared to the $129.64 that ICE estimates it spends per day to keep an individual behind bars.
Case management programs have also been shown to boost court attendance rates among non-detained immigrants to 90% and higher, a rate that reaches 99% when immigrants are represented by attorneys, according to a recent study of thousands of family immigrant cases. By slashing ICE's detention budget, investing in a far cheaper and more humane case management system, and significantly funding counsel for indigent immigrants, Biden could begin to reshape the contours of the country's immigration system as profoundly as Trump did.
Activists interviewed by Capital & Main were guardedly optimistic about the next administration's priorities, especially after surviving the past four years of Trump, where each day brought new threats and policies targeting immigrants. But they also spoke about the need to keep up the pressure and not forget that it was a largely bipartisan effort that had laid the framework for Trump.
"We got to the point where we were able to detain over 50,000 people in the Trump administration because of past bipartisan agreement about detention," said Fialho, who noted that in the final months of the Obama administration, ICE detained more than 40,000 immigrants. Fialho sees big possibilities in the next four years, but those are tempered with the experiences of the past decades: "I'm very concerned about our country's general collective amnesia, that once we have a president in the White House who is not spouting anti-immigrant statements, the public will close their eyes again."
Copyright 2021 Capital & Main