Joe Biden's Trip to Global Climate Talks Is Pointless, Arnold Schwarzenegger Says
Former California Governor Arnold Schwarzenegger denounced President Joe Biden's plans to travel to Europe for climate talks amid the Democrat's declining approval rating.
Schwarzenegger, a Republican, was speaking at an environmental justice conference on Wednesday when he criticized the lack of communication surrounding the upcoming U.N. climate talks.
The former politician was disapproving of the organization's model that asks leaders to reach agreements with no promise that their governments will pass the measures. He specifically referenced the good intentions of former President Bill Clinton in signing the Kyoto Protocol but upon his return, Congress didn't approve it.
"Same thing: Biden can go over to Glasgow and he can promise everything," Schwarzenegger said. "But as you could see, he cannot get anything passed right now."
He continued, "So what does a promise and a pledge mean in the end? Nothing. Over and over, year after year, they make these pledges and they come out to declare victory, but then nothing is getting done. And so this is what I'm worried about."
Biden is set to attend the climate summit in Glasgow, Scotland, next week as Democrat lawmakers quickly work to reach an agreement on the president's social safety net and climate bill.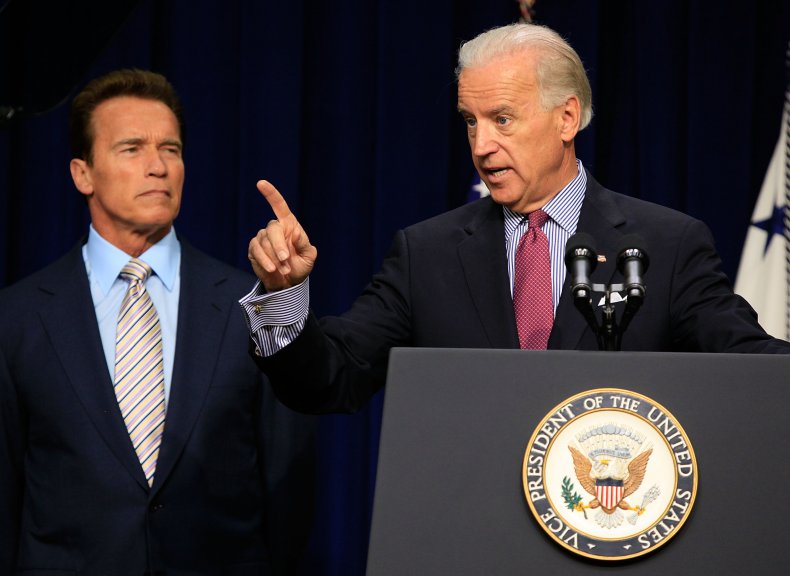 The political stalemate, Biden's handling of the coronavirus pandemic, delays in the supply chain and withdrawal of U.S. troops from Afghanistan have caused the president's approval rating to drop as he risks losing more support from Democrats.
According to a Tuesday Suffolk University poll of likely Virginia voters, 52 percent of respondents said they disapproved of Biden and 66 percent said they felt the nation was headed in the wrong direction.
One day prior, Biden's approval rating was scored at 43.5 percent. The Democrat's disapproval rating was 50.6 percent, according to a poll of polls created by data website FiveThirtyEight.
Within the president's own party, progressive Democrats have vowed to oppose the bipartisan infrastructure bill unless key issues like affordable housing, Medicare expansion and climate change are included in Biden's Build Back Better act.
Aspects of Biden's social safety net and climate bill continue to be cut as moderate members oppose the legislation's cost.
The Congressional Progressive Caucus, made up of nearly 100 progressive members, even tweeted that "we have a moral obligation and a governing mandate to pass" policies pertaining to social issues, and a number of members hinted that they may no longer support the bipartisan public works measure.
Similarly, while Schwarzenegger wouldn't specify what he'd change about the U.N.'s method, he said the organization needs to take a different approach.
"Environmentalists have this kind of great problem talking to each other and trying to outdo each other with how smart they are and how much research they've done," Schwarzenegger said.
"But in the meantime, they're missing the most important thing, which is communicating the proper way with the public."
Newsweek reached out to the White House for comment.