Who Is Joe Goldberg's New Neighbor in 'YOU' Season 3? 6 of the Wildest Fan Theories
In YOU Season 2, Joe Goldberg (played by Penn Badgley) met his match in Love Quinn (Victoria Pedretti), who surprisingly turned out to be just as much the cold-blooded murderer as our cap-wearing killer.
Despite his own savage tendencies, Joe struggled to reconcile the two versions of Love, and during a pulse-racing scene he went to turn on her.
While there were many unexpected twists and turns in the second instalment, one of the more shocking revelations that came to light was that Love had fallen pregnant. After hearing the news, Joe backed down and the pair were seen moving their things into a new home in the suburbs to live happily ever after.
Just when viewers thought he would change for the better, however, he soon slipped into his old ways, peering over the fence and eerily checking out his new neighbor — a woman facing away from the camera, reading a book in the sunshine.
Ahead of Season 3 —which lands on Netflix on October 15 — here are the wildest fan theories about the true identity of the woman next door.
1. Joe's next victim
The most likely scenario is that the new neighbor is Joe's next victim.
Judging by his comments about wanting to "figure out a way" to "get to" his neighbor, it sounds like Joe is particularly keen to meet this mystery woman.
Some fans even think Joe and Love will team up together to become a murderous duo.
One YOU fan named cyclingguy536, on a Reddit thread titled "See you soon neighbor," shared: "I think whoever it is, Joe and Love are going to do a team kill thing and get into a groove as a team."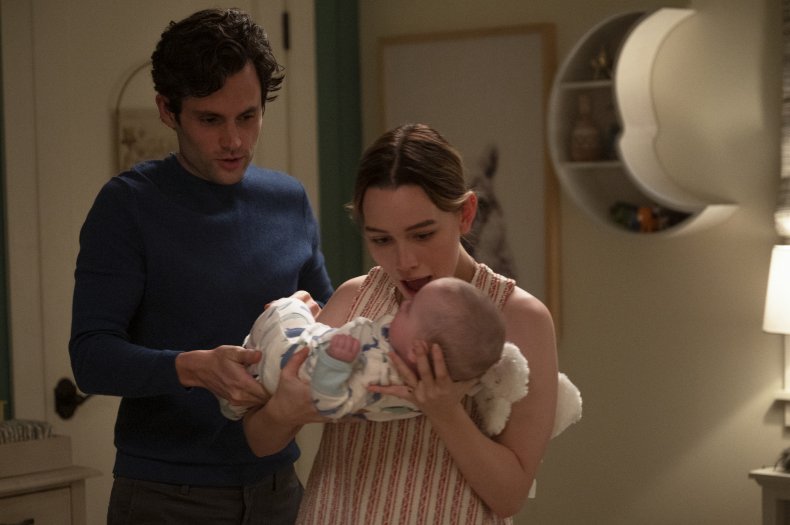 2. Joe's mother or family member
Throughout Season 2 of YOU, Joe was experiencing flashbacks of his own childhood.
In one such scene, it was revealed that Joe's mother Sandy (Magda Apanowicz) was suffering domestic violence at the hands of her partner.
Joe, who was only a boy at the time, then took matters into his own hands and shot his mother's attacker dead.
Comforting her son, Sandy tells Joe his actions were justifiable because he was "protecting" her.
In a speech (that sounded eerily similar to what Joe tells himself when he kills), Sandy said: "You were protecting me. It had to be done. You're a good boy, Joey. You would never hurt anyone. And that's the truth. Never. Much less kill someone. You're a good boy. It was just an accident."
Sadly, Sandy decided to contact child protection services and placed Joe in an orphanage for boys.
Then, in Season 2, Joe told Love he was unsure whether his mother was dead or alive, leading many fans to believe the mystery woman next door is in fact his long-lost parent.
Pepabessone wrote on Reddit: "I do believe that the neighbor is his mother. Or at least I hope it's her. I feel like it would be a great 3rd season if we could see him with his mother, as it seems like he's been chasing her this whole time."
However, one fan was quick to spot the woman was reading books, something Joe's mother hated: "His mom kept saying negative things about his books. This woman was reading books. That's the only reason I don't think it is his mom."
On the other hand, if Joe's mother is no longer alive, there is always the possibility the woman could be another member of Joe's family.
JoeCageKeys suggested the woman could be Joe's long-lost sister: "The mom had her after Joe went to the boys home. They team up and kill Love. They justify it by saying the baby can't be raised by someone as evil as Love."
3. A ghost from Joe's past
Throughout the second season, Joe had been hallucinating about his first victim, Beck (Elizabeth Lail).
Now, Joe is no stranger to hallucinations, so it could be likely the woman across the fence is simply a figment of his imagination and a physical manifestation of his guilt.
On the other hand, perhaps the mystery woman is Beck or Candace (Ambyr Childers) in real life. After all, Joe was certain he killed Candace before he met Beck in Season 1, but that turned out not to be the case. Equally, while it was Love who killed Candace off in Season 2, we never saw what she did with her body (or Delilah's, for that matter).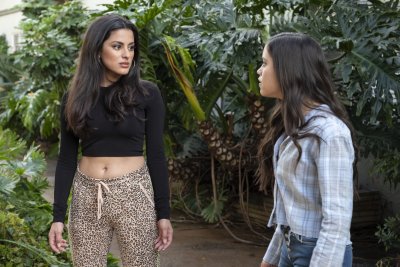 4. Ellie is back
Ellie (Jenna Ortega) was Delilah's (Carmela Zumbado) younger sister and just like with Paco (Luca Padovan) in Season 1, Joe did everything he could to try and help the teen.
She had run away from home as child protection services were closing in on her and was also under suspicion of killing comedian Henderson (Chris D'Elia), who was actually murdered by Joe.
Joe gave Ellie money to help her move to Florida to avoid being taken into care. He also promised to send her money every month and help her with a fake identity.
Although the woman at first glance looks markedly older than Ellie, we're not ruling it out.
5. Beck's stepmother or birth mother
Due to the stack of books and the fact the mysterious neighbor is writing, it could be possible the woman is Beck's stepmother, Nancy Whitesell (Emily Bergl), or her birth mother.
Beck loved to read and write, even working on a memoir before her death which was later published by Joe.
DynamiteJade wrote on Reddit: "I think Season 3 will lead back to Beck. I think the neighbor is most likely Beck's stepmom."
Like Joe, Beck had a troubled childhood and never knew her birth mother. Her drug addict father re-married Nancy, a devout Christian who Beck had never seen eye-to-eye with.
Perhaps, unknowingly, Joe has just moved next door to his first victim's relatives?
6. Dr. Nicky's wife
At the end of YOU Season 1, Joe was able to frame Beck's therapist Dr. Nicky (John Stamos) for her murder.
Dr. Nicky had been having an affair with Beck prior to her death, allowing Joe to make him the perfect scapegoat for his crimes.
In Season 2, Dr. Nicky warned Love's brother Forty to stay away from Joe, telling him Joe is "dangerous."
Whether his wife moved on following his incarceration or whether they remained together is unknown, but it would certainly make for an interesting twist if Joe became close to the wife of the man he framed for murder.
Altforlaughs shared on Reddit: "I no longer think the neighbor is Joe's mom, either. I'm actually starting to really entertain the idea that it's Dr Nicky's wife! (ex-wife?)."
YOU Season 3 premieres Friday, October 15 on Netflix.