How Joe Lieberman Became a Trump Supporter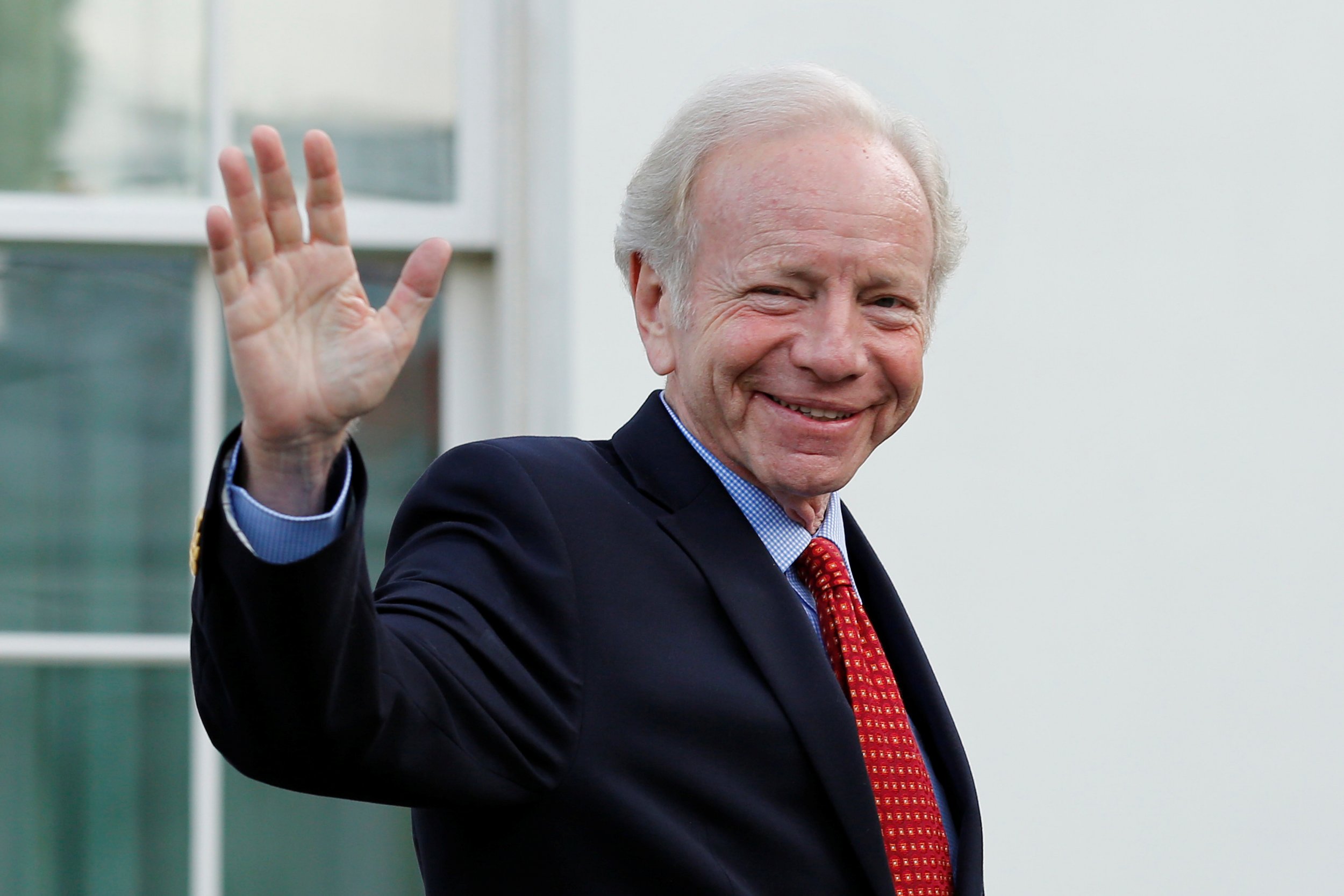 Almost a year to the day before the 2000 presidential election, Beltway insiders met at a comedy club in Washington, D.C., to roast one another at the annual "Funniest Celebrity in Washington Contest." At the previous event, Kellyanne Conway, now counselor to President Donald Trump, had performed stand-up and sang an awkward a cappella version of a song, "I've Got the Pundit Blues," while wrapped in a feather boa. At the 1999 gathering, Billy Bush, of Trump "hot mic" infamy, joked that a theoretical President Trump would clean up the federal budget since "he's already managed to cover 90 percent of his head with only 3 percent of his hair."
Joe Lieberman, then a Democratic senator for Connecticut, also joked about what a Trump presidency might look like. "The Donald is quite a ladies' man," Lieberman said. "He's going to have, if elected, an all-female cabinet…. Secretary of Energy Carmen Electra, Secretary of Defense Xena the Warrior Princess." The audience roared with laughter. Trump would "probably turn the White House into luxury high-rise co-ops," Lieberman said, "but it would be very hard for any Jews to get in."
Related: For FBI director post, Trump looks to law firm
Almost two decades later, Lieberman is reportedly Trump's top pick to replace James Comey as FBI director. Some might find the news surprising, given Lieberman's ties to the Democratic party. He was Al Gore's running mate in the 2000 presidential election and ran as a Democratic presidential candidate early in the 2004 race.
But Lieberman has been shifting to the right for years. Jim Manley, a longtime Democratic strategist and a former senior communications adviser for former Senator Harry Reid, points to the impeachment proceedings of President Bill Clinton as a turning point for Lieberman and the Democrats. "He spent a lot of time moralizing about [Clinton's] actions, which kind of ticked some people off," he says.
That chasm widened under President George W. Bush, when Lieberman supported the Iraq War. Then in 2006, after entering the Connecticut senate primary race as a Democrat and losing, he switched affiliations to Independent so he could run in the general election. He won, thanks to Republican voters, who were dissatisfied with their own candidate.
The ordeal soured the Democrats on Lieberman, according to Scott McLean, a political science professor at Quinnipiac University and an observer of Connecticut and national politics. "There was no way he was ever going to get back in the good graces of the Democratic party," he says. The election soured Lieberman on the Democrats, too. "They just sort of let him go down in flames in that primary," McLean says. "He never forgot that."
By 2008, Lieberman was addressing the Republican National Convention and endorsing Senator John McCain over Barack Obama and Hillary Clinton. He and McCain are longtime friends, and Lieberman is on the board of trustees of the McCain Institute for International Leadership, a think tank affiliated with the senator. McCain even considered choosing him as his running mate. At the convention, Lieberman strengthened his ties with Republicans by criticizing Obama, saying, "Eloquence is no substitute for a record." With that convention speech, "he just blistered the Democratic nominee, going right for the jugular," says Manley, the longtime Democratic strategist. "He could have given a speech sticking largely to praising Senator McCain, but instead he went out of his way to attack the Democratic nominee."
"Joe Lieberman is one of the most loved and loathed men in politics these days," Newsweek reported in 2008. "I would not have guessed that I'd be here," he told the magazine at the time about his new political stance. "But part of it is [my] increasing concern that our politics has become much too partisan, and that partisanship has made it harder to get things done." He retired from the Senate in early 2013, ending a 24-year tenure.
Longtime Lieberman observers have not found his shift to the right surprising. "He's always someone who straddled the middle," says Tovah Ravitz-Meehan, a political communications consultant for Democrats, who worked as deputy communications director for Lieberman's 2004 presidential campaign and as a communications official for his 2000 campaign with Gore. "He was always on the right side of the Democratic party and then slowly that shifted over time."
Todd Stein, who worked as legislative director and general counsel in Lieberman's office from 2008 to 2011 and in various positions for the senator going back to 2005, points out that despite certain conservative tendencies, Lieberman remained progressive on social issues and led the repeal of the military's "Don't Ask, Don't Tell" policy. "He has a nature where he wants everybody to succeed," Stein says. "In tribal Washington, they take that as betrayal, when in fact it's American."
But perhaps more surprisingly—and so quietly that observers say they hadn't noticed—Lieberman has in recent months become a vocal Trump supporter, something even certain true Republicans, including his friends McCain and Senator Lindsey Graham, have resisted or opposed. In late January, when asked about the president's vow to construct a wall on the border with Mexico, Lieberman only said aspects of the plan were "risky," a milder term than others in politics have used. In March, he said that when it came to Iran, the transition from Obama to Trump "is an enormously significant and hopeful change." He has voiced support for moving the U.S. embassy in Israel to Jerusalem, one of Trump's campaign promises. He praised Trump's picks for National Security Council, including Michael Flynn, whom Trump later dismissed as controversy swirled around the retired general's undisclosed contacts with the Russian ambassador Sergey Kislyak.
Lieberman also introduced Betsy DeVos at her Senate confirmation hearing to be education secretary, in January. "I know that some people are questioning her qualifications to be secretary of education, and too many of those questions seem to me to be based on the fact that she doesn't come from within the education establishment," he said at the hearing. "But honestly, I believe that today, that's one of the most important qualifications you could have for this job." Lieberman is involved with the American Federation for Children, an organization DeVos chaired.
Lieberman has even condemned his former party for its resistance to the president. "I hope the Democrats will get over that soon," he said on an ABC News podcast in March. "It takes two to tango."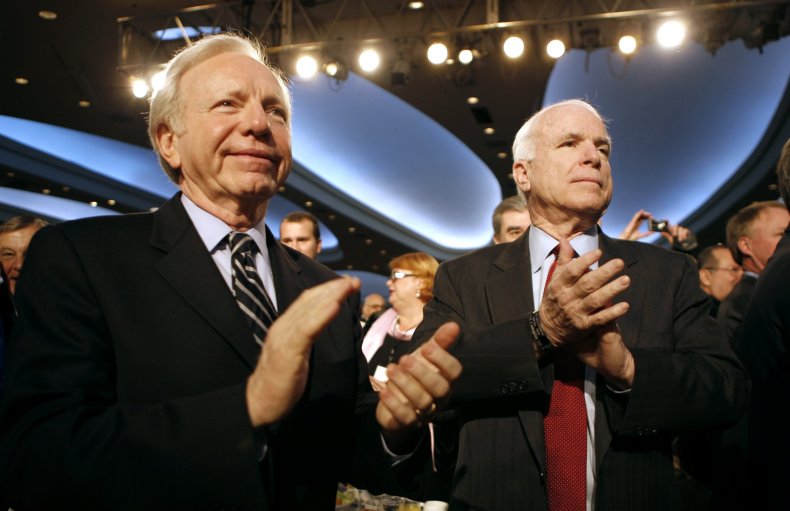 Today the former Democrat works as senior counsel at the law firm Kasowitz Benson Torres, which has a longstanding relationship with Trump. Last October, Trump had Marc Kasowitz, a partner at the firm, threaten The New York Times with legal action after the newspaper published pages from Trump's 1995 income tax return. Later that month, Kasowitz demanded the newspaper retract an article about two women who claimed Trump had "touched them inappropriately." Trump also appointed David Friedman, who was a partner at the firm, to be ambassador to Israel, and he was reportedly considering Edward McNally, another partner, to be U.S. attorney for the Southern District of New York. Lieberman's former chief of staff and his successor as Connecticut attorney general, Clarine Nardi Riddle, runs the firm's lobbying efforts. A spokesperson for the firm did not respond to a request for comment for this article, and Lieberman did not respond to a request for comment for a related article. Lieberman would likely resign from the firm prior to an FBI confirmation process.
Staci Zaretsky, an editor at the legal news website Above the Law, has previously told Newsweek she thinks Trump relies on Kasowitz Benson to fill positions because he trusts the firm and because of the stature of its attorneys. "I think he's going to people that he knows and people who already have names, people who are well known, and for the most part, well liked," she said.
Among Democrats, there is a feeling of soreness over Lieberman's conservative shift. "People change over time, but I think there are some on the left of our party who are not comfortable with where he is," says Ravitz-Meehan, Lieberman's former communications official.
"I think for most Democrats, they've all but forgotten about him, which is why they're surprised that he's popped up again like this," Manley says, referring to the FBI possibility. "If the [Trump] administration actually thought that this was someone who could be confirmed with overwhelmingly bipartisan support, that's just yet another miscalculation…. There's not going to be a lot of Democrats willing to vote for the guy."
Certain Democrats are already opposing his potential FBI nomination. "I think it's a mistake to nominate anyone who's ever run for office," Senator Claire McCaskill told reporters on Thursday. "This is a moment where we need a law enforcement professional that's never campaigned for a presidential candidate, never campaigned for office, never worn a party label, to head the FBI."
But his Republican friends in the Senate have supported the FBI possibility. "I think Joe Lieberman is a pillar of credibility. I think he'd be a good choice," Graham told the press on Thursday. "He has great affection and respect on both sides of the aisle and I think he'd be outstanding," McCain said to reporters.
If nominated and confirmed, Lieberman would be the first politician ever to lead the bureau. A 75-year-old observant Jew, he would be the oldest person to ever lead the FBI. As for the gathering of Washingtonians at the comedy club years ago, Lieberman's jokes about Trump's theoretical presidential appointments helped him win the contest.