Joe Manchin Dealt Mortal Blow to Voting Rights Legislation as He Killed Build Back Better
Senator Joe Manchin indicated Sunday he does not support reforming the filibuster, delivering more bad news for Democrats hoping to pass voting rights legislation after he minutes earlier also rejected President Joe Biden's Build Back Better act.
Democrats have pushed to eliminate or reform the filibuster so they can pass a voting rights bill without GOP support. The Senate is evenly split, and no Republicans have indicated support for the legislation.
To reform the filibuster, they would need every single Democrat on board. While appearing on Fox News Sunday, Manchin, a moderate Democrat from West Virginia, said he "made no commitments or promises" on reforming the filibuster.
"If you can make the Senate work better, the rules are something we've changed over the years," he said. "Two-hundred thirty-two years there's been rules changes. But there's never been a change with the filibuster, the rights of the minority."
Instead, he argued that Democrats and Republicans should be working on voting rights legislation together.
"Voting—just voting—is the bedrock of democracy. We should all be concerned about that," he said. "It shouldn't be Democrat or Republican."
The remarks came only minutes after he dealt another blow to the Democrats' agenda by saying he "just can't" vote for Biden's sweeping social spending bill following months of negotiations, angering many in his party.
"If I can't go home and explain it to the people of West Virginia, I can't vote for it. And I cannot vote to continue with this piece of legislation," Manchin said. "I just can't. I've tried everything humanly possible. I can't get there."
The Build Back Better bill could be passed through a process known as budget reconciliation, which requires only 50 votes, so the filibuster did not apply to that legislation.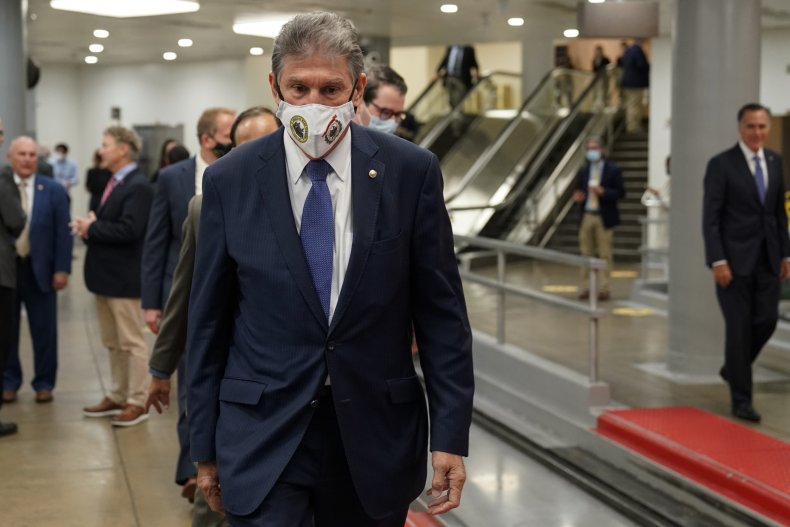 The House of Representatives passed the John Lewis Voting Rights Advancement Act in August. No Republicans voted for it. If passed, the bill would allow the Department of Justice to monitor changes to voting laws in states that racked up violations—as the Voting Rights Act of 1965 allowed, the Associated Press reported.
Another piece of sweeping legislation, the For the People Act, passed the House in March and would restrict partisan gerrymandering, expand campaign finance transparency and limit hurdles to voting, according to the AP. But in June, Manchin wrote he would vote against the bill.
"The truth, I would argue, is that voting and election reform that is done in a partisan manner will all but ensure partisan divisions continue to deepen," Manchin wrote in an op-ed published by the Charleston Gazette-Mail.
He previously indicated he would be open to reforming—but not eliminating—the filibuster. During a private Zoom call hosted by No Labels this summer, he said he could be open to lowering the total number of votes needed from 60 to 55.
"I looked back...when it went from 67 votes to 60 votes, and also what was happening, what made them think that it needed to change. So I'm open to looking at it, I'm just not open to getting rid of the filibuster, that's all," he said.