As Joe Manchin Digs In, Is It as Safe as Progressives Think for Stephen Breyer to Retire?
A campaign encouraging Supreme Court Justice Stephen Breyer to retire has gained steam among progressives, but is it a safe bet as Senator Joe Manchin digs in against key parts of President Joe Biden's agenda?
The "Breyer Retire" effort was launched by the group Demand Justice in April to push the 82-year-old justice to step down so Biden can appoint the first Black woman to the court.
Mondaire Jones, a Democratic congressman from New York, was one of the first lawmakers to call on Breyer to abdicate his seat so that another liberal justice can take his place.
"There's no question that Justice Breyer, for whom I have great respect, should retire at the end of this term. My goodness, have we not learned our lesson?" Jones told Cheddar News in April.
Breyer, now the oldest judge on the bench, has not indicated when he will retire.
The pressure on him to step down comes after Democrats saw former President Donald Trump and Senate Republicans secure a 6-3 conservative majority on the court following bitter confirmation battles at the end of Barack Obama's presidency, and after Justice Ruth Bader Ginsburg's death.
Now the Democrats control the White House and Congress. But the party's hold on the 50-50 divided Senate is wafer-thin, and to push through a Biden Supreme Court nominee, they can't afford to lose even a single member of their caucus.
And in recent weeks, one Democrat in particular has been opposing big parts of Biden's agenda.
"I don't think any Democrat can really count on Manchin to be a consistent vote or to do what Democrats think is in the best interest of the country," political strategist Michael Starr Hopkins told Newsweek.
In a recent op-ed, Manchin, a West Virginia Democrat, doubled down on his opposition to eliminating the Senate filibuster. He also said he would not vote for the For the People Act—a sweeping voting rights bill that would override new voting restrictions passed by Republican state legislatures.
Newsweek reached out to Manchin's office for comment on whether he would support a Biden Supreme Court nominee but didn't receive a response before publication.
Bakari Sellers, a legal commentator who tweeted in January that Breyer should retire if Democrats won control of the Senate, said there's "no question" Manchin could put the brakes on a Biden nominee.
"I have a great deal of concern of what he'll look for in a justice," Sellers told Newsweek.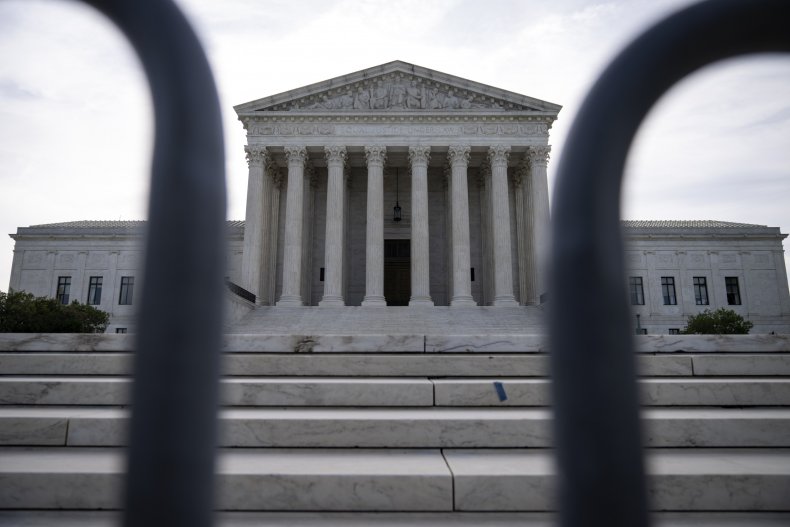 While Manchin may not be a sure vote, both Hopkins and Sellers stressed that it would be even riskier to hold off any longer than necessary on appointing a new justice.
"We'll deal with Manchin when that time comes," Sellers said.
"I think that this is not a scenario where we can wait," Hopkins said. "We saw what happened with the last few seats, and we cannot allow that to happen again."
Paul Campos, a constitutional law scholar who wrote a New York Times op-ed in mid-March headlined "Justice Breyer Should Retire Right Now," argued that Manchin's recent actions are "all the more reason" for Breyer to retire now rather than later.
"It's better to try to confirm a Supreme Court nominee even with a sort of squishy 49th and 50th vote than it is to roll the dice on whether those votes will even be there, you know, a year and a half from now," Campos told Newsweek. He was referring to the possibility that Democrats will lose their Senate majority in the 2022 midterm elections.
The high court is expected to consider critical issues such as voting rights, abortion and gun control in the near future.
Pointing to the Supreme Court's 2013 gutting of a key Voting Rights Act provision, Hopkins said, "We saw how powerful the court can be and how it can not only uphold rights but it can take away rights, and I'm really fearful of what could happen if the court tilts even more in favor of Republicans."