Joe Manchin Leads 2024 Polls as Kyrsten Sinema Faces Potential Primary Loss
New polling finds Joe Manchin leading hypothetical 2024 match-ups while Kyrsten Sinema faces a potential loss in a Democratic primary.
The numbers are key since Manchin and Sinema have been linked as critical votes in the 50–50 split Senate, often drawing ire from their colleagues for their positions on the party's key agenda items. Over the course of President Joe Biden's first year, the two moderates have blocked some major priorities including the Build Back Better bill and eliminating the filibuster so that voting rights legislation can be passed.
Triton Polling & Research found that Manchin would beat Republicans Jim Justice, Alex Mooney and Patrick Morrisey in West Virginia's general Senate election if it were held today. Against Justice, the current governor, Manchin held a 4-point advantage, but against Mooney or Morrisey that lead grew to more than 20 percentage points.
But Sinema could face a tough Democratic primary challenger, according to liberal pollster Data for Progress. Its poll, released last week, showed primary voters heavily favoring progressive Representative Ruben Gallego, who is rumored to be considering a Senate run in 2024.
Most recently, there has been speculation into how Manchin and Sinema will vote on Biden's Supreme Court nominee, which the president has pledged will be a Black woman. Though both lawmakers have been reliable in supporting the president's federal judicial nominees so far, it could take just one defection for a confirmation vote to fail in the evenly divided chamber.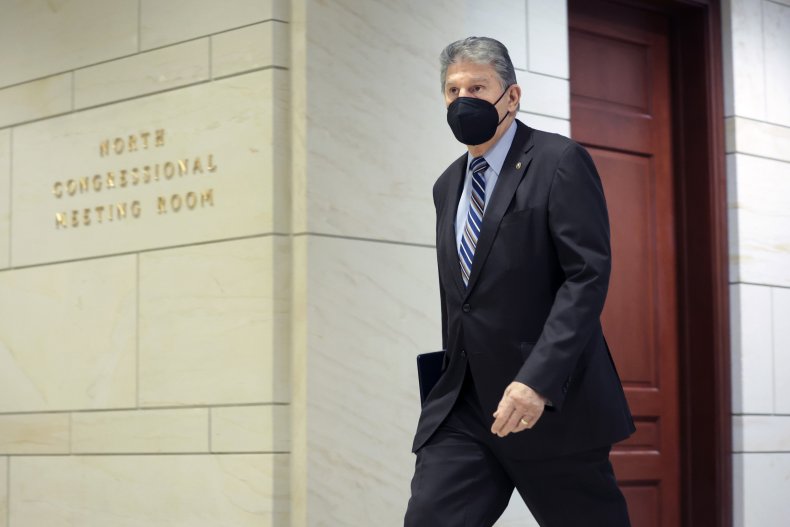 Manchin set a new fundraising record in 2021 for himself, hauling in more than $4.8 million. It's his highest total in a non-election year to date. Financial filings show his campaign received money from large corporations like Facebook, Lowes, Anthem and more.
Sinema also brought in a record level of cash in the last fundraising quarter, Politico reported. But her small donors appear to have jumped ship, and major organizations like EMILY's List are also withdrawing support.
A recent poll also found that Sinema has more support among Arizona Republicans than Democrats. The Morning Consult survey showed 55 percent of Republicans approve of the senator compared with 44 percent of Democrats.
Triton Polling & Research surveyed 783 registered voters in West Virginia between January 17 and January 20, 2022. The poll has a margin of error of plus or minus 3.5 percentage points.
Data for Progress polled 673 likely Democratic primary voters in Arizona between January 21 and January 24, 2022. The survey has a margin of error of plus or minus 4 percentage points.
Newsweek has reached out to Manchin and Sinema's offices for comment.