Joe Manchin Optimistic as Infrastructure Deal Inches Closer
West Virginia Senator Joe Manchin is expressing optimism ahead of a procedural vote on the bipartisan infrastructure plan.
The senator's office confirmed to Newsweek Tuesday that Manchin said: "We're close. We're getting close."
Manchin's remarks were first reported by NBC News' Sahil Kapur.
Manchin, a centrist Democrat from a deeply conservative state, also expressed optimism last week after the Senate Committee on Energy and Natural Resources voted to advance his bipartisan Energy Infrastructure Act, which will serve as the legislative text of the bipartisan infrastructure framework.
He said Friday that the inclusion of key aspects of the bill will benefit his constituents in West Virginia.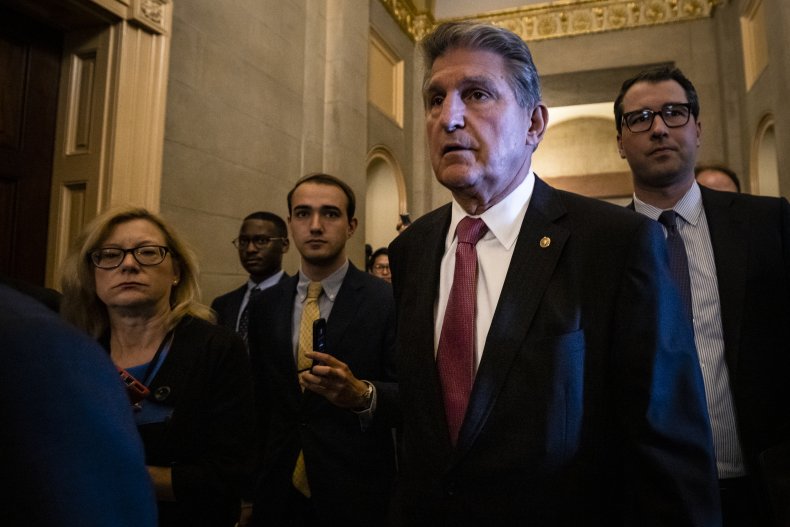 "This bill is another critical step towards finalizing our bipartisan infrastructure package, and an important reminder that we can find sensible solutions to difficult problems when we put partisanship aside and work together," he said in the statement. "I look forward to working with the Administration and my colleagues to get this bipartisan infrastructure proposal across the finish line and finally address West Virginia's infrastructure needs."
Senate Majority Leader Chuck Schumer, a Democrat, announced last week that he plans to hold a procedural vote for the plan on Wednesday in an effort to force 22 bipartisan negotiators to finalize the bill.
"For the past several months, both Democrats and Republicans have been hard at work putting together two major infrastructure bills to meet the challenges of the 21st century," Schumer said on the Senate floor Monday evening.
The vote is not a final vote on the bill, but a procedural action that will allow senators to begin "debating and amending," he said.
Meanwhile, Senate Republicans have criticized Schumer, accusing him of rushing the bill.
"We're still working on it. It's more important to get it right than to meet an arbitrary deadline, and we are still negotiating," Ohio Senator Rob Portman, a Republican, told CNN host Dana Bash on State of the Union Sunday. "We should bring the legislation forward when it's ready."
Manchin and Utah Senator Mitt Romney, a Republican, previously announced in June that a bipartisan group of senators reached a "framework" deal for the infrastructure plan.
"We came to an agreement on a plan that we have," Manchin told reporters at the time..
Democratic members of the Senate's budget committee announced in mid-July an agreement to spend $3.5 trillion for President Biden's infrastructure plan.
The plan is expected to include Medicare expansion, an increased child tax credit, and efforts for climate change.
"We know we have a long road to go. We're going to get this done for the sake of making average Americans' lives a whole lot better," Schumer told reporters.
Manchin had earlier expressed concern about the plan, telling reporters "we should start paying for stuff."