Joe Manchin Says D.C. Statehood Requires Amendment, While His State Took Another Path
Sen. Joe Manchin (D-W. Va.) believes that the question of statehood for Washington, D.C. must be settled by constitutional amendment rather than a congressional vote, despite the state he represents having been voted into the union by Congress.
Manchin said that he had taken a "deep dive" on the issue of D.C. statehood and concluded that an amendment was required during a Friday interview on West Virginia MetroNews' Talkline radio show. The senator, a moderate Democrat and frequent obstacle to passing legislation favored by progressives, said he would not support the current push for statehood. Last week, the House passed a statehood bill from the chamber's non-voting D.C. delegate Eleanor Holmes Norton.
"D.C. statehood is not a new one," Manchin said, noting that the Justice Department had looked into the issue at various points from the 1960s to the 1980s. "They all came to the same conclusion: If Congress wants to make D.C. a state, it should propose a constitutional amendment. It should propose a constitutional amendment and let the people of America vote."
Manchin confirmed that he would oppose a D.C. statehood bill in the Senate when asked by host Hoppy Kercheval, saying that he would urge his colleagues to "do it the right way" instead of trying to be "politically popular" by supporting a bill that is destined "to go to the Supreme Court."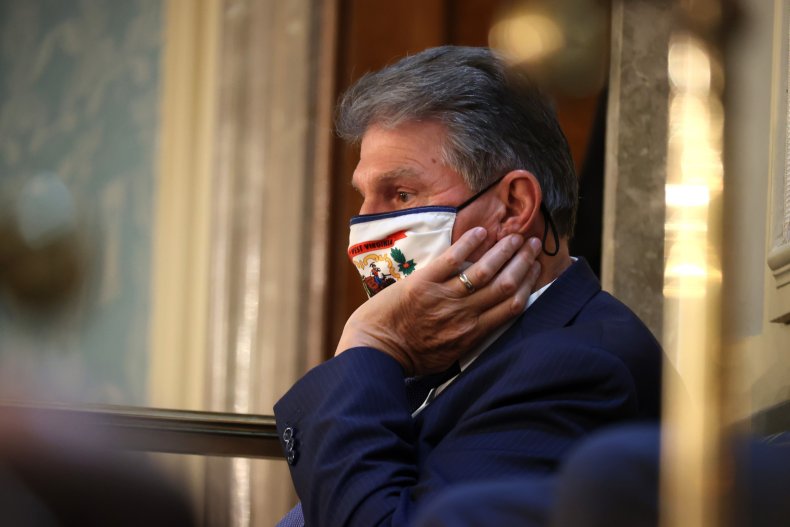 The Constitution does not require an amendment for new states to be admitted. Every state added after the original 13 states was granted statehood following a vote in Congress. West Virginia, which was first dubbed Kanawha, was created in 1861 after a group of counties voted to break away from what was then Virginia. Congress passed a bill to confirm West Virginia's statehood before it was signed into law by President Abraham Lincoln.
In addition, for a constitutional amendment to be passed, it would need to be passed by a two-thirds majority in each chamber of Congress. At that point, the legislatures of three quarters of states—or 38 of 50—would need to approve, or ratify, the amendment.
Manchin argued that the Constitution's 23rd Amendment, which was ratified in 1961 and granted D.C. three votes in the Electoral College, was an issue that "complicates D.C.'s path to statehood" because lawmakers could have chosen to grant statehood when the amendment was drafted but did not.
Expert opinions on the legality of granting D.C. statehood via Congress are divided. The issue may also be complicated due to the Constitution specifically defining the district as an area of federal jurisdiction that is not part of any state.
Norton's bill preserves the area but reduces it to include a much smaller patch of land. If D.C. were to become a state, it could raise questions about whether the Electoral College votes granted by 23rd Amendment would remain intact for that area in addition to the votes that the state itself would presumably receive.
"Adding states through legislation is how it's been done in the United States for 200 years," Stasha Rhodes, campaign director for the D.C. statehood advocacy group 51 for 51, said in a statement issued after Manchin's remarks. "It is how West Virginia was admitted in 1863, how Hawaii was admitted in 1959, and how DC will be admitted in 2021."
"No member of the Senate should deny voting rights to 700,000 mostly Black and Brown Washingtonians based on a flimsy understanding of the Constitution and American history," added Rhodes. "A DC statehood law is clearly consistent with the Constitution and the 23rd Amendment."
Newsweek reached out to the office of Manchin for comment.