Joe Manchin Scores Win as Unemployment Benefits Reduced to $300 a Week in Stimulus Bill
Senate Democrats appear to have reached a deal to reduce the weekly federal unemployment payments from $400 to $300 as part of the new $1.9 trillion coronavirus relief package.
The House of Representatives passed the stimulus package last week with weekly federal unemployment payments set at $400, but moderate Democrats like Senator Joe Manchin of West Virginia have voiced preferences to lower the weekly payments to $300.
Reports by Politico and The Wall Street Journal said Senate Democrats agreed to a deal to make that reduction official during a Senate floor debate on Friday. The agreement gives moderate Democrats like Manchin and Delaware Senator Tom Carper, who is expected to introduce the reduction in an amendment on Friday, a win, as debate over the bill moves forward.
Manchin previously told reporters that raising the benefits to $400 a week "just doesn't make sense."
"It doesn't incentivize people," Manchin said. "It'd be awful for the doors to open up and there's no one working. You got a lot of customers, no one working. That's the problem." The senator added that the $300 weekly benefits gained his support because it's "consistent" with what the previous COVID-19 aid package issued to those currently unemployed due to the pandemic.
While Manchin signaled his support for the payments to run through August, as is outlined in the bill, Politico reported that Democratic senators brokered a deal for the bonus to run through September 2021.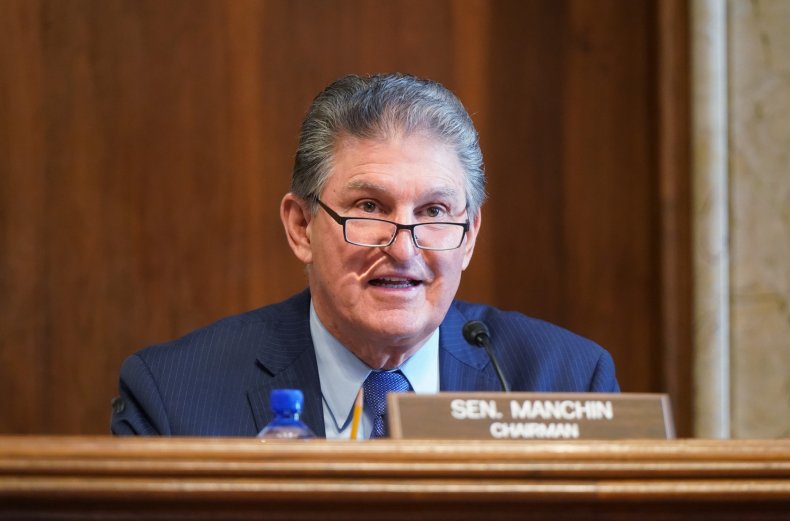 According to a Carper spokeswoman, the amendment is designed to prevent unemployment benefits from ending during the Senate's August recess. It also ties an extension of those benefits to the end of the fiscal year, which could provide an incentive for lawmakers to return to the issue at that time.
"Having an unnecessary cliff for unemployed workers is not good policy," Carper said in a statement shared with Newsweek. "We've found a way to avoid that and ensure that the millions of Americans who are still struggling to find work will see an immediate benefit before Tax Day this year."
Keeping unemployment payments at $300 will make it easier for the Department of Labor to continue issuing those payments without having to make adjustments, according to the Carper spokeswoman. The amendment also seeks to avoid "surprise" tax bills for Americans who are receiving the benefits, the spokeswoman added.
Speaking on the Senate floor on Friday, Senator Ron Wyden of Oregon said that while he supported $400 payments, he also wanted to avoid that August cliff, as well as any unexpected tax bills for Americans receiving the supplemental unemployment benefits.
"I have personally felt the benefit should be $400, it should certainly run into September, but I know some of my colleagues feel otherwise," Wyden said. "So what we're looking at is making sure that we can get a benefit so that people can make rent and pay groceries, that we prevent that cliff, and by God we sure as hell shouldn't let folks who are unemployed pay taxes on those unemployment benefits that they secured in 2020."
White House chief of staff Ronald Klain indicated support for the deal while sharing a tweet about the agreement shared by a Washington Post reporter on Friday.
"This compromise is a great result," Klain wrote.
Carper is expected to introduce his amendment later Friday.
Speaking on the Senate floor Friday morning, Senate Majority Leader Chuck Schumer voiced determination to push the entire stimulus package through.
"The Senate is going to take a lot of votes, but we are going to power through and finish this bill however long it takes. The American people are counting on us, and our nation depends on it," Schumer said.
Newsweek reached out to Manchin and Schumer for comment and will update this article with any response.
Updated 3/05 at 2:26 p.m. ET: This article has been updated to include a statement from Sen. Tom Carper and background from a Carper spokesperson.