Joe Manchin Slows COVID-19 Stimulus Bill Passage Over Unemployment Benefits
Senate negotiations on Democratic President Joe Biden's $1.9 trillion COVID-19 stimulus bill have slowed down as Democratic West Virginia Senator Joe Manchin considers two separate proposals for enhanced unemployment benefits.
Biden's original proposal offered $400 in additional weekly unemployment benefits set to end in August. One alternate proposal, introduced by Republican Ohio Senator Rob Portman, would decrease the payments to $300 per week and offer them until July 18.
A second proposal, introduced by Democratic Deleware Senator Tom Carper, would also offer $300 per week, but would offer the benefits until the end of September. Carper's bill would also prevent $10,200 of enhanced unemployment benefits distributed during 2020 from being taxed. This would save unemployed people from having to pay extra taxes on the money at a time when they may still be strapped for cash.
Manchin has reportedly slowed down voting on the bill as he considers which unemployment proposal to support, according to Politico. He has been seen discussing the matter on the Senate floor with Democratic Senators Kyrsten Sinema of Arizona, Catherine Cortez-Masto of Nevada and Jon Tester of Montana.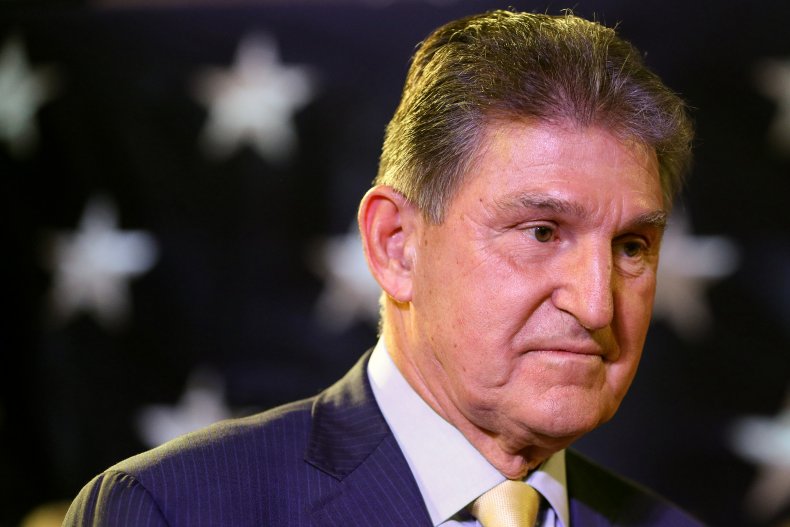 Manchin's indecision has blocked approval of the bill's other proposals, delaying what was already expected to be a prolonged voting process.
The stimulus package is being passed through the Senate using a process called budget reconciliation. The process allows individual parts of the bill to be passed through a simple majority vote in the Democrat-led chamber without any Republican support.
Because the massive bill's individual elements must be approved one at a time—in a prolonged effort known as a "vote-o-rama"—the process is expected to extend into Saturday's early morning hours at least. Whenever the Senate finishes approving all of the bill's proposals, the modified package will then have to return to the House for its approval.
The bill's delayed approval could frustrate Democratic efforts to have the entire package signed into law by mid-March. Democrats hoped to do so by then because that's when enhanced unemployment benefits from the previous stimulus bill are set to expire.
The Biden Administration has signaled support for Carper's proposal. Biden's press secretary Jen Psaki and chief of staff Ron Klain both tweeted support for it on Friday.
"Combined, this amendment would provide more relief to the unemployed than the current legislation," Psaki wrote. "This compromise is a great result," Klain tweeted.
It's unclear which proposal Manchin will support. Manchin had previously said that he wanted the legislation to be passed with bipartisan support, but no Republicans are expected to support the bill's passage.
Newsweek contacted Manchin's office for comment.