Joe Manchin Warns Against Turning to Iran for Oil as Biden Eyes Deal
Senator Joe Manchin warned the Biden administration against turning to Iran for oil as the White House continues to eye a new nuclear deal with the country.
The United States has been in negotiations to restore the Joint Comprehensive Plan of Action (colloquially known as the Iran Deal) for months after exiting in 2018 under former President Donald Trump, but no plan has been reached yet.
Any renewed deal would likely see the U.S. lift some sanctions on Iran in exchange for efforts for them to limit their nuclear program, which is widely viewed as a threat to national security.
On Tuesday, Manchin, a moderate Democrat from West Virginia, voiced concerns about the deal in a letter to the State Department. Manchin serves as a key vote in an evenly divided Senate, meaning he could block parts of Biden's agenda in the upper chamber.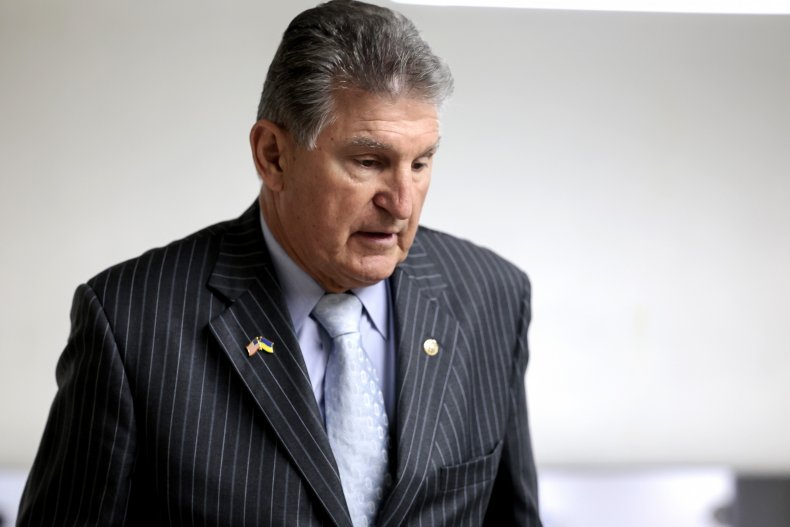 In the letter, Manchin specifically voiced concern the Biden administration could be considering easing sanctions to obtain Iranian oil in an effort to combat an ongoing energy crisis fueled by the Russian invasion of Ukraine.
Manchin warned the White House against removing the Islamic Revolutionary Guard Corps (IRGC), a branch of the Iranian military, from the Foreign Terrorist Organization list to reestablish trade with regards to oil.
"Let me be clear, the IRGC is a terrorist organization," Manchin wrote. "We must not be shortsighted in the use of sanctions relief to mitigate our present energy challenges."
Manchin added that he would rather support an "all-of-the-above domestic energy policy" that would bolster national security while also mitigating the energy crisis and advocated for bipartisan energy legislation.
"Congress has the opportunity to pass additional bipartisan energy legislation to further expand our ability to deliver the energy our allies and partners need," he wrote. "We cannot and should not look to Iran to solve our energy problems."
The removal of the IRGC from the list has been one of Iran's conditions for the deal, but the White House has not accepted the demand. After Iran added the condition, U.S. Special Envoy for Iran Robert Malley said he "can't be confident" the deal would be imminent in late March, Reuters reported.
The deal has also faced criticism from Republicans, who have argued it does not do enough to prevent Iran from obtaining nuclear weapons.
"America gets nothing in Biden's Iran Deal: No serious system to check if the Iranian regime is cheating, No leverage over expanded trade with Russia and China, No safeguards against Iranian terrorism, And nothing to help the Iranian people," House Minority Leader Kevin McCarthy said in a March tweet.
A group of 80 congressional Republicans also wrote in a March letter that removing them from the list "would reward them with greater freedom to increase their malign activities."
Newsweek reached out to the White House for comment.