Joe Manchin's $11 Minimum Wage More Popular Than Biden's $15—Among Democrats and Republicans
While progressive Democrats continue to push for the federal minimum wage to be increased to $15 per hour, new polling shows that Senator Joe Manchin's suggestion of a more modest increase to $11 is more popular with both Republicans and Democrats.
President Joe Biden and Democrats campaigned on raising the federal minimum wage to $15, and House Democrats included the wage hike in their version of the $1.9 trillion American Rescue Plan. However, the wage hike looks unlikely to survive in the Senate's version of the bill, as that chamber's parliamentarian ruled it could not be passed through the budget reconciliation process. Meanwhile, GOP Senators Mitt Romney of Utah and Tom Cotton of Arkansas have put forward a proposal to raise the minimum wage to $10 per hour—close to what Manchin has suggested.
The new poll, from Morning Consult and Politico, which was conducted from February 26 to March 1, shows that 71 percent of voters strongly or somewhat support raising the wage to $11 by 2023, compared with just 60 percent who support the hike to $15 by 2025. Even when breaking down the results based on political party, higher percentages of Republicans, Democrats and independents back the more modest increase.
Among Democrats, 82 percent strongly or somewhat support the increase to $15, while 86 percent approve of the hike to $11. Only 34 percent of Republicans strongly or somewhat support a $15 wage, but 56 percent say they support an increase to $11. As for independent voters, 56 percent approve of $15 and 69 percent back $11. The poll has a margin of error of plus or minus 2 percent.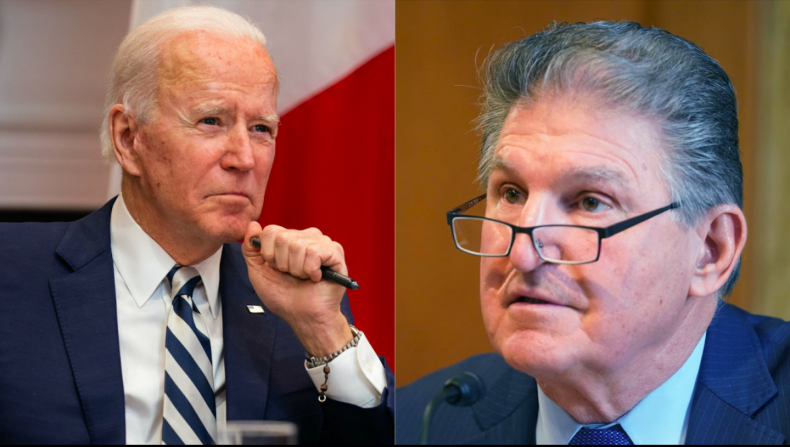 Manchin, a moderate Democrat who represents West Virginia, and Democratic Senator Kyrsten Sinema of Arizona both expressed their opposition to the $15 wage even before the parliamentarian ruled it could not go through budget reconciliation. This set up a confrontation between progressive Democratic lawmakers—who have long pushed for raising the wage to $15—and the party's moderate wing. Moderate Democrats and Republicans have raised concerns that such a large increase, up from the current $7.25 that was implemented over a decade ago, would be difficult for small businesses to handle.
The concerns about the $15 wage were buoyed by a Congressional Budget Office report last month, which projected the pay increase would lead to the loss of 1.4 million jobs. Progressives pointed out that the report also found the wage hike would lift nearly 1 million Americans out of poverty. While the White House has said it's accepted the Senate parliamentarian's ruling and aims to push for the $15 wage through future legislation, progressives are demanding that the parliamentarian be fired or disregarded.
"It is utterly embarrassing that 'pay people enough to live' is a stance that's even up for debate," Representative Alexandria Ocasio-Cortez, a progressive Democrat from New York, tweeted on Tuesday. "Override the parliamentarian and raise the wage. McD's workers in Denmark are paid $22/hr + 6 wks paid vacation. $15/hr is a deep compromise - a big one, considering the phase in."
Representative Ro Khanna, a progressive Democrat from New York, pushed back against criticism of the $15 wage in a Wednesday Twitter post. "I have heard people say $15 is too much in some parts of the country. $15 is $600 a week; $2400 month pre tax. Please show me a budget for rent, utilities, food, childcare, healthcare, school supplies and clothes that can make a lesser wage work," Khanna wrote.
Meanwhile, Cotton and Romney have recognized the need to increase the minimum wage but say the Democrats' $15 per hour plan would be "destructive." They also acknowledged in a Fox News opinion article published this week that their $10 per hour plan would only come "close" to the "inflation-adjusted peak purchasing power of $10.54" that American workers enjoyed back in 1968.
An analysis published last week by the Economic Policy Institute found that just over 3 percent of American workers would see a raise by 2025 under the Romney-Cotton plan, compared with more than 21 percent under the Democrats' $15 proposal.
Without the budget reconciliation process as an option in the Senate, any minimum wage increase would need the support of at least 60 senators to avoid being blocked by the upper chamber's legislative filibuster rule. That means at least 10 Republicans would have to back a wage hike, making a raise to $15 appear remote if not impossible, unless Democrats override the parliamentarian or end the filibuster rule. Even then the $15 wage would not be able to pass with Manchin's and Sinema's opposition.