Democrats have increasingly expressed anger and frustration with Senator Joe Manchin, a West Virginia Democrat, as he has opposed President Joe Biden's Build Back Better Act and ruled out changes to the filibuster to address voting rights. But polls in his own state suggest that Manchin is doing what the majority of voters there want.
Manchin, a moderate, has repeatedly stood out as the key figure within the Democratic Party preventing elements of Biden's agenda from moving forward. With an evenly split Senate, just one Democratic senator is enough to make or break the possibility that partisan priorities can pass in Congress. While the West Virginia lawmaker has drawn strong criticism from the White House and from fellow members of Democrats in Congress, recent polling suggests voters in his state are happy.
Notably, Manchin is a Democrat in a state that has gone for Republican presidential candidates in every election going back to 2000. Former President Donald Trump won in West Virginia by margins of more than 30 percentage points in 2016 and nearly 30 percentage points in 2020. Meanwhile, Manchin won reelection there in 2018 by a margin just north of 3 percent.
Recent polls suggest that his popularity has improved under the Biden administration.
Survey results released earlier this month by the conservative American First Policy Institute showed that 59 percent of West Virginian voters approved of the Democratic senator. Meanwhile, just 30 percent of the state's voters said they approved of Biden—about half of those that have a positive view of Manchin.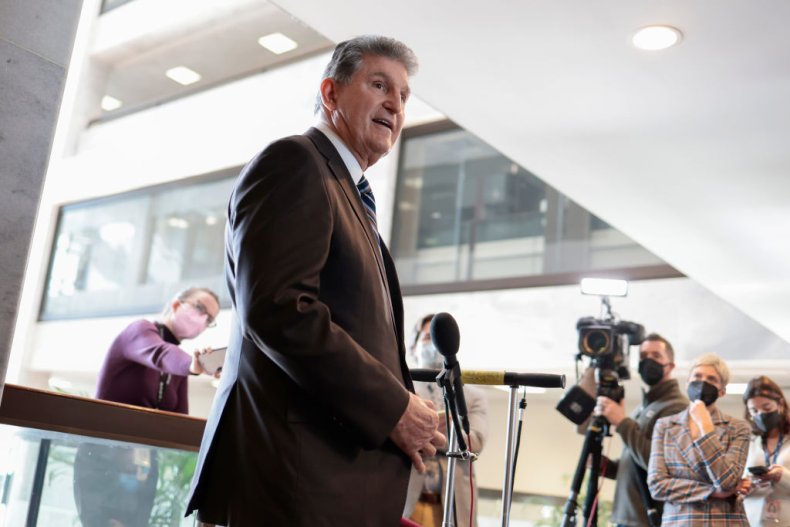 A November 2021 poll released by the U.S. Chamber of Commerce found that 57 percent of West Virginians agreed with the statement: "Joe Manchin has represented West Virginia well in the U.S. Senate and deserves reelection." Of those, 23 percent said they "strongly agree" while another 34 percent said they "somewhat disagree."
Prior to that survey, poll results released by MBE Research in mid-November showed that Manchin enjoyed an overall approval rating of 60 percent in West Virginia. Biden, comparatively, was only viewed favorably by 32 percent of the state's voters. Sixty-five percent of West Virginians said they disapprove of the job the president is doing.
Manchin confirmed to Fox News in a December interview that he would not support Biden's Build Back Better Act. The large social spending legislation required his support, as no Republican lawmakers approve of the bill and Democrats aimed to pass it through the budget reconciliation process. That would allow it to be approved with a party-line vote, but Manchin's opposition prevents that from happening in the current Senate.
"I cannot vote to continue with this piece of legislation. I just can't. I tried everything humanly possible. I can't get there," Manchin told Fox News last month.
Since the Senate returned to session following the holidays, Democrats have focused on passing voting rights legislation. Biden and other Democrats contend that Trump and Republicans across the country are working to make it more difficult to cast ballots in future elections—particularly for minority voters. But without GOP buy-in, any voting rights legislation would require adjusting or ending the Senate's legislative filibuster to pass.
Under the current filibuster rules, most legislation requires the backing of at least 60 senators to move forward and be approved. In the evenly split Senate, Democrats are 10 votes shy of 60. While they could change the rules regarding the filibuster with a simple majority vote—only requiring unanimous support from within their caucus—Manchin has doubled down on opposing that possibility.
"I have said many times before, I will not vote to eliminate or weaken the filibuster," Manchin said in a statement issued Thursday.
Whether or not fellow Democratic lawmakers and the White House are happy, the recent polling data suggests that Manchin is largely doing what most voters in West Virginia want him to do. Some analysts have also pointed out that the moderate Democrat is likely better for his party than an alternative from West Virginia. Considering the former president's substantial popularity in the state, having Manchin as a senator is still better for Democrats than a Trump-endorsed Republican.