Stimulus Check Update: Direct Payments to Parents Set to End as Joe Manchin Opposes BBB
Senator Joe Manchin, a West Virginia Democrat, appears to have ended the possibility of hundreds of dollars in monthly direct payments going out to American parents in the new year with his stated opposition on Sunday to President Joe Biden's Build Back Better Act.
Millions of Americans have urged the federal government to provide more stimulus checks or recurring monthly payments for the duration of the COVID-19 pandemic. Although Congress does not appear to be planning to approve a fourth round of stimulus checks, lawmakers have repeatedly pointed to the popular Child Tax Credit passed as part of Biden's American Rescue Plan in the spring.
Under that legislation, American parents began receiving monthly direct payments of $300 for each child under 6 and $250 for children 6 to 17 years old. However, the last Child Tax Credit checks approved as part of the American Rescue Plan were sent out last week. Under the Build Back Better Act, the payments to parents would have been extended—but Manchin said Sunday he will not vote in support of the legislation.
"If I can't go home and explain it to the people of West Virginia, I can't vote for it. And I cannot vote to continue with this piece of legislation," Manchin told Fox News Sunday. "I just can't. I've tried everything humanly possible. I can't get there."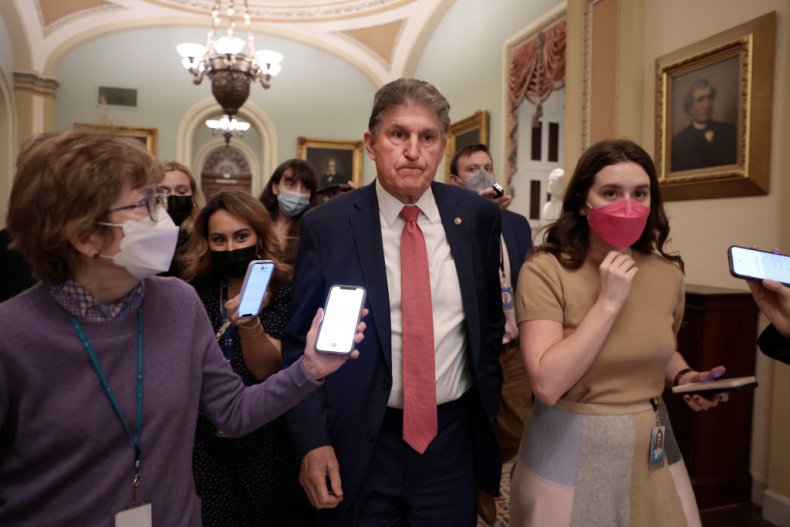 The West Virginia Democrat raised concerns about rapid inflation to explain his opposition. Inflation has reached a nearly four-decade high with consumer prices jumping by close to 7 percent.
While moderate Democrats and Republicans have consistently raised inflation concerns to express qualms or opposition to the Build Back Better Act, leading economists have said the bill would actually "ease" the impact of rising consumer costs. Top U.S. ratings agencies have also said they do not believe the Democratic legislation will have a significant impact on the current inflation crisis.
Although Democratic leaders—including President Joe Biden—had already admitted that they would fail to pass Build Back Better before the end of the year, they had optimistically suggested it could be approved in January. That would have resulted in a lapse in Child Tax Credit payments, but the White House had suggested that parents could later receive double payments to cover the gap.
"If we get it done in January, we've talked to Treasury officials and others about doing double payments in February as an option," White House Press Secretary Jen Psaki told reporters on Friday. "But the president wants to see this move forward, it's a priority for him as soon as Congress returns."
However, with Manchin's stated opposition, it appears all but impossible that the Build Back Better Act will be approved. Democrats had aimed to pass the bill through the budget reconciliation process, as Republicans are unanimously opposed to the legislation. With an evenly split Senate, Democrats would need all 50 members of the legislative chamber's Democratic caucus to back Biden's plan in order for it to succeed.
Manchin had been a holdout on the Build Back Better Act since the outset of negotiations. The moderate Democrat had frustrated progressives and the White House as they've discussed the bill over the past several months to reach a compromise. Initially Manchin opposed the high price tag, leading Biden and Democratic leaders to cut the total cost in half. Then the senator continued to raise concerns about the potential impact on inflation as well as key climate change provisions.
Meanwhile, millions of Americans have called on the federal government to provide further direct economic relief. Instead, families across the country are going to see the end of the direct payments from the Child Tax Credit.
Nearly 3 million people have signed an online petition calling on Congress to pass legislation providing $2,000 per month to all Americans for the remainder of the COVID-19 pandemic. That Change.org petition also calls for additional $1,000 payments to be sent out to parents for dependent children.
Congress first passed a round of $1,200 stimulus checks going out to most Americans in March 2020 as the pandemic led to lockdowns across the country. Then in December 2020, Congress passed another round of $600 direct payments going out to the majority of Americans. After Biden took office, Democrats—without the support of any Republicans—approved a third round of stimulus checks. Those payments were up to $1,400.
More than 80 Democratic lawmakers have publicly expressed their support for sending out monthly payments. But as the Child Tax Credits come to an end without enough Democrat support for the Build Back Better Act, it appears even more unlikely that Americans will see additional stimulus checks in the near future.
The White House said in statement sent to Newsweek on Sunday, "Maybe Senator Manchin can explain to the millions of children who have been lifted out of poverty, in part due to the Child Tax Credit, why he wants to end a program that is helping achieve this milestone—we cannot."
Leading progressive Senator Bernie Sanders of Vermont called out Manchin for his opposition to the Build Back Better Act, highlighting the positive impact the Child Tax Credits have had in 2021.
Manchin "should have to explain to West Virginians and the American people why he doesn't have the courage to stand up to powerful special interests and lower prescription drug costs; expand Medicare to cover dental, hearing and eyeglasses; continue the $300 per child direct monthly payment which has cut childhood poverty by over 40 percent; and address the devastating impacts of climate change," Sanders said in a statement emailed to Newsweek.
Representative Pramila Jayapal, the chair of the Congressional Progressive Caucus, said in a statement to Newsweek that Manchin has "betrayed his commitment not only to the President and Democrats in Congress but most importantly, to the American people."
"The American people want and deserve to have their critically important daily needs addressed. That is why all the elements of the Build Back Better legislation are overwhelmingly supported by Americans across the political spectrum," Jayapal said.
Newsweek reached out to several other progressive lawmakers for comment on Manchin's opposition but did not immediately receive responses.
Updated December 19, 2021 at 1:00 p.m.: A statement from Jayapal was added.