56 Economists Tout Benefits of Biden's Build Back Better Act Despite GOP Inflation Concerns
Dozens of economists are touting the benefits of President Joe Biden's proposed Build Back Better Act despite Republicans, and some moderate Democrats, continuing to raise concerns about how it could affect inflation.
Inflation has soared by 6.8 percent over the past year, the highest level in nearly 40 years. Republicans have repeatedly pointed to inflation as a major economic problem, arguing that approving Biden's $1.7 trillion social and climate spending bill will exacerbate the problem. However, 56 economists pushed back against these concerns in a public statement released Friday.
"Congress can alleviate some of the strain caused by inflation by passing the Build Back Better Act, which will lower everyday costs for families, including child care, health care, utility bills, prescription drugs, and education," the economists wrote in the statement, which was emailed to Newsweek.
"These investments, combined with the Build Back Better Act's tax credits for the middle class, will help allow families to keep more money in their pockets," the statement added.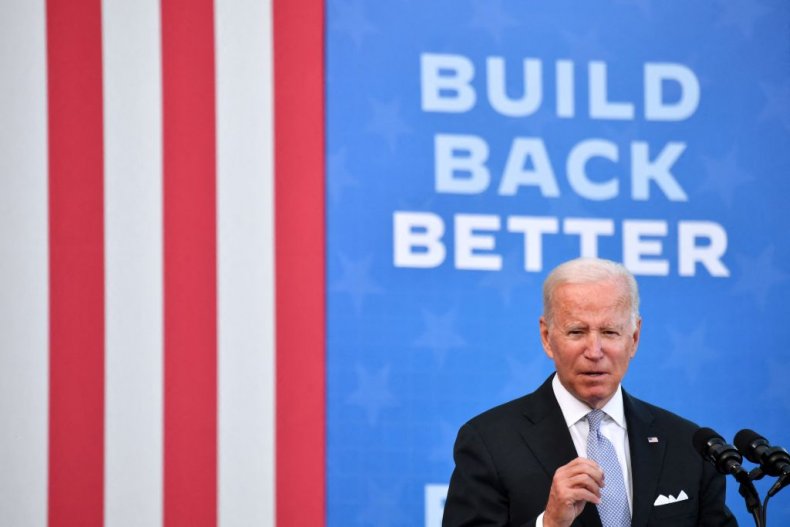 "Overall, the Build Back Better Act will foster a more equitable, sustainable economy by creating millions of jobs, lowering costs, and cutting taxes for American families," the economists concluded, urging Congress to pass the legislation.
Among the statement's signatories were Alan Blinder, former vice chairman of the Board of Governors of the Federal Reserve, and Elgie Holstein, former special assistant to the president for economic policy at the White House National Economic Council. Previously, top U.S. ratings agencies have said they don't anticipate Build Back Better will negatively affect inflation.
"The bills do not add to inflation pressures, as the policies help to lift long-term economic growth via stronger productivity and labor force growth, and thus take the edge off of inflation," Mark Zandi, chief economist at Moody's Analytics, told Reuters in mid-November.
Charles Seville, senior director and Americas Sovereigns team co-head at Fitch Ratings, told Reuters that the legislation "will neither boost nor quell inflation much in the short run."
In September, a group of 15 Nobel Prize-winning economists said that Biden's agenda would "ease" inflation. "Because this agenda invests in long-term economic capacity and will enhance the ability of more Americans to participate productively in the economy, it will ease longer-term inflationary pressures," they wrote in an open letter.
The Build Back Better Act was approved by the House of Representatives in November in a party-line vote. No Republicans supported the legislation, and one Democrat—Representative Jared Golden of Maine—voted against it.
Whether the bill will be approved in the evenly split Senate is not certain. Senate Majority Leader Chuck Schumer, a New York Democrat, has repeatedly said he aims to pass the bill this month—before the end of the year. But moderate Democratic Senators Kyrsten Sinema of Arizona and Joe Manchin of West Virginia have yet to give their stamp of approval. Negotiations are ongoing, and the final text of the legislation has not been released.
Manchin has repeatedly raised concerns about inflation to explain his qualms about supporting the Build Back Better package.
"The unknown [of inflation] we're facing today is much greater than the need that people believe in this aspirational bill that we're looking at, and we've got to make sure we get this right," Manchin said Tuesday during a Wall Street Journal CEO Council Summit. "We just can't continue to flood the market [with money], as we've done."
If passed and signed into law, the Build Back Better Act would extend the popular Child Tax Credit approved as part of Biden's American Rescue Plan in March. It would also address the high cost of prescriptions drugs, expand Medicare to cover hearing aids, boost options for lower-income Americans to purchase health insurance through Medicaid and provide new child care subsidies, among other priorities.