Biden's Build Back Better Plan Will 'Ease' Inflation, 15 Nobel Prize Economists Say
A group of Nobel Prize-winning economists believes President Joe Biden's multi-trillion dollar Build Back Better plan will "ease" inflation—despite concerns expressed by Republicans and some moderate Democrats that it will do the opposite.
Democrats in Congress are attempting to push through a $3.5 trillion "human infrastructure" bill via the budget reconciliation process, but they are facing internal division with some moderates opposed to the high price tag. As some of these moderates raise concerns that the package could lead to greater inflation, Republican lawmakers are uniformly opposed to the Biden plan.
But 15 economists—all who have previously won the Nobel Memorial Prize in Economic Sciences—have argued precisely the opposite.
"Because this agenda invests in long-term economic capacity and will enhance the ability of more Americans to participate productively in the economy, it will ease longer-term inflationary pressures," they wrote in an open letter dated Wednesday.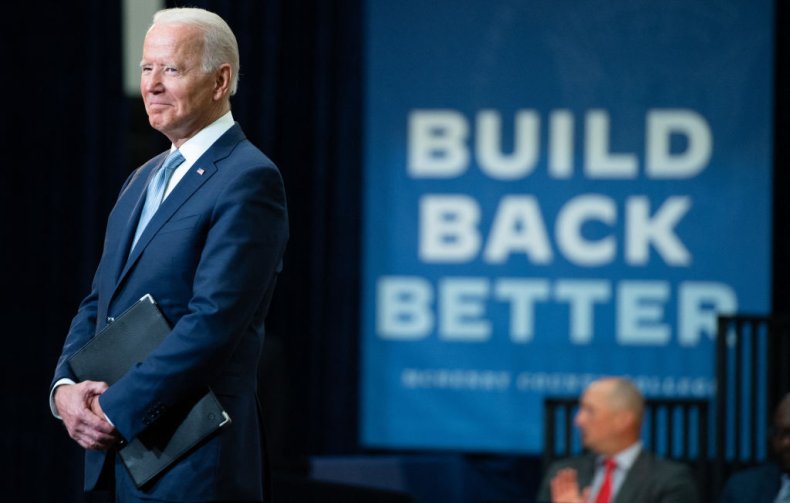 The economists praised the American Rescue Plan passed by Biden and Democrats without any Republican support back in March. However, they said more spending is needed to reverse "years of disinvestment in public goods" and to address "the country's long-term needs—including building toward sustainable and inclusive growth and facilitating our clean energy transition."
"The President's Build Back Better agenda employs a broader conception of infrastructure by making critical investments in human capital, the care economy, research and development, public education, and more, which will reduce families' costs," the economists wrote.
The letter was signed by Joseph Stiglitz, a professor at Columbia University; Peter Diamond a professor at the Massachusetts Institute of Technology; Daniel Kahneman a professor at Princeton University; Oliver Hart a professor at Harvard University; Paul Romer a professor at New York University; Eric S. Maskin, a professor at Harvard University; Edmund S. Phelps a professor and Director of the Center on Capitalism and Society at Columbia University; Robert Engle, a professor Emeritus and Co-Director of the Volatility and Risk Institute at New York University; George A. Akerlof, a professor at Georgetown University; Paul Milgrom, a professor at Stanford University; Christopher Sims a professor at Princeton University; Sir Angus Deaton, a professor at Princeton University; Robert Solow, a professor Emeritus at Massachusetts Institute of Technology; Daniel McFadden, a professor at University of California, Berkley and Roger Myerson, a professor at University of Chicago.
"I, for one, won't support a $3.5 trillion bill, or anywhere near that level of additional spending, without greater clarity about why Congress chooses to ignore the serious effects inflation and debt have on existing government programs," Senator Joe Manchin of West Virginia wrote in an opinion article published by The Wall Street Journal earlier this month. Without Manchin's support, Senate Democrats will not be able to approve the reconciliation plan, as they will need unanimous support from their caucus without any Republicans backing the bill.
Manchin, as well as 19 Republican senators, did vote to support part of Biden's Build Back Better agenda in early August. A bipartisan coalition approved a massive $1.2 trillion infrastructure package to provide funding for roads, bridges, public transportation, broadband internet, water systems and addressing climate change. However, progressive Democrats in the House have said they will not vote to advance that bill without the Senate also approving the $3.5 trillion plan.
The budget reconciliation legislation would include funding for universal pre-kindergarten, free community college, permanent child tax credits, expanded health care access and addressing climate change. Additionally, it would adjust the tax system and raise taxes on wealthy Americans.
Newsweek reached out to Manchin's press secretary for comment but did not immediately receive a response.