Joe Rogan Criticized for Claiming 'Straight White Men' Will Soon Be Silenced
Joe Rogan caused something of a stir after his latest podcast, in which the comedian said that "woke culture" would lead to the silencing of "straight white men."
Speaking to comedian Joe List on the latest episode of his Spotify podcast, The Joe Rogan Experience—which, the host says, gets over 200 million downloads per month on the platform—Rogan expressed concern about not being "allowed to talk" due to his "privilege."
"You can never be woke enough that's the problem, it keeps going," Rogan said on Monday. "It keeps going further and further down the line and if you get to the point where you capitulate and you agree to all these demands it'll eventually get to where straight white men are not allowed to talk because it's your privilege to express yourself when other people of color have been silenced throughout history."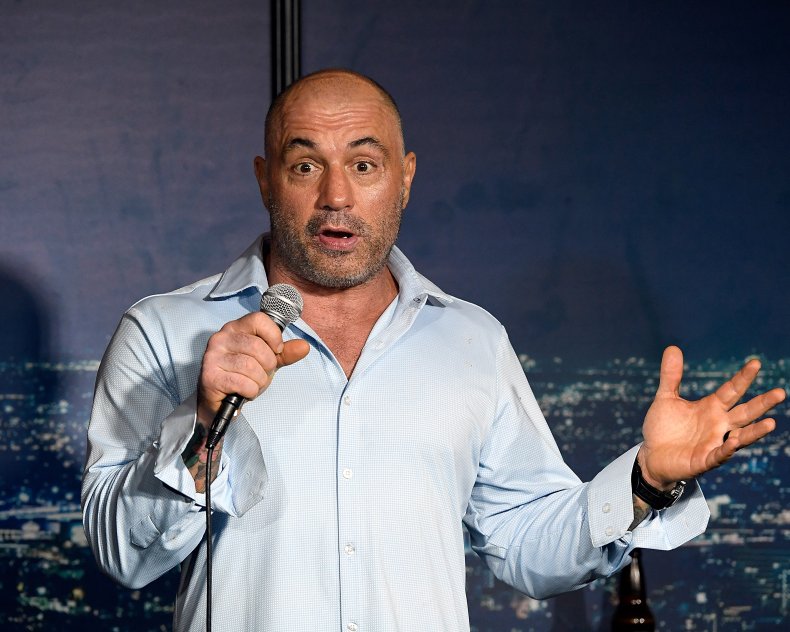 The 53-year-old podcaster elaborated by saying that he thinks people will take advantage of woke culture by always calling some out because others have had it worse.
"It will be, you're not allowed to go outside," he added. "Because so many people were imprisoned for so many..."
His guest started laughing and Rogan continued: "I'm not joking, it really will get there. It's that crazy."
Rogan eventually concluded that people just need to be "nice to each other."
The podcaster's comments have left some listeners scratching their heads as Rogan himself says he has millions of listeners as well as a Spotify deal, estimated to be worth over $100 million according to the Wall Street Journal.
"Someone tell Joe Rogan he got a $100 million podcast deal, he's doing just fine unless he lost his PIN," said comedian Brandie Posey.
"Oh no, future generations might be robbed of Joe Rogan's puddle-deep observations on the human condition. STOP IT RIGHT NOW, WOKE MOB," joked Philip Michaels, journalist at Tom's Guide.
While The Nation journalist Elie Mystal asked: "Can Joe Rogan point to one day in American history where straight white men shut the f*** up?
"If you start the clock in 1787 they've had roughly 85,500 opportunities to give it a rest for A DAY, and have never ONCE let the g**damn Earth spin without offering an opinion."
Political commentary Twitter account The Palmer Report added: "Meanwhile, Joe Rogan really thinks that straight white men are fighting for their right to continue being allowed to speak? He's that insecure about people in other demographics finally get a shot at an equal voice? What a f****** loser."
Some Twitter users pointed out that despite his large platform, a number of The Joe Rogan Experience episodes were removed from Spotify.
Conservative commentator Tomi Lahren defended Rogan, tweeting: "Well @joerogan is right, it's open season on straight white men and y'all need to stop bowing to the mob. Stop apologizing for being straight white men!"
Rogan is no stranger to controversy. In April, he sparked fierce debate for saying that young people don't need to "worry" about the COVID-19 vaccine if they're healthy.