Joe Rogan Gets More Listeners in One Episode Than Neil Young, Joni Mitchell Get a Month
Joe Rogan's apology on Sunday saw the podcaster vow to "try harder" and "do my best to balance things out" after the host faced public backlash for circulating COVID-19 misinformation on his Spotify show The Joe Rogan Experience (JRE).
Rogan's repeated use of the podcast to disseminate fringe COVID-19 viewpoints led a group of 270 scientists and health care professionals to publish a letter on January 10 calling on Spotify to take action against the spread of misinformation on its platform.
"[W]e call on Spotify to immediately establish a clear and public policy to moderate misinformation on its platform," the letter wrote.
Recording artists Neil Young, Joni Mitchell helped to amplify the letter's request with Young announcing on January 24 that he would have his music pulled from Spotify if the company did not remove Rogan's podcast. Mitchell did the same on Friday.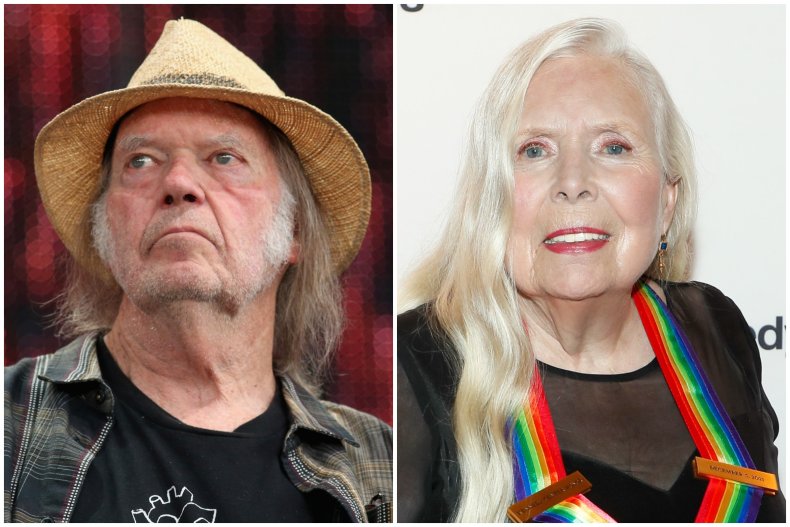 While Spotify responded to the doctors' request, saying it would publish its platform policy regarding the promotion of medical information and "add a content advisory to any podcast episode that includes a discussion about COVID-19," it stopped short of meeting Young's demand to remove the JRE.
JRE attracts an estimated 11 million viewers per episode with Rogan posting four to five episodes a week that can last up to three hours long. In contrast, Young attracts nearly 6,027,000 listeners a month, according to Spotify, and Mitchell receives a little over 3,738,000 listeners.
"If you had BTS or Taylor Swift pull off a Spotify you might see some different level of response," Bill Werde, director of the Bandier Program for Recording and Entertainment Industries at Syracuse University's S.I. Newhouse School of Public Communications told Newsweek.
Werde said given that Spotify has invested heavily in Rogan, offering him a $100 million exclusivity deal, it's unlikely the platform would take any steps to move away from its number one podcaster, especially as it looks to differentiate its service from competitor like Apple music by providing content that can only be found on its site.
However, while Young and Mitchell leaving Spotify may not lead to the goal of Rogan's removal, Werde said, their decision is significant in that it raises questions over what steps streaming services may be expected to combat disinformation in the future.
"I don't think for most rational people this Joe Rogan issue is about censorship, as much as it is about this belief that folks should be liable for distributing responsible information," Werde told Newsweek. "[Spotify streaming] accounts for probably 10 or 12 percent of [Young and Mitchell's] actual income, possibly, maybe even a little more. I don't know a lot of people willing to take a 10 percent cut of what they're making for their ideals."