Joe Rogan Reveals He Didn't Vote for Joe Biden Because He 'Can't Talk Right Anymore'
Joe Rogan has opened up about why he did not vote for Joe Biden in the last presidential election, noting his concern with how the president speaks.
"He can't talk right anymore," Rogan said of the president on The Joe Rogan Experience this week.
In his latest podcast episode, Rogan was joined by fellow podcaster Coleman Hughes and their discussion turned toward the 2020 election.
"That was one of the things that people were saying, that I was a Trump supporter during the election because I said I would vote for Trump before I would vote for Biden," Rogan said.
"But I didn't vote for either," he explained. "The reason why I said that was like, 'You don't see this? Are you guys out of your f****** mind? You guys don't see that this guy can't, he can't talk right anymore?'"
Rogan also labeled Biden a "dummy" who said "a lot of silly s***."
Before the November 2020 election, the controversial podcaster said that he would rather vote for Donald Trump than Joe Biden after he endorsed Democratic candidate Bernie Sanders.
"I'd rather vote for Trump than [Biden]," Rogan said on his podcast in April 2020.
"I don't think [Biden] can handle anything. You're relying entirely on his cabinet. If you want to talk about an individual leader who can communicate, he can't do that. And we don't know what the f*** he'll be like after a year in office.
"The pressure of being president of the United States is something that no one has ever prepared for. The only one who seems to be fine with it is Trump, oddly enough."
Rogan also expressed concern for Biden's age—the president was 77 when he ran in the 2020 election and is 79 now.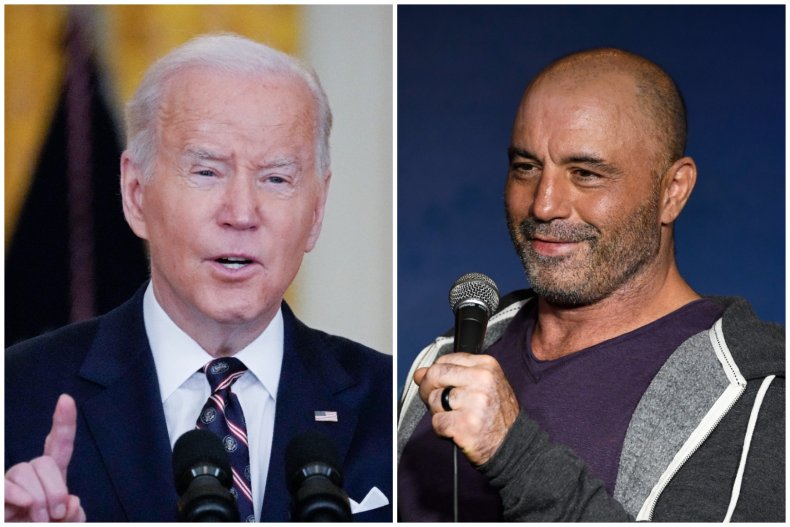 The podcast host previously noted and expressed concern at the president's verbal slip-ups and blunders and said such incidences were "not a normal way to communicate unless he's high."
Rogan is currently one of the world's most famous media personalities—his show draws an estimated 11 million listeners per episode—so naturally, there was much interest in which candidate got his vote, with many people questioning if he chose Trump in the end.
However, Rogan revealed that his vote actually went to Jo Jorgensen, the Libertarian party's official presidential nominee.
"I voted Libertarian," Rogan said on his JRE End Of The World #2 podcast in November 2020.
"I voted Jo Jorgensen," he revealed. "I knew she didn't have a shot. Legalizing drugs. I knew California was going to Biden no matter what and I couldn't. I was looking at the whole thing like 'what is this?'"
Rogan and his podcast are currently in the midst of ongoing controversies surrounding COVID-19 misinformation and his use of the n-word on his show.