Joe Rogan has had to clarify an embarrassing blunder after mistaking satire for a public service advertisement.
The podcast host was forced to edit an Instagram post after he condemned what he thought was a health ad about the COVID-19 vaccine turned out to be a comedy skit.
Rogan lashed out at Australia and called the country and its pandemic response "dystopian" when he confused the skit for government "propaganda" against vaccine skeptics.
The Joe Rogan Experience host shared a clip of a sketch from ABC show Gruen on his Instagram page on Monday with the caption: "Not only has Australia had the worst reaction to the pandemic with dystopian, police-state measures that are truly inconceivable to the rest of the civilized world, but they also have the absolute dumbest propaganda."
The short clip is a spoof mocking anti-vaxxers that shows a woman attempting to use an Epipen on a man going into anaphylactic shock.
However, as part of the joke, the man refuses to accept the life-saving medicine and asks multiple questions about what the Epipen contains and how long it has been tested for—in a send-up of many arguments posed by people hesitant to get the COVID-19 jab.
The man in the skit is heard asking what brand the Epipen is, how long it was researched for, what researchers in Europe said about it, and then finally, what Joe Rogan has to say about it before losing consciousness.
The actor gurgles "call Joe!" in an exaggerated manner before passing out.
A voice-over on the joke PSA then says: "We don't question the science when our life depends on it, so why question it when million of lives depend on it? Science has our backs, get the vax."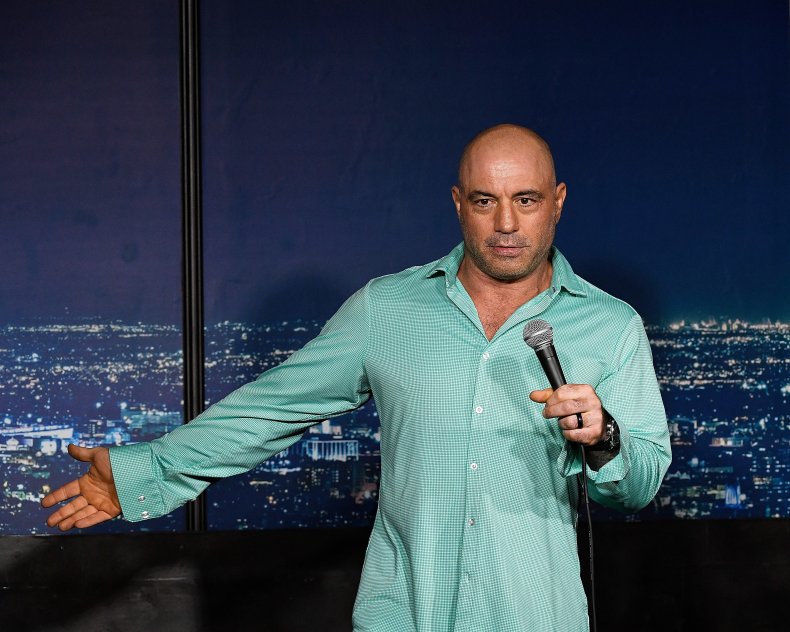 Rogan later edited his caption to say he had since learned that the clip was from a comedy show and not a real PSA.
"EDIT: apparently this is not a real ad. It's from a satirical show," he wrote.
The podcasting giant received multiple comments from people who found it amusing that he mistook satire for a real ad.
However, this is not the first time Rogan has lashed out at Australia and its coronavirus response.
In August, the 54-year-old called the country's lockdowns "crazy" on his podcast after defense personnel were brought in to patrol coronavirus hotspots in New South Wales.
"There's some crazy s**t going on right now where the army is trying to keep people inside in Australia," he said, per Perth Now.
"They have full-on government lockdowns where the government is flying helicopters over the streets (and telling people) 'go back in doors, you're not allowed to be outside', which is crazy."
Rogan himself caused controversy about COVID earlier this year when he announced that he "threw the kitchen sink" at the virus in order to get better and used the controversial drug Ivermectin to treat it.